020jpg
With the snow-capped Alps in the far distance, the ridgeline of the mountains is sharp and clear.The village of which I took a picture a few weeks ago, must be beautiful in the deep fall colors.
Dairy farmers who made cheese in the mountain lodges in the Alps meadows during summer, come back to the villages at the foot of the mountain, bringing cows with them. The cows are decorated with colorful flowers and special costumes, and walk through the village ringing the bells. This is called "cow parade" descending the mountains. At the Chästeilet (which literally means "dividing of the chees") Festival held in the village, the faramers divide the piled-up huge round cheeses to the dairy farmers depending on the amount of milk they used. It is a traditional festival seen in various areas in the Alps.
Out of the milk from one cow, approximately 6 pieces of huge cheese, weighing more than 10 kg, can be made during one summer. I understand they have a traditional method of calculation, telling which cow of which farmer has given so much milk. This seriousness really sounds like Swiss.
Once I have seen this festival in a very thick photo book. Under a clear blue sky, they wear traditional clothes and hats handed down through generations in the village, and proudly carry the cheeses. I thought it would be great to meet some cattleman with a deep wrinkled face, a mustache, and mysterious eyes just like a mountain avatar.
I searched in the Internet and made a phone call to the department that looked appropriate. It seemed 2 weeks too early for the "Cheese Dividing Festival." However, I was told that there is a small dairy farm house that gives away, not divide, cheese over the weekend. As the weather turned out beautiful, we decided to go for a drive to the Alps.
By train, the station you get off is Zweisimmen in the Province of Bern. It is well known as a summer and ski resort.From here, you may take the mail bus, which runs one every hour, to get to the house, the venue of this day. However, this place was farther from our place than we had expected, and due to the gridlock on the way, we missed this bus.
"We have to drive very close to the edge of the cliff roads without guardrails. It can be quite dangerous driving such winding roads," said my husband, who had weakness in heights, and much hesitated to drive. Wether we would wait for 1 hour or drive up the road. Consequently we decided to drive and we input the address on the navigator, but it did not show on the map because it was such a small village. Before long, we came to a halt.
We were lost, and asked some people who were resting in the middle of their walks. They said, "Go back a little, and turn at the water fountain; we think that's the place you're looking for."
1800 meters above sea level. The chorus of yodel started to surround us. The language might be ancient Swiss German. Although I was not able to hear the words, the voices of the singing group of 10 people wearing sky-blue uniforms, echoed in the Alps and reverberated in transparent vibrato.
Huge mountains standing in front of us, scattered houses, green farmlands, and plants and flowers in the plateau. The tone resonating to the wild nature was too beautiful, and it touched my heart like somewhere unknown, which made me very emotional.
Although it was before lunchtime, wooden tables and benches were almost full. We were able to sit where we could see the mountains in front of us, and we ordered the local beer, cheese, and fresh ham.
056ajpg-a
Although people gathered together, it had a quiet atmosphere just like a pre-celebration. We came to realize that this was the house that produced the cheese for the village. We were guided to the storage where all the cheeses were neatly arranged side by side.
The person who guided us was the eldest son of Mr. Santschi, who provided this venue that day. We learned that his morning ritual included soaking a total of 800 round cheeses, each weighing 15 kg, into the salt water then placing them back into the original locations.
There is a famous sport called , which is like a cross of Sumo and wrestling, originated from the Alps kids' play. It is a fighting sport and Swiss national sport where you swing your oponent around to put him down. He was a player of this sport. We saw him as a macho man with muscled chest, but we realized that he trained himself with cheese, instead of dumbbells, every morning.
We were given some share of this year's cheese from the storage, and we went back down slowly, enjoying looking at the cows eating grass or taking a nap with the Alps in the background.
Every house and store in the small town at the foot of the mountain had full of red or pink geraniums, which were gently in harmony with the delicately carved preserved wooden architecture that is unique to this region.
As Switzerland has unique breads by each region, we dropped in at one bread shop first. Here, we got the address of a cheese shop of this town.
We selected Gruyere, Emmental, Reblochon, goat cheese, and fruit cheese.
That night, we tried those cheeses with figs and grapes for dinner with our guests from Germany, to go with La Côte, white wine from the Lake Geneva. Every cheese demonstrated wonderful flavor.
288ajpg
Downloaded the photos into my computer, I clicked sceneries that were postcard-like even when cut at any angle.
While Zurich is the largest city in Switzerland, I feel things move slowly compared to Tokyo. The biggest difference is the fact that we have forests and lakes within the city. Even on boulevards, you see spring water everywhere, and you can bring your lips closer to drink. It is crisp and cold, the water from the mountains.
People here fully enjoy weekends, and days for annual paid vacation is 50 days or longer. Having said that, the stress level suffered by the people working in the center of this financial world is abnormally high. I hear that those men who wish to quietly move to a remote village in the Alps and become "cattlemen" are not a minority.
I cannot imagine the severity of the Alps when locked in the snow, and I don't believe that cows will be cooperative all the time.
Although I understand that most of them fail during the apprenticeship and return to the city, one former elite banker in his 40s was introduced as a success story on TV. He lives with cows, has leaned how to make cheese, and have become a successful farmer living in the Alps.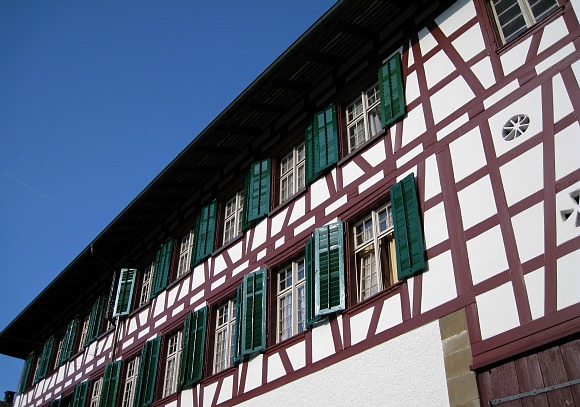 If I am in Japan in the right season, I usually enjoy tasting all the great specialties of the mountain vegetables, such as "udo" and bamboo shoots. My pleasure lasts until I cannot eat anymore.
Talking about the king of veggies in Northern Europe, like May or June, it must be white asparagus. Although it is treated a bit different, in the cooking where tastes are accumulated like addition, from our appreciation of some bitterness in our taste buds, the positioning of this vegetable is about the same as "udo" or bamboo shoots. First one in the season is always a hot topic.
The regional order of those you find in the stores in Zurich is, first of all, from South America, such as Chile and Argentina, then from the south such as Portugal and Spain. Following them are huge and sturdy ones from Germany, some of which have 2cm in diameter, arranged proudly in the stores. Valleys along the Rhein, from Freiburg to Heidelberg, as well as Brandenburg near Berlin are the famous areas of production.
In the markets and supermarkets, they are plied up mountain-high in wooden boxes.
A few steps behind, local Swiss ones appear, although they are quite slim. While I hear that they come out almost at the same time every year because of the rigid control of temperature and humidity, they seem to have come out later than usual because of the cold and unstable weather this year.
There is one vertically long special pot that was born for the sake of white asparagus. Every year, I hesitate. Should I have it after all? For what else can I use it?
And, again this year, I was not convince enough to buy it, and I boiled asparagus horizontally.
By the way, as far as I know, every Swiss restaurant cooks them until they get quite soft. As they boil other types of vegetables in this manner, more than enough, I wonder the sense of immersing in boiling water is very Japanases.
Since it is a type of "udo," I have always wondered if they can be eaten fresh. At least why couldn't they be cooked a bit firmly?
This cloud of my question was cleared thoroughly by one recipe posted in the Asahi newspaper a few years ago. Mr. Noboru Taki, the cheff of Le Mnage-Tout, a French restaurant in Ichigaya, Tokyo, showed his way of boiling white asparagus. The skin of white asparagus is quite thick and can be peeled, but should not be discarded. This part holds lots of flavour. By covering with this skin, you boil asparagus in a short time, and finish cooking with the residual heat. Some bitterness is still intact and your asparagus will be crunchy.
This was what I was looking for. It is interesting to be given such a proposal of reversal idea, from a gastronomic specialist like Mr. Tani who has a solid basic for classical cooking and also pays attention to the materials.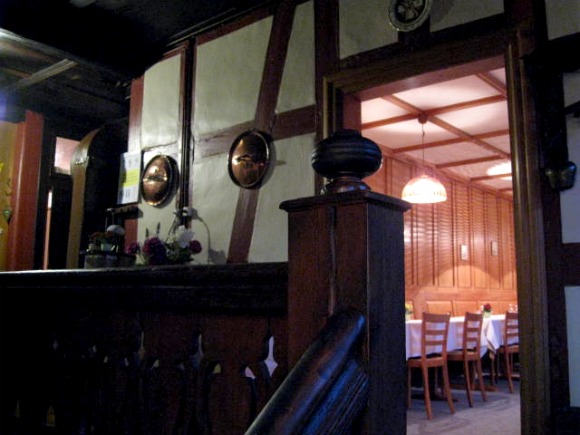 The rich soil that the river brings is suitable for growing asparagus.
Just about an hour drive, to the neighborhood of Shaffhausen, corssing the Rhein. We hear that there are several restaurants in the village called Flaach, where asparagus has been served for some generations and attracting regular customers.
For the sake of white asparagus, the restaurant that we visit once a year is "Obermühle (over the mill)." The place is a remodeled inn in the early 18th century, and heavy stones and woods are used for the architecuture. Lot of antiques are hung on the wall such as a large old clock, cow bells and forks.
A huge stone, which used to be a mill stone, is leaning against the entrance, and going up the squeaky stairs form the cold entrance, takes you to the dining room upstairs on your right and left.
Although they were serving rustic meals of farm style, we did not look at the menu, as we had one solid purpose. Or, everybody else in the other tables were all eating white asparagus.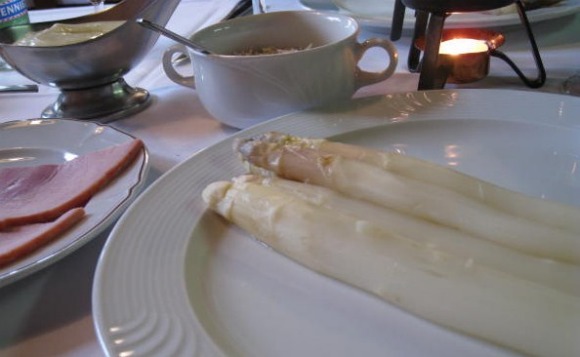 When our starter was finished, a small pot inside which their homemade butter was melted, was brought to our table with the flame underneath. Next to the pot was finely sliced Gruyere cheese, and good amount of mayonnaise with bright yellow egg-yolk color. The Hollandaise, the usual sauce, which was not welcoming for calory-conscious people, was found in this restaurant. Quite often prosciutto is also served, but here you have a choice of roast ham.
Basically, you just keep on eating white asparaguses single-mindedly. Ham is just a side dish. Once your plate is cleared, the next plate of boiled asparaguses will appear in front of you.
How much can you eat? Probably, one whole bunch for two. If measured with the skin on, it will be a big volume of about 1 kg.
They say poking the tip of white asparagus is a sin. Cutting from the lower part that is close to the earth, the tip part is brought to your mouth softly and respectfully at the very last moment.
It is a salute to the power of nature; a kind of courtesy, I believe.
The best treat of this season. You take your time to enjoy this simple dinner.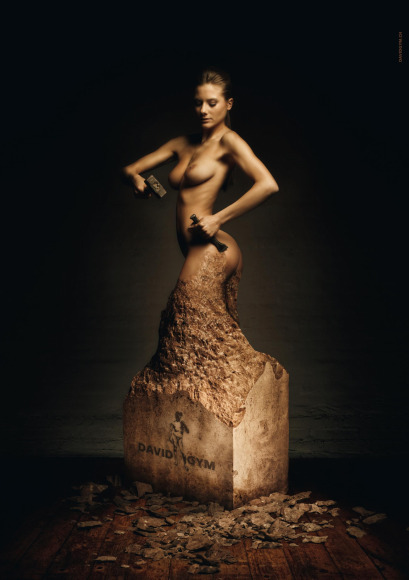 Although the poster caught my eye, I did not know where this gym was located. It seemed like somewhere in the residential area.
Besides, when I was going through their programs, all looked stoic and hard.
I believe for those of you who have solid goals and can face yourself sternly, private trainers are more than welcome to train you. For me, once I join this type of group lessons, I will be overwhelmed by the seriousness and enthusiasm of my neighbors, and I am pretty sure I will be the first one to drop out.
The season that you can show off your skin is just around the corner. We wish to wear something low-cut in the front or in the back, of course.
However, the road to go is quite hard.
・・・・・・・・・・・・・・・・・・・・・・・・・・・・・・・・・・・・・・・・・・・・・・・・・・・・・
Brand:DAVID GYM
Advertising Agency:Publicis Zurich
Creative Director: Florian Beck
Art Director: Denis Schwarz/Florian Beck
Illustrator: Graphics: Thomas Berger
Photographer: Jonathan Heyer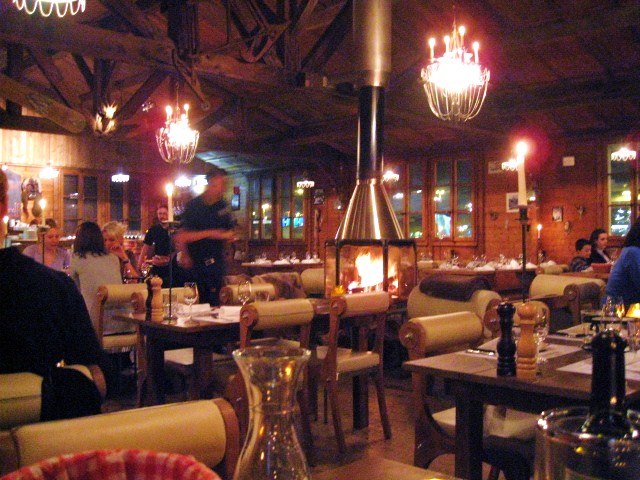 When a friend of mine from Japan visited here, I took her to one snobbish restaurant that the locals were talking about. Although I was sure it was a well-thought-out arrangement, she did not seem to be content at all unfortunately.
The reason she game me was, "Sure, it was delicious, but you can have this level of cuisine in Tokyo and Paris as well."
As a matter of fact, it has been a trend for some time in European and North American restaurants in every city to serve fusion type of food, incorporating Asian or Japanese materials or tastes. Of course we can enjoy sophisticated surprises occasionally, however, quite often, they are not well incorporated or all look and taste more or less the same unless the original cooking ability is superb.
As she was a gourmet with lots of dining experiences than usual, I asked her again what sort of food she wanted to try. She responded, "I would like to see the caws. I would love to eat something that you can only eat in Switzerland."
So the day after, we drove as far as some grassland where you could see cows, took some commemorative pictures with them, and went to the restaurant that was a remodeled cow-house to order fondue and homemade sausages. I heard that she bought a fondue set at the airport, and I was able to send her back home happily.
Fondue is a good way of entertaining when friends get together, since you do not have to spend too much time in your kitchen. In other words, it is a Swiss version of Japanese "Nabe" cuisine.
I am a bit embossed to say this since I am not a Swiss, but anybody can cook this easily. There are surprisingly many variations, and the combination of cheese or selection of liquors make your own house taste, which is quite interesting.
While homemade fondue is enjoyable, it is also fun for the season to have tasty fondue in a good restaurant.
While there are several fondue restaurants in the city, many "specialized" ones are open only during the fall and winter seasons. Of course if it is somewhat for tourists, or have general Swiss cuisine in the menu, fondue is often included, but that can be rather exceptional. The strictly "specialized" restaurants will be closed when the season is over.
Not to mention closing the restaurant, some fondue restaurants disappear without any trace. On the other hand, some appeared out of nowhere several years ago, and have become smash hits.
BARACCA ZERMAT
They have restaurants in Basel and Zurich, and the mountain lodge restaurant in the airport premises in Zurich is open from the end of November till the end of March. If you want to secure seats on weekends, you may have to make a reservation many weeks in advance.
The interior is done by Heinz Julen, artist from Zermat.
Having a "dream room" appearing in the city as the concept, everything time-slips to the heart-warming 1950s once you step inside.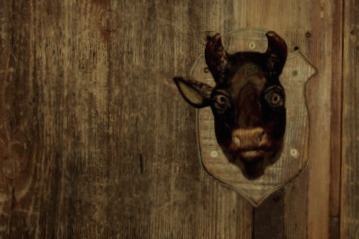 Firewood logs are piled up around the mountain lodge and covered with snow.
Once you open the door with a cow's head, you will see the rows of antique stake plates. Inside the room, logs are burning red in the big fireplace. On the wall you see a stuffed alpine ibex, a wild goat, and antlers of antelope, and old monochrome picture of Zermat.
What we ordered that night was called Motie-Motie, which was a typical Swiss fondue combining Vacherin cheese and rich Gruyeres cheese, half and half.
As tomato fondue and champagne and truffle fondue were well known in Switzerland, we tried their original named Baracca Fondue with fruits and bacon.
For the wine, we picked up Johannisberg from Valais Province where Zermat is located. While this white wine was fruity and rich, it was smooth and went very well with cheese. It had the label of Matterhorn, and sat there as a table wine.
The reason why Kirsch, which is cherry spirits, is used for fondue quite often is to help digestion. Therefore, instead of white wine, having fondue and drink Kirsch is another royal road. Although it is said to be good to your body, the alcohol content is over 40 degrees. So you'd better watch out.
Fondue is a very rustic cuisine, which is served in a pot that is used many times for a long time. Coldly simple tablewares and plastic wine coolers. The trick is when these simple factors are integrated and brought into a city, they look rather luxurious and sophisticated.
I must say that it is well designed so that you can have relaxed moments somehow by enjoying slow food, surrounding a big fire, in a mountain lodge literally like a barrack.
Poking a piece of bread in a skewer and turning it inside the pot, I was thinking this would be the last fondue of the season.
Unusually cold with heavy snow, this long winter is going away. This dream restaurant will be dismantled in a few weeks, and will disappear somewhere together with many stories that warmed up the people.
Spring is jus around the corner even in the Northern Europe.
http://www.baraccazermatt.ch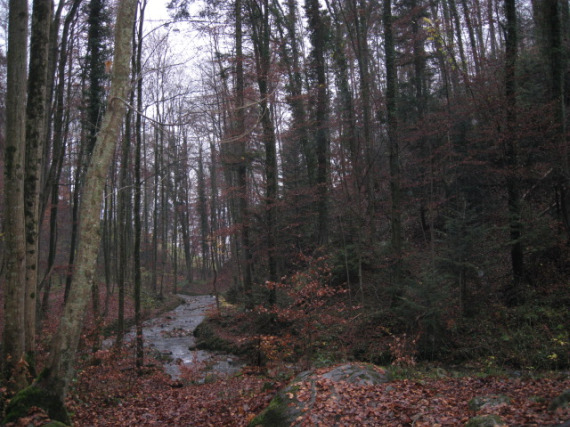 One Sunday afternoon, I had a chance to go to the forest.
Although the Lake Zurich is nearby, you can easily access to the forest within walking distance from the central area of the city. Walking or jogging in the forest has become part of our daily life here.
The place I went this day was along the shore of the Lake Zurich. The forest was stretched out near my friend's house. "Well, the weather turned out just wonderful," a smiling blond intellectual-looking young man said, looking up the rainy sky.
Holding hands with a small boy wearing rain boots, singing German song that I had no clue what it meant, we climbed up the hill slowly, by walking over the fallen leaves. When we turned into a small lane, my tip of nose sensed something refreshing. I breathed in the deep smell of the forest. Once more, I breathed deeper. Numerous lofty trees connected the earth and the sky.
The moist air from the drizzle in the morning fallen on the ground, and everywhere was filled with this moist air. When crossing the stream, you could feel some slippery touch underneath the shoes. Big and small pebbles here and there were covered with soft moss. They walked through easily by stepping the stones one after another. Once in a while, small breaking sounds of twigs were heard.
Today's goal is to make a fire in the forest, and to grill big sausages called Bratwurst.
We all spread out in the forest to find some long branches. What would happen to someone like me who had never had anything to do with the life in the mountains or forests, when participating in such an unfamiliar event and faced such an unknown situation?
Feeling simply impressed with the fact that these people have been living in touch with nature since their childhood, and at the same time, being fully aware that I would be no use here at this moment, I silently became the keeper for the Bratwurst. No, it may not be true. As a matter of fact, I did not know what to do. I was just wandering around.
While the army knife of VICTRINOX is well-known in Japan, everybody here has a well-used knife of his own. Taking them out of their pockets, they skillfully made skewers by sharpening the tip of the branches.
I have heard about the story that Swiss children go to barbecues by carrying one sausage of their own, and now I realized this would be the adult version.
It might not be wrong to say that most of the people working in Zurich spend their weekends in the forest in a varied form of this kind.
I wondered if this was the forest frequently visited by the people in the neighborhood. Stones were already piled up. We saw branches of beech tree, larch, and popular and so on. While placing thick trunks, we horizontally poked each "own" Bratwurst into the sharpend tips of the branches mentioned earlier.
Although I felt poking them vertically would be easier to eat, there must be some reason whey they placed them horizontally. Everybody had their own way of making cuts on their sausages. That, also might be their tradition of each family.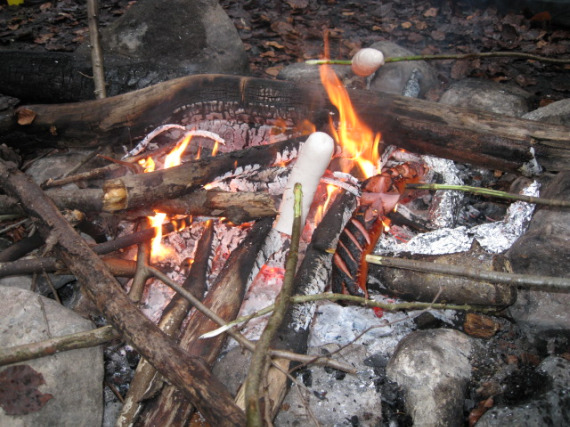 Let me repeat, you grill you own. More specifically, you change the angles to roast. Sitting on a fallen tree, by checking the directions of the wind and smoke, you put out your stick over the burning fire.
I found a big stone nearby which could turn to a table. When your own Bratwurst turns to nice brown color, just take it there.
Now I somehow understood the reason whey they had been placed horizontally, instead of vertically. However, they took them out of the sticks. Nicely browned Bratwurst sausages were, of course, very hot. But they grabbed them by hand to eat!!
Still this way of eating food exists in the present time, like a tail of ancient days. What a primitive but wonderful way. To me, grabbing the food to eat in a situation like this, looked very cool. Feeling the closeness of comrades, I simply imitated their ritual.
Around the fire, tranquil and comfortable time went by.
Out of nowhere, appeared some boys with flushed faces. Although this area is not far from town, there may be some secret lanes deep in the forest for these boys.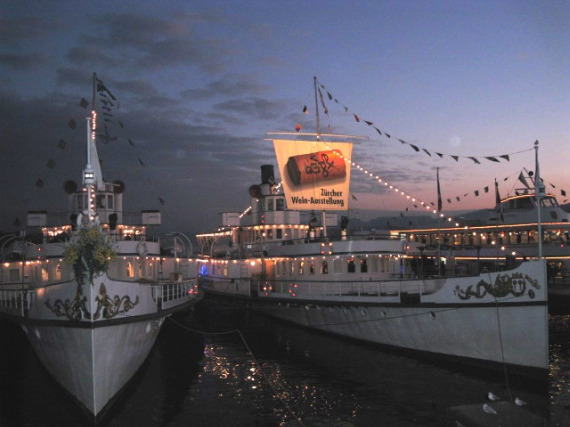 Connoisseurs of fine wines may know this. There are many great wines in Switzerland. Furthermore, as the types and characters of grapes vary depending on the area where the language is spoken, a vast variety of wine was born.
When I went to the jazz festival in Montreux, I had a chance to taste the white of Laveaux, which was just wonderful. Well-known places for white wine using Chasselas grapes are Vaud near the Lake Leman, as well as Valais in its south and along the Lake Neuchâtel near the French border.
When you talk about the red, white and rose of Merlot, it will be Ticino in the area where Italian is spoken. Where you can find wines that share similar tastes of Pinot Noir or Pinot Gris from French Alsace, or that from Baden in Germany, will be around the Lake Zurich and the western Switzerland. Just for your information, we also have what we call, Zurich wine.
I hear that some grapes that were planted in the Roman Era are still grown. It is really amazing to know that tens of different kinds of grapes are grown in the wine regions in this country which is about the same size as Kyushu.
Why there aren't many Swiss wines in Japan where gourmet foods collected from around the world?
That is because the Swiss love wine very much. It does not mean that we do not export any, but since the people here drink wine 3 times the quantity of the domestic production, as a matter of fact, and the shortage has brought more and more imported wines. I thought that they did not want to share something delicious with other countries, but now I understand what the reason was. First of all, the grapes grown on the land where machines are hardly used because of its steep slopes, are only picked up by human hands, and also because it requires lot of traditional manual methods to make wine, they are overwhelmingly in short supply.
It seems like these conditions are the background. For the 2 weeks up to the mid November, just to be in time for Christmas, Zurich holds a large-scale wine exhibition every year.
From Bürkliplatz where Old Town and the financial district meet, not only sightseeing boats but also commuter boats run to various places. The annual EXPOVINA, commonly known as Weinshiff, is held here, by having 12 boats lined-up and anchored at this old pier near the Lake Zurich. It is open to public and it is the world's largest wine expo. It stared in 1953 and this year celebrated the 56th anniversary.
More than 120 booths of wine producers and importers, were set up in the 12 boats. When it comes to the number of different types of wine, it will be easily 4000 at the least.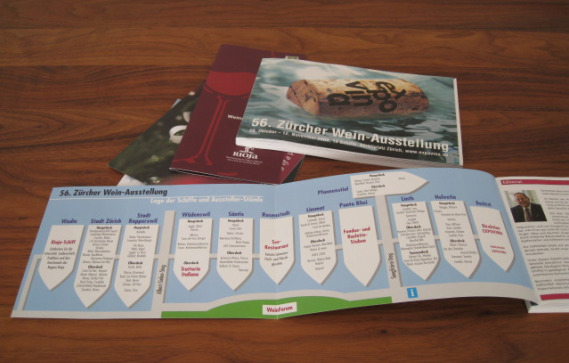 Carrying the catalogue given at the entrance, you go around the booths you wanted to try, and after tasting, you check those names corresponding to the booth numbers that you liked, to put down the points.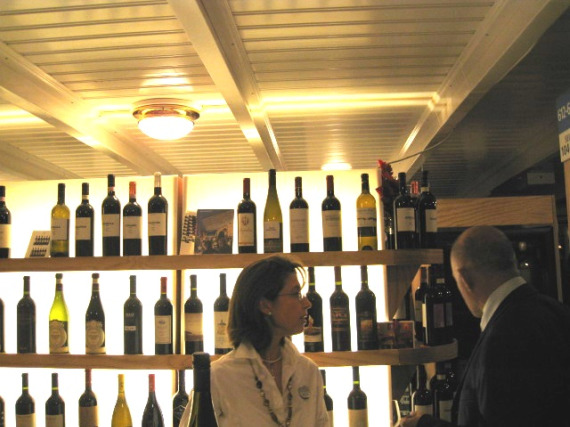 Having visited several times in the past years, I thought I was starting to get the hand of it. However, since the number of displayed wines is tremendous, it is too audacious to think about completing the tour of the whole 12 boats including the one that turned to a Swiss restaurant, in a single day. Your tongue, nose and inside your mouth will become blunt for judgment, or in other words, in my case, you cannot trust your taste buds any longer.
This year, there was somewhat unusual Spanish Rioja in the very left boat, but since the boat was swinging due to its small size, we moved on quickly to the next boat. Although other boats were anchored steadily and no worries of sea sickness, once you started from fruity white, by listening to the explanations by the dealers, and moved on by thinking "Well, next I should try a little heavier red" and so on, you would feel too great and your spirits would be high after you have tried the 10th one.
First, I went with my friend who was a wine-tasting professional to go around. However, I did not decide on certain label that day, and went back again on a different day for more focused direction, to try some interesting ones that I usually do not drink.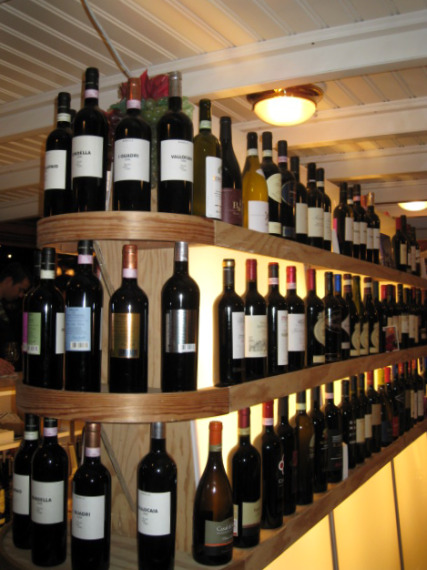 What we wanted to go after was German white. Baden, Pfalz, Saar, Rheinhessen, Rheingau, and Mosel, we tasted along the Rhein. While I always thought that German wines were sweet, tasting those wines made me realize that my knowledge was too premature. There were many bottles that demonstrated refreshing, deep, and elegant tastes.
Finally what we decided was Sheurebe of Mosel and Riesling, as well as a sweet one of Sheurebe which gave us the impression to be the one to taste after the Christmas dinner.
Although 6 bottles were the minimum to order in general, some booth started to be more flexible so that we could mix 6 different bottles for one order.
It was Friday night. In addition to some relaxed couples, people after work started to join us.
Very attractive 2 women, assumed still in their 20s, were asking the dealer many detailed questions one after another. Over there, one young man with backpack was taking notes, while a senior couple was relaxed and enjoying the conversation at the counter, checking the list.
We moved around the Swiss wine section, but the surroundings of popular wines turned into a place for social interaction. It was so jammed that we changed our direction to Italy.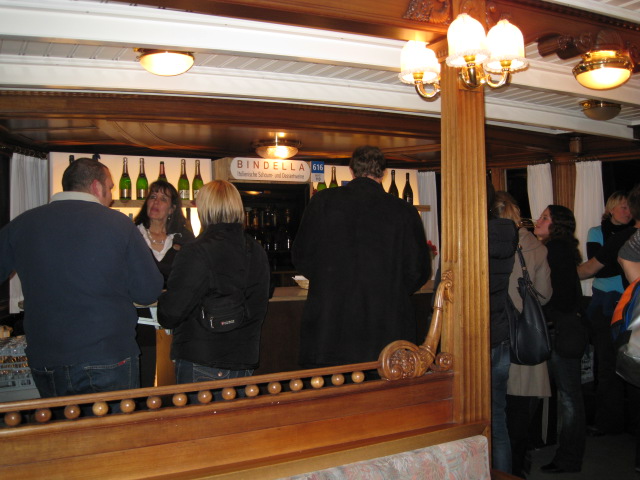 Although the order was totally reverse, we were able to take a break with chilled Prosecco, an Italian sparkling wine, which we casually order as aperitif in restaurants in Zurich.
We sorted out our cellar in the basement to welcome those wines we ordered, but still waiting for their arrival.