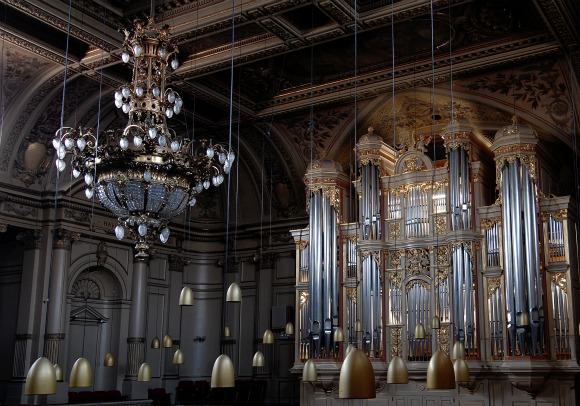 ©Josef Stuecker
One very chilly evening, we were driving along the lake. Since we were once told that the basement parking of the Park Hyatt was convenient, I have been using this parking lot whenever we come here.
Opera House stands on the right side of the Lake Zurich, and on the left side, there is another historical building that can be the hub of the Zurich culture. It is Zurich Tonhalle (a music hall.)
While the Opera House was built in the current location in 1891, this music hall was built 4 years later. The hall situated inside the Congress House has very elegant and wonderful interior decorations such as ceiling paintings and columns, while boasting its acoustics as of the world's top level. The small hall where mini concerts of solo or chamber music are held, also gives breathtaking sophisticated elegance and beauty.
The "Tonhalle-Orchester Zürich," establishing this hall as their main music hall, may be well known for classical music fans for their many CDs. Especially in the recent years, increasing number of fans are found in various countries because of their great success as the world's top orchestra. Founded in 1868, it is a distinguished European orchestra with a long history.
Orchestras that played a major role in the musical culture were non-existent, in the German-speaking part of Switzerland where vigorous religious transformations took place.
Although it was lost in fire later, the Zurich Opera House was built in 1834, at a different location from the current one. The need for an orchestra to play for the opera became obvious, and a small orchestra was formed.
It was about 160 years ago. Wilhelm Richard Wagner exiled himsealf to Switzerland, and stated to live in the mansion of Otto Wiesendonck who was a successful silk trader. The masion is now Museum of Rietberg.
Wagner, who made his name one after another by conducting major music pieces including his own, at the Opera House, held concerts very often. In response to this influence, a plan to found an orchestra gained momentum among the intellectuals in Zurich.
Before long, the Tonhalle-Orchester Zürich was born as the oldest Swiss orchestra, having the Zurich Opera House orchestra as the mother orchestra.
The first conductor was Friedrih Heger. Since Heger was an ardent admirer of Brahms, Johonnes Brahms, who stayed in Zurich often, was also a frequent guest conductor.
In 1895, following Brahms, Heger took a baton, and the Tonhalle Zürich (a music hall) was finally opened.
While the principal conductors for Tonhalle have been mainly German, from Hans Rosbaud, Rudolf Kempe, to Christoph Eschenbach who was appointed in 1982, Hiroshi Wakasugi from Japan served as the principal conductor for 4 years after that.
©Priska Ketterer
In 1995, David Zinmen, who was born in New York, was appointed as the principal conductor. Since then, the well-known "Tonhalle-Orchester Zürich" has been proactively involved in overseas concerts as a leading European orchestra, changing the history boldly at the same time. It has created many opportunities to foster young conductors as well.
Furthermore, not only the concerts in the hall, but also their energetic idea for recording have accelerated their fame as the world's Tonhalle.
They have produced CDs for Richard Strauss, Robert Schumann, and complete symphonies of Beethoven. They have realized a huge amount of CD recordings, and created a new environment to listen to the Tonhalle-Orchester Zürich. The richness of its performance surprises the critics and fans around the world.
Zinmen himself also is very active around the world as a guest conductor. 100 musicians that he leads and excellent and exciting guest conductors perform roughly more than 50 programs, making about 100 performances per year.
The New Year Concert this year was conducted by Muhai Tang from China. He is a well kown and a very popular conductor of the Tonhalle.
The first half was composed of 3 pieces; early springy joyful prelude of "Die Fledermaus" of Strauss, 2 pieces of Mozart, and one piece from "Il Barbiere di Siviglia" which was a big hit last year at the Opera House. For the latter half, following the elegant prelude of "La Scala di Srta" by Rossini, the aria from Chaikovski's opera "Eugen Onegin" was performed by a Finnish giant, Matti Salminen.
Muhai Tang who was energetic, even showing the wild streak, and Salminen displayed some relaxed easiness. Then especially the thrill of excitement by the nostalgic mezzo-soprano sung by Mariana Carnovali from Buenos Aires in South America, was so sexy that you would feel that you heart was just squeezed tight. She was as young as 23, and her bronze skin was beautiful.
The people with a bit flushed cheeks with excitement were descending the gentle spiral stairs, smiling.
I heard that Salminen was making an appearance to the table where the CDs were displayed.
If you seek for it, you will have a chance to meet such an outrageous talent in such close proximity. I am blessed to be able to listen to such music in Zurich.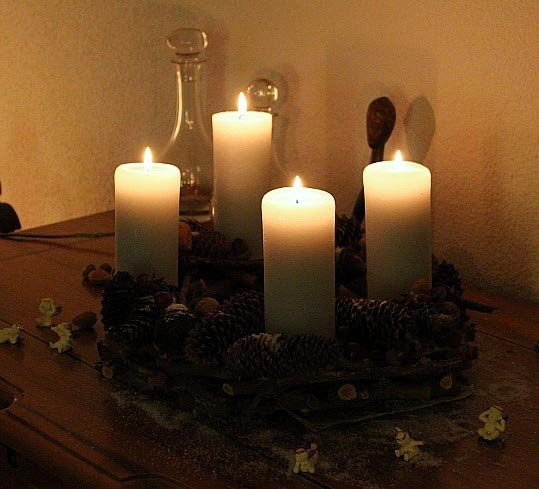 There is a building of a newspaper company called NZZ near the Opera House.
When you walk on the road along the lake from this street, you will find some interior shops like select shops.
I went there to find 6 angles one day before Christmas.
As a matter of fact, I wanted them last year but I inadvertently forgot to purchase them. After a doubtful look on her face for a second in response to my question, the sales person replied, "Oh yes. We have them," and brought them on her both hands from behind the door.
Somehow my poor pointless explanation as "They are very small angels, and each has different gesture, with the face that you may want to place them in different places," was understood, and 6 angels were revealed from chiffon cloth one by one.
Although it could be an interesting idea to display each in unexpected places, like sitting or lying down and so on, when we have guests, I decided to have them play around the wreath during the time when the candles of Advent Krantz are lit.
4 weeks before Christmas, counting from Christmas Eve. This year, the fist candle was lit on the last Sunday of November, and the fourth was lit this Sunday.
Fur trees are brought from the nearby forests, as well as from farther north in Europe.
It is our tradition to decorate them on the 24th.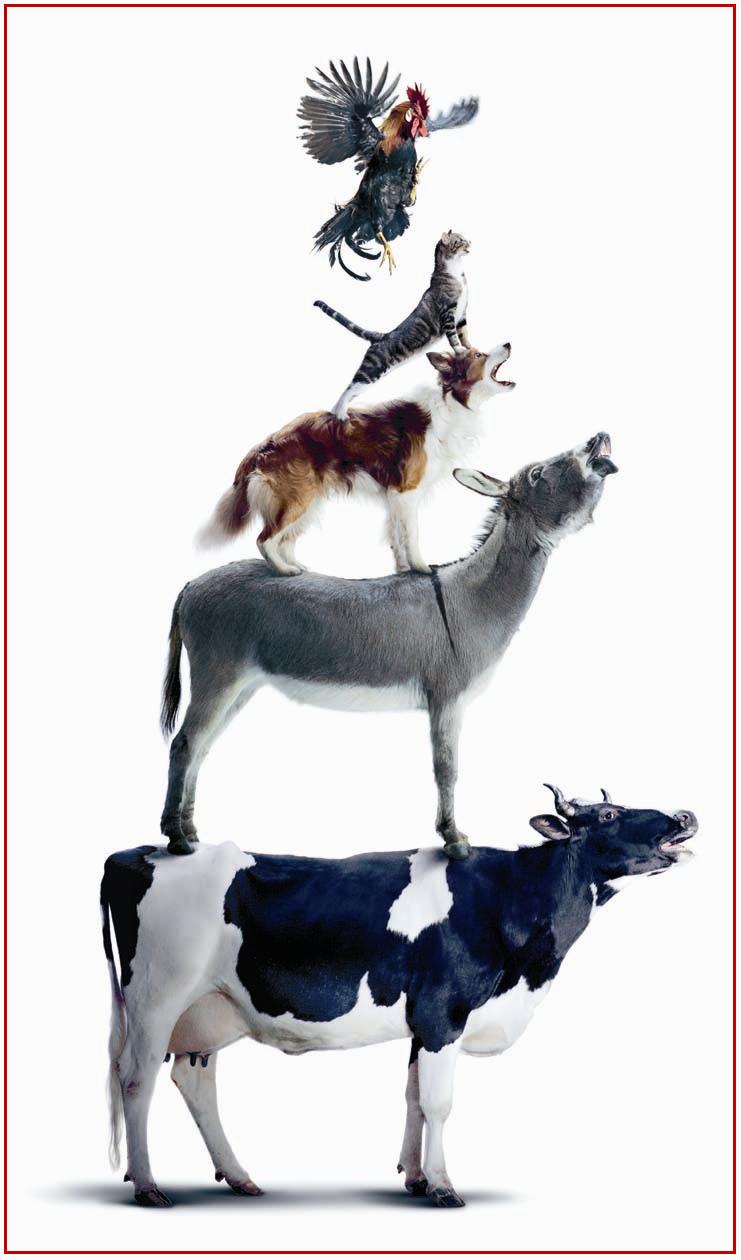 Swans are floating on the lake.
Squirrels and foxes in the forest
are looking for food by digging holes in the snow with their heads.
We, living with humans,
all got together to celebrate the new year,
and slowly started to get going again.
We wish for a happy year,
and hope to expect many fun things to come.
We wish you that this year will be a peaceful one.
We appreciate your continuous support for another year.
…………………………………………………………………………………..
Photo:© Schweizer Milchproduzenten SMP • PSL
http://www.swissmilk.ch