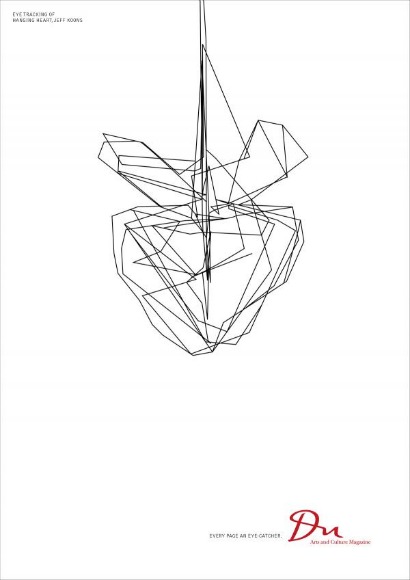 If there are people who can recall the name of the artist by looking at these drawings, they must be experts of fine art, I wonder.
Du is a Swiss magazine of art and culture, issued and sold in the German-speaking Switzerland.
They always commission top-class photographers, and the magazine is like a good example of Swiss designs, featuring graphic designs in a very cool manner.
A sense of distance brings us comfort, and it is sophisticated as well as beautiful, as one can declare as "EVERY PAGE AN EYE-CATHER."
Beyond these 3 drawings, you can foresee 3D spaces. It is fascinating that they make us imagine such images.
EYE TRACKING Series Advertisements
Jeff Koons HANGING HEART
Alberto Giacometti LARGE STANDING WOMAN Ⅱ
Sol Lewitt INCOMPLETE OPEN CUBE 10/1
The current July/August issue features the Motreux Jazz Festival that started from the 2nd of July.
・・・・・・・・・・・・・・・・・・・・・・・・・・・・・・・・・・・・・・・・・・・・・・・・・・・・・・・・・・・・・・・・・・・・・・・・・・・・・
Advertising Agency: Euro RSCG Zürich, Switzerland
Executive Creative Director: Frank Bodin
Creative Director: Axel Eckstein
Copywriter: Ivan Madeo
Art Director: Christina Wellnhofer
Graphic Designer: Sarah Kahn
808jpg
http://www.du-magazin.com/