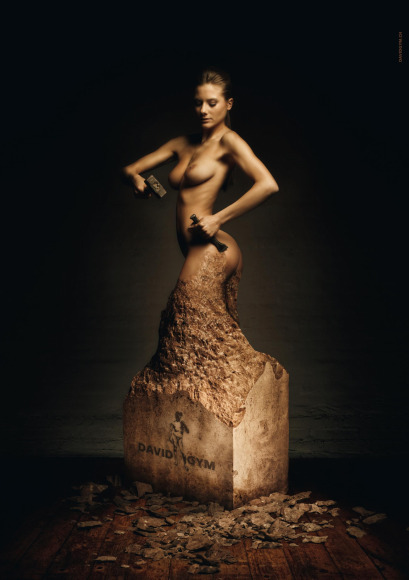 Although the poster caught my eye, I did not know where this gym was located. It seemed like somewhere in the residential area.
Besides, when I was going through their programs, all looked stoic and hard.
I believe for those of you who have solid goals and can face yourself sternly, private trainers are more than welcome to train you. For me, once I join this type of group lessons, I will be overwhelmed by the seriousness and enthusiasm of my neighbors, and I am pretty sure I will be the first one to drop out.
The season that you can show off your skin is just around the corner. We wish to wear something low-cut in the front or in the back, of course.
However, the road to go is quite hard.
・・・・・・・・・・・・・・・・・・・・・・・・・・・・・・・・・・・・・・・・・・・・・・・・・・・・・
Brand:DAVID GYM
Advertising Agency:Publicis Zurich
Creative Director: Florian Beck
Art Director: Denis Schwarz/Florian Beck
Illustrator: Graphics: Thomas Berger
Photographer: Jonathan Heyer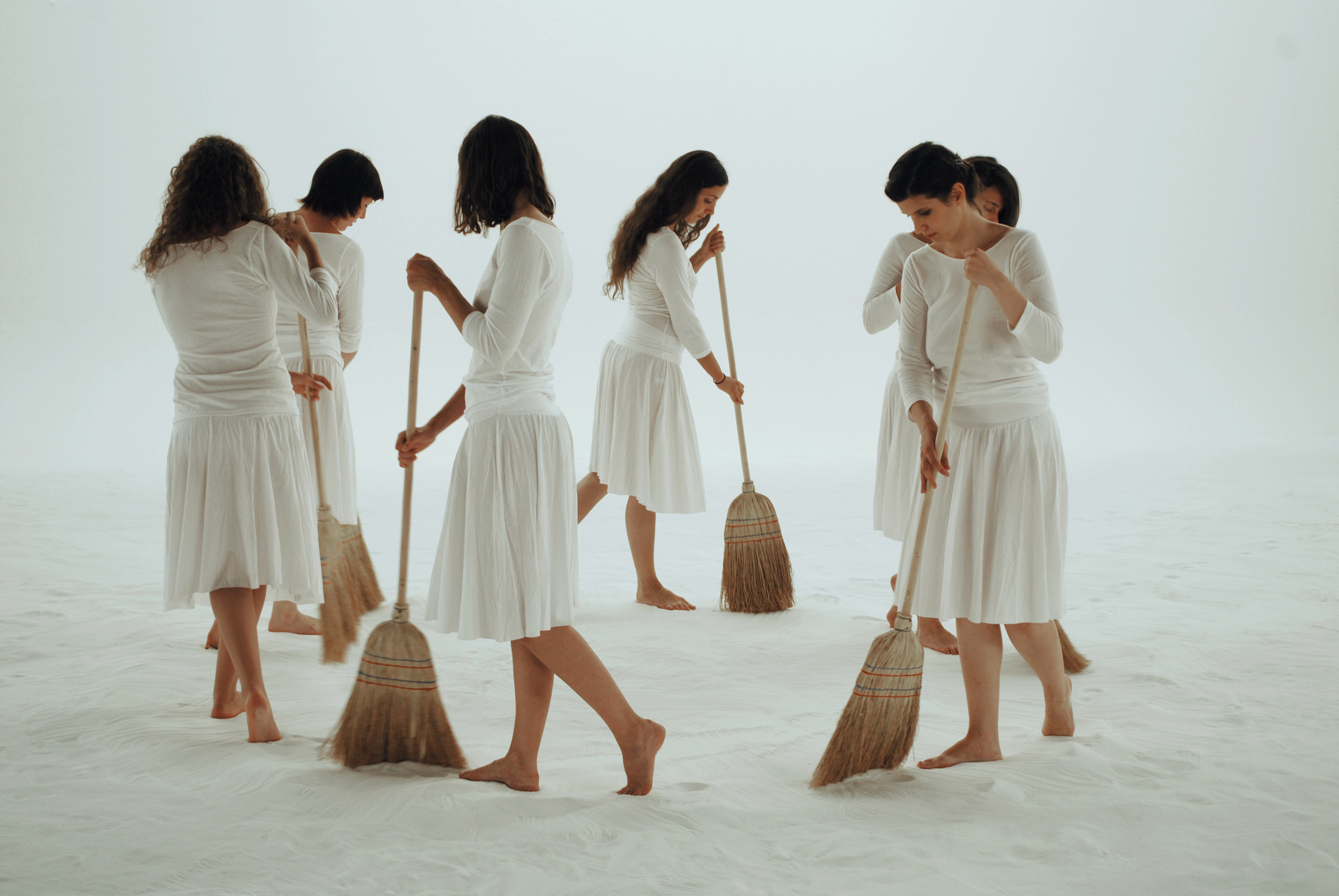 Tracking Happiness, 2009 Production still © Mircea Cantor
The image of the women walking slowing carrying brooms has been stuck one corner of my head. That motif has been appearging and disappearing. Now it seems like I am trapped in the trick of this artist.
Mircea Cantor.
Things that have crept into our daily lives before we know it, and that have become our patterns unconsciously, but make us suddenly wonder why or bring some uneasiness.
Our everyday common scenes disturb our daily lives.
Tracking Happiness is also the title of the film that Cantor created for this exhibtion.
Wearing pure-white clothes, they move slowly barefoot in the soft sand like dancing.
We are not sure what the purpose is. They walk endlessly like wandering in a dream, and the footprints are erased clean by the brooms.
Strangely blight with the grainy light exposing the empty space, the women link to the image of angels, in a dimension different from the present.
They chase things left somewhere unnoticed, or things that have been erased. Or they trace their footprints in a different way.
It reminds us of the present age that we are under the control of communications by computers or electronic devices. He tries to establish a different reality, against the world where private information is accumulated, multiplied and disseminated, which he says is also his bewilderment.
The work includes various media such as video, photographs, objects, installations, etc. Cantor also takes advantage of the media incorporated more in the society, such as newspaper ads, as one method of expression.
Born in 1977 in Rumania, he currently lives in Paris.
His solo shows at Camden Arts Centre in London and Pompidou Centre in Paris were sensational and stole the scene of Europe. Now for the first time in Switzerland, his one-man show has opened.
Until Nov. 8, 2009
Photo: Kunsthaus Zürich
http://www.kunsthaus.ch/
007-a
Geographically speaking, it is in the south-southeast of the Lake Zurich. This side is called Silver Coast, contrast to the Gold Coast of the other side of the lake. Because the sun shines by grazing the mountains, shadows are darker. The light is somewhat dreary, and the streets of buildings with beautiful neo-classical carvings are full of stories. Although there must be a lot of stories to tell, the streets seem to trap us into puzzles to be solved whenever we walk on the streets.
Getting off the tram and walk to the left. After passing the iron-gate on the slope, and on the top of a small hill, you will see an elegant villa build by Otto Wesendonck, a successful silk trader in the mid 19th century. This mansion is the old wing of Museum Rietberg. The building right in front of that is the new wing and most of you who are involved in architecture may be familiar with this building since it has held world-class competitions.
The collections of Museum Rietberg include Oriental, African, American and Oceanic arts, and this is very unusual for an European museum.
However, that is the part where you find the Swiss folklore art, and I realized for the first time at this exhibition of Performing Masks Swiss Carnival, which displays carnival masks, that the museum has an enormous permanent collection of Swiss masks.
image2_640_480
Carnival mask, Tschäggäta Switzerland, Lötschen valley, early 20th century
It was the time when I was wondering where the mountain people are now. One day by chance on TV, I saw the people who were walking through the field of snow, by wearing huge masks that were hard to tell whether they were those of animals or humans.
I was told it was a traditional local festival called Tschäggätä in the Valais region, to get rid of evil spirits. It is held on the Thursday before the Ash Wednesday in February. It is very interesting because the way it looks and the custom to wake up children by visiting houses are similar to the Japanese Namahage.
Although there are various stories as to the masks, it is said that the masks used for this occasion is the oldest ones in Switzerland. Because their facial expressions are too fantastic, super-human and mystic, it had already attracted the attention of ethnologists by the end of the 19th century.
image1_640_480
Museum Rietberg Zurich Carnival mask Carver: Albert Anton Willi (1872-1954) Switzerland, Domat/Ems
Furthermore, the masks in the Salganz region where Rumantsch, one of the Swiss 4 languages, is the official language, have the characteristics of rich expressions which extend vertically and horizontally. When I was going through the exhibition catalogue, I found one photo where Mr. Albert Anton Willi, who was a sculptor in this region, was putting an expression of a mask on his face in front of a mirror.
007-p
Many of the masks displayed this time are made by curving woods and coloring, by using animal skins, sheep -skin and textiles and so on. While there are 3 major regions where the masks are handed down through generations, it is overwhelming to see the enormous variety of expressions. I wonder this tells us that individualism were accelerated more in the days when the nature was severe and the people had to live in the environment where communications were cut off due to the rugged mountains.
In this country surrounded by the mountains, religions before Christianity was brought in, or faith before religion, have been affected in various ways by the surrounding countries. In some regions, they have integrated with Catholicism and re-grown as individual cultures.
Awe and respect for huge mountains. I hear that the roots of many mythologies and legends can often be found in the regional festivals.
From the Alpine mountains or deep in the forests, in the room deep in the museum, the sprits are conspicuous.
http://www.stadt-zuerich.ch/kultur/en/index/institutionen/museum_rietberg.html
There is a think tank team called "Brainstorming" who sends out unique contemporary art works. While explaining its background may require some length of time, a Dutch kinetic sculptor, Teo Jansen was introduced by this group the other day.
Since the large-scale exhibition, first time in Asia, was held in Hibiya, Tokyo from January to April this year, many of you may already have seen his works.
The CM entitled "Defining innovation" onaired in South Africa in 2006, was talked about a lot around the world.
A strange "living creature" that you had never seen before, walked on a wind-whipped dark beach together with Jansen, fighting against a roaring rainstorm. This mysterious image and his economical phrase were cool and it demonstrated his excellent sense of creativity.
This time, Jansen has brought  "Animaris Umerus" and some of its buddy small "living creatures" to Zurich.
Plastic pipes which induce electricity that ordinary household use. The framework is made by using nylon strings to fasten these pipes. Electric cables or vinyl strings were also used. Despite my expectation that he would not use any organic materials, he answered in the interview that he used egg white for the eyes and skins for some reason.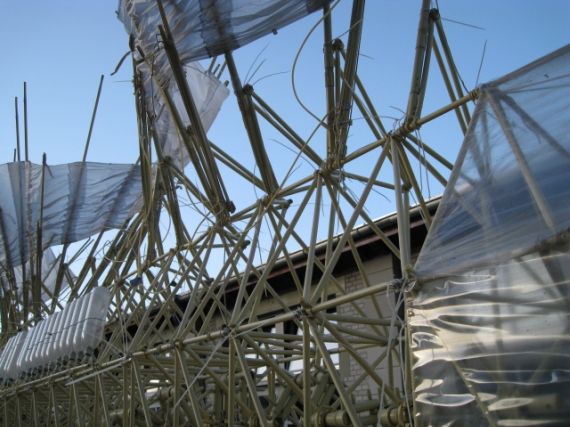 Animals on a sandy beach, or beach animals. Although such names are well known in Japan, "Strandbiester," the German word for that, emphasizes more on an animal image that has landed from the ocean, which sounds mysterious for its collective term itself. It also gives somewhat humorous nuance such as something dangerous but cute.
As if it is a living creature of Paleozoic era, having numerous legs like a monster centipede, moves and runs by wind power. Because of the grandness of each "creature" he has created and its interesting sound of Latin language, one may easily imagine a dinosaur.
Although Jansen majored in physics at the Delft University of Technology, he became a painter.
I believe it was before he became the painter, when he used to walk along the beach to put together his scripts for newspapers.  I am not sure for what he was writing the script, but one day, he was inspired to create an image of a large "living creature" walking on a sandy beach.
It had been a long time since that day.
It was September, 19 years ago. He went to purchase plastic pipes.
"Throughout that afternoon, I was playing around with those pipes. It was almost evening time. I felt certain that I would be living with these plastic pipes for the rest of my life."
Technical ideas and art were united, and a totally new "living creature" baby was born on this day.
"They don't require any food. What they need to survive is simply the wind. They do not need time to move around to find food, like other animals."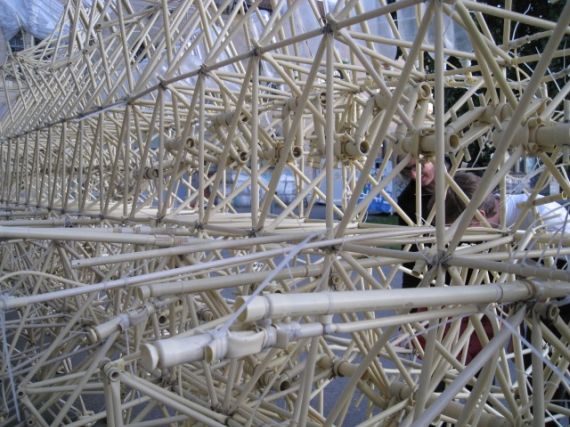 "Living creatures" of Jansen eat the wind and live on a sandy beach.
"They can play with children on the beach, or they can live together with other animals. However, since the living creatures that I create continuously evolve, soon or later they may become wiser than human beings. It is a form of new life."
"Why are you keep on creating living creatures on the beach?"
"Why? I don't know. Now let me ask you. Why we, human beings, live on this earth?"
Interview:Digital Brainstorming
http://www.digitalbrainstorming.ch/
BMW 「Defining innovation」
http://www.bmw.co.za/onlinenews/issue1/advert.html
Die lange Nacht der Zürcher Museen 2006 Museum Bärengasse Photo:Peter Koehl
Die lange Nacht der Zürcher Museen 2006 Museum Bärengasse Photo:Peter Koehl
You never see any children walking on the street at night.
However, one Saturday is exceptional.
The Long Night Museum (Die lange Nacht der Mussen) will be celebrating its 10th anniversary this year.
Almost all the galleries in the city, mainly the exhibitions currently being held, including related hands-on workshops, guided tours or independent vents, will be open to public literally all night, rather than for a long night.
The botanical garden of the Zurich University or Swiss Federal Institute of Technology Zurich (ETH), as well as lectures at the zoo and performances or concerts in small theaters will also be open to public.
It is programmed so that children and adults can enjoy hopping from art to art with single tickets.
Trains and trams run according to the exceptional schedules.