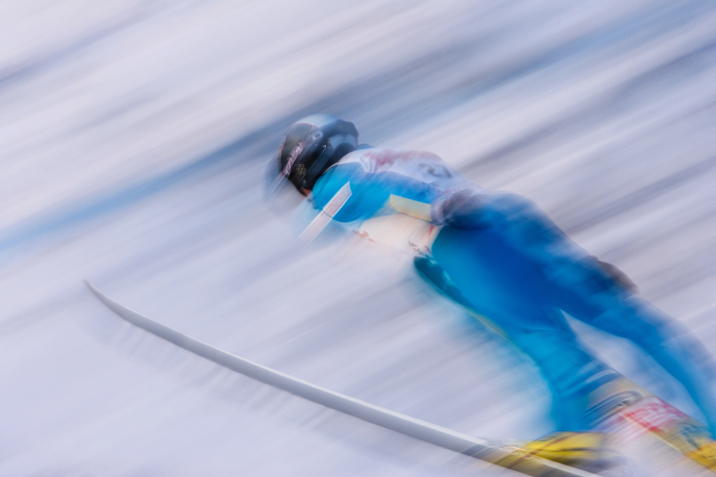 The time difference between Zurich and Vancouver is -10 hours. These days, some irregular events have been happening to my regular life. Looking at the TV programs has made our dinnertime vary slightly in the evenings.
Incidentally, when Swiss ski jumper, Simon Amann, who suddenly realized that he was a gifted jumper and was called "Harry Potter in the ski world," won double gold medals, one Swiss TV station offered a special program of 1-hour interview with Hanspeter Gubelmann, President of Swiss Association for Sport Psychology (SASP) and Simon Amann's sports psychologist.
Sports psychology is rather young as a study.
The earliest days of the study was seen in the United States in the latter half of the 19th century. Someone started to study among the children when he noticed that the children riding bicycles in a group demonstrated faster pace than those who were riding by themselves.
At the turn of the 20th century, Coleman Grifith started to study on the football and basketball players at the University of Illinois, and became interested in their reactions to the changes in perception, tenseness of muscles, relaxation and so on.
Although the study continued later on, it was from 1960s when the study was acknowledged in the academic field. First of all, The International Society of Sports Psychology was established in Rome, which activities lead the gradual dissemination throughout Europe. Almost at the same time, similar foundations were born in the United States, and the study of sports psychology established a new position in the study of psychology.
When the modern sports era arrived, starting with the welcome of sports psychologists in the international Olympic teams in 1984, any professional sports team these days has their own sports psychologists who are their special psychologists, supporting the athletes mentally. This has become a common sense in the world.
What is the work of a sports psychologist?
It might be a bit misleading, but it is not the idea that sports techniques can be improved by psychology. And, first of all, mind you that it is in the extreme opposite from the spiritual theories such as "guts" or "motivation" that are easy to understand but fossilized.
Life environments, individual characteristics, personal relationships, types of stress, and how to cope with fear and so on. Sports psychology is a new field of psychological study that will analyze the problems thtat individual athelet faces in various aspects, and try to solve such problems in order to bring out further possibilities. It will support athletes to be confident and able to control themselves calmly when participating in big competitions.
As this job requires continuous and extensive relationships with private lives of athletes, real partnership build on the relations of trust is the key.
In this sports psychology field, one big project is being developed in Switzerland, which is a plan to build a big-scale sports center within 3 years in the suburbs of Zurich. It will be a complex facility with 3 ice rinks, soccer stadium, together with doctors and functions of physiotherapy, bio mechanics and sports psychology. Sports Psychology Center will be established here and will play a role of core center in Switzerland in the future.
I had a chance to interview Ms. Cristina Baldssarre Ackermann, Vice Chairman of the bove mentioned Swiss Association for Sport Psychology. The photo was shot by Pirmin Rösli, a hot photographer who is active in various media such as German language newspaper NZZ(Neue Züricher Zeitung)in Europe and many other magazines.
March issue of the magazine "Precious" is now available at bookstores. Its opening gravure features this interview in the "Life is so Precious" section, introducing working women in the 4 large cities in the world.
http://web-precious.com

You can watch the CM at: http://vimeo.com/5065285
As this CM gives us the feelings of light and life, it might be a good idea to review it at this time of the year when things are gloomy.
Although the Swiss International Airline is currently under Lufthansa umbrella, it is still remains the face of Switzerland.
YOUR FLIGHT, SWISS MADE
Their mottos are "personal care," "Swiss hospitality," and "quality in every detail."
This short film is the work of collaboration with Swiss film director, Marc Foster. Although it was created last year, the film is still being aired as a long run.
2 minutes and 27 seconds.
………………………………………………………………………………………….
Agency: Publicis Zurich
Creative: Martin Deneke
Director: Marc Forster
Producer: Peter Lehner
Director of Photography: Roberto Schaefer
Editor: Jay Nelson
Brand: Swiss Air
Production: Ping Pong Animation: MK12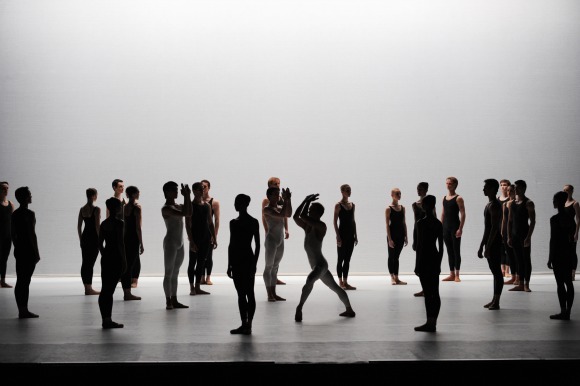 While opera is, of course, famous when you talk about Zurich Opera House, the stage performances by the Zurich Ballet, which belongs to the House, is said to be "the most beautiful ballet in Europe" as a matter of fact.
As wonderful opera singers gather together in this small town, so do the ballet dancers. Selected elitests of the elite dancers in the world come together to this town, and perform like twinkling stars on the stage.
Heinz Spoerli, who is well known as a choreographer, used to be a dancer himself. He was appointed as the Artistic Director of Zurich Ballet in 1996, and since then he has been continuously creating innovative and unique productions.
Dancing the "Goldberg-Variationen" of Bach in all.
While this piece is best known for the performance by Glenn Gould, when 2 arias and 30 variations including the repeats are played, the performance will easily exceed 1 hour. The dances and short intervals of movements between dances make the performance of about 90 minutes. The pianist who continued to play throughout the performance without intermission was Alexy Botvinov. He was born in Odessa in Ukraine, and since he won the Rachmaninow-Competiton in Moscow when he ws 19, he has established his world reputation by winning the International Bach-Competitions and Schumann-Competition
If it is a solo concert like this time, all the more, and even if it is a ballet performance, lot of people come, being anxious to listen to his performance. Since playing Schumann for the ballet performance of "Szenen" in the mid-90's, Odessa has been a good partner of Spoerli, creating excellent harmonies.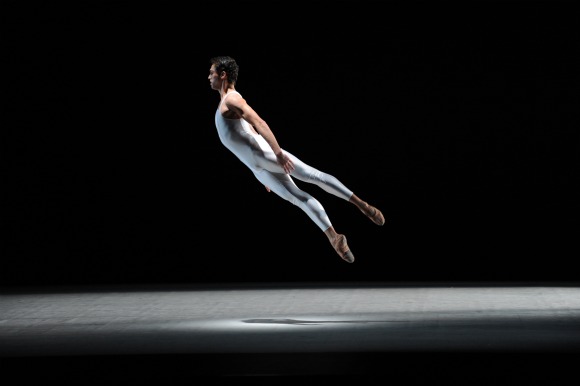 All the dancers of Zurich Ballet boast the level of elite performance and all capable of performing as soloists.
The expression of feelings by Yen Han, who receives overwhelming fan support, is delicate, deep and beautiful. His brathtaking perfect proportion brings such an enchanting elegance. Aliya Tanykpayeva is transferred from the Imperial Russian Ballet, while Sarah-Jane Brodbeck demonstrates cheerful, free and cute atmosphere.
Male dancers include Artur Babajanyan, Bryan Chan, Arman Grigoryan and so on. Each is the best and the brightest with the capabilities of super elevation, breathtaking motionlessness as well as talented agility.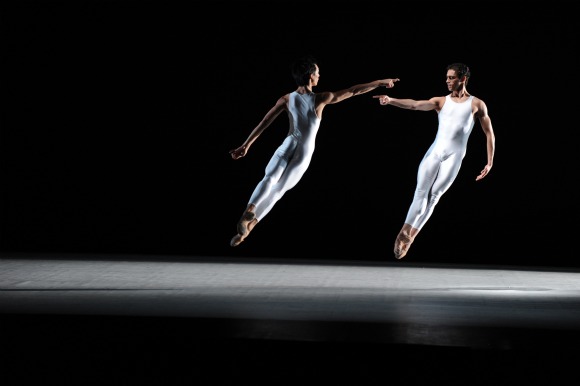 When the first aria started, many shadows started to move slowly. On the very dimly lit stage, each dancer seemed like to have become each sound, transmitting its own musical note.
No stage props. Simply Alexy Botvinov and one piano in the orchestra pit. Lighting, movements of the dancers, and the leotards that changed colors one after another. Instead of addition, deduction was the key here. Shaved off as much as possible, this piece of work seemed to bring about the inner face of each who was involved in this stage. Lights and shadows crossed each other.
Spoerli says, "For me, Goldberg-Variationen is my passing life itself." Men and women meet, become enchanted each other and unite, and sometimes separation occurs. As you age, you become mature and change. As such, men and women get together then part from each other, as the time goes by.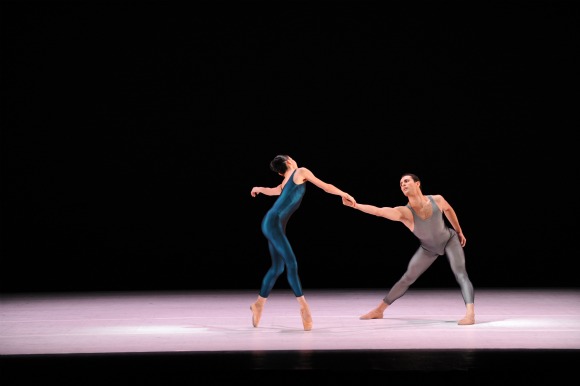 The dancers, who danced through 30 variations of life, were sometimes elegant, lonely and sophisticated, and other times, they demonstrated such unpredictable surprising "dance" as if we were watching acrobatic gymnastics. Meticulously calculated varieties of exciting scenes appeared and disappeared in front of our eyes. Although there were soloests in the halfway, "pas de deux" was performed in the latter 3 pieces. They were so sophisticaated and flexible, just like dances in a dream.
The Goldberg-Variationen is "prelude" of the 16th variation, with comparison in the first half and the latter half. Spoerli choriographed it "as if forming into an arch." In the scene when the first aria was repeated and it ended slowly, tranquility was brought back on the stage.
It was a long piece of music that even had an anecdote that it was performed due to insomnia. I was worried that I might fall a sleep, but was alert all throughout the performance by lots of surprises. Contrary to its highly evaluated production for many years, I heard "It's just a performance with lots of changing colors of leotards and lights and lots of dancers come and go to dance. That's all" by the regulars of Opera House. It was interesting to hear.
Omission that showed such enormous piece in a simple way just like that. It was assurance and sublimation of the basics of the classic. It reminded me that something like a cosmic view created by this ballet company has made Zurich Ballet very unusual.
Photo: Opernhaus Zürich / Peter Schnetz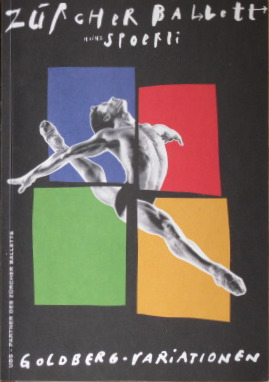 http://www.opernhaus.ch