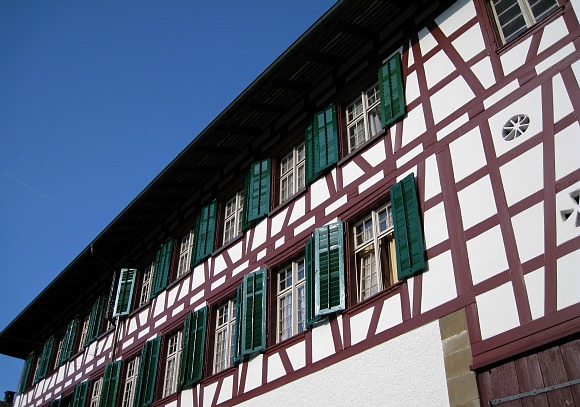 If I am in Japan in the right season, I usually enjoy tasting all the great specialties of the mountain vegetables, such as "udo" and bamboo shoots. My pleasure lasts until I cannot eat anymore.
Talking about the king of veggies in Northern Europe, like May or June, it must be white asparagus. Although it is treated a bit different, in the cooking where tastes are accumulated like addition, from our appreciation of some bitterness in our taste buds, the positioning of this vegetable is about the same as "udo" or bamboo shoots. First one in the season is always a hot topic.
The regional order of those you find in the stores in Zurich is, first of all, from South America, such as Chile and Argentina, then from the south such as Portugal and Spain. Following them are huge and sturdy ones from Germany, some of which have 2cm in diameter, arranged proudly in the stores. Valleys along the Rhein, from Freiburg to Heidelberg, as well as Brandenburg near Berlin are the famous areas of production.
In the markets and supermarkets, they are plied up mountain-high in wooden boxes.
A few steps behind, local Swiss ones appear, although they are quite slim. While I hear that they come out almost at the same time every year because of the rigid control of temperature and humidity, they seem to have come out later than usual because of the cold and unstable weather this year.
There is one vertically long special pot that was born for the sake of white asparagus. Every year, I hesitate. Should I have it after all? For what else can I use it?
And, again this year, I was not convince enough to buy it, and I boiled asparagus horizontally.
By the way, as far as I know, every Swiss restaurant cooks them until they get quite soft. As they boil other types of vegetables in this manner, more than enough, I wonder the sense of immersing in boiling water is very Japanases.
Since it is a type of "udo," I have always wondered if they can be eaten fresh. At least why couldn't they be cooked a bit firmly?
This cloud of my question was cleared thoroughly by one recipe posted in the Asahi newspaper a few years ago. Mr. Noboru Taki, the cheff of Le Mnage-Tout, a French restaurant in Ichigaya, Tokyo, showed his way of boiling white asparagus. The skin of white asparagus is quite thick and can be peeled, but should not be discarded. This part holds lots of flavour. By covering with this skin, you boil asparagus in a short time, and finish cooking with the residual heat. Some bitterness is still intact and your asparagus will be crunchy.
This was what I was looking for. It is interesting to be given such a proposal of reversal idea, from a gastronomic specialist like Mr. Tani who has a solid basic for classical cooking and also pays attention to the materials.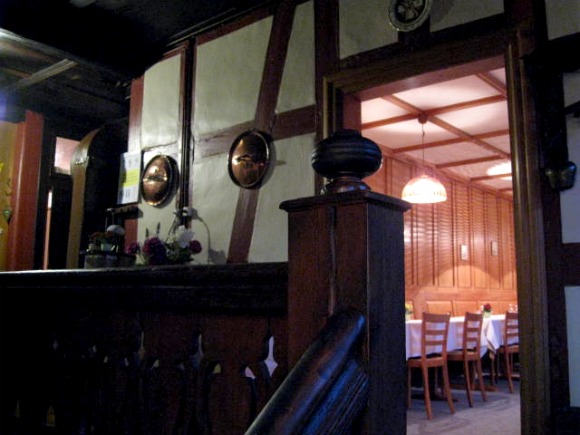 The rich soil that the river brings is suitable for growing asparagus.
Just about an hour drive, to the neighborhood of Shaffhausen, corssing the Rhein. We hear that there are several restaurants in the village called Flaach, where asparagus has been served for some generations and attracting regular customers.
For the sake of white asparagus, the restaurant that we visit once a year is "Obermühle (over the mill)." The place is a remodeled inn in the early 18th century, and heavy stones and woods are used for the architecuture. Lot of antiques are hung on the wall such as a large old clock, cow bells and forks.
A huge stone, which used to be a mill stone, is leaning against the entrance, and going up the squeaky stairs form the cold entrance, takes you to the dining room upstairs on your right and left.
Although they were serving rustic meals of farm style, we did not look at the menu, as we had one solid purpose. Or, everybody else in the other tables were all eating white asparagus.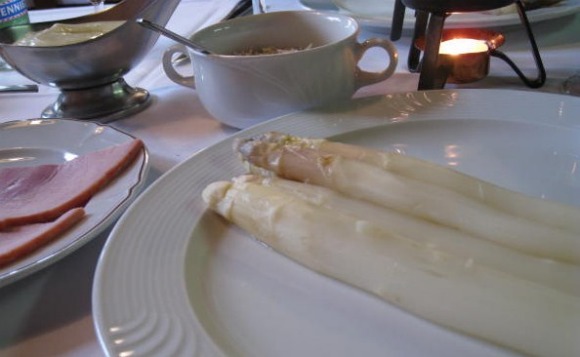 When our starter was finished, a small pot inside which their homemade butter was melted, was brought to our table with the flame underneath. Next to the pot was finely sliced Gruyere cheese, and good amount of mayonnaise with bright yellow egg-yolk color. The Hollandaise, the usual sauce, which was not welcoming for calory-conscious people, was found in this restaurant. Quite often prosciutto is also served, but here you have a choice of roast ham.
Basically, you just keep on eating white asparaguses single-mindedly. Ham is just a side dish. Once your plate is cleared, the next plate of boiled asparaguses will appear in front of you.
How much can you eat? Probably, one whole bunch for two. If measured with the skin on, it will be a big volume of about 1 kg.
They say poking the tip of white asparagus is a sin. Cutting from the lower part that is close to the earth, the tip part is brought to your mouth softly and respectfully at the very last moment.
It is a salute to the power of nature; a kind of courtesy, I believe.
The best treat of this season. You take your time to enjoy this simple dinner.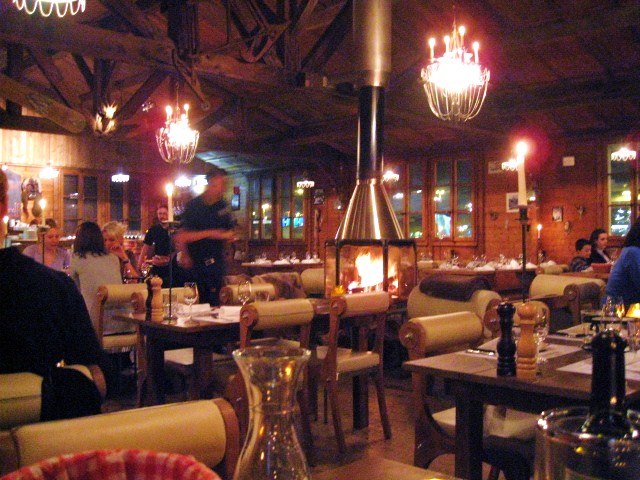 When a friend of mine from Japan visited here, I took her to one snobbish restaurant that the locals were talking about. Although I was sure it was a well-thought-out arrangement, she did not seem to be content at all unfortunately.
The reason she game me was, "Sure, it was delicious, but you can have this level of cuisine in Tokyo and Paris as well."
As a matter of fact, it has been a trend for some time in European and North American restaurants in every city to serve fusion type of food, incorporating Asian or Japanese materials or tastes. Of course we can enjoy sophisticated surprises occasionally, however, quite often, they are not well incorporated or all look and taste more or less the same unless the original cooking ability is superb.
As she was a gourmet with lots of dining experiences than usual, I asked her again what sort of food she wanted to try. She responded, "I would like to see the caws. I would love to eat something that you can only eat in Switzerland."
So the day after, we drove as far as some grassland where you could see cows, took some commemorative pictures with them, and went to the restaurant that was a remodeled cow-house to order fondue and homemade sausages. I heard that she bought a fondue set at the airport, and I was able to send her back home happily.
Fondue is a good way of entertaining when friends get together, since you do not have to spend too much time in your kitchen. In other words, it is a Swiss version of Japanese "Nabe" cuisine.
I am a bit embossed to say this since I am not a Swiss, but anybody can cook this easily. There are surprisingly many variations, and the combination of cheese or selection of liquors make your own house taste, which is quite interesting.
While homemade fondue is enjoyable, it is also fun for the season to have tasty fondue in a good restaurant.
While there are several fondue restaurants in the city, many "specialized" ones are open only during the fall and winter seasons. Of course if it is somewhat for tourists, or have general Swiss cuisine in the menu, fondue is often included, but that can be rather exceptional. The strictly "specialized" restaurants will be closed when the season is over.
Not to mention closing the restaurant, some fondue restaurants disappear without any trace. On the other hand, some appeared out of nowhere several years ago, and have become smash hits.
BARACCA ZERMAT
They have restaurants in Basel and Zurich, and the mountain lodge restaurant in the airport premises in Zurich is open from the end of November till the end of March. If you want to secure seats on weekends, you may have to make a reservation many weeks in advance.
The interior is done by Heinz Julen, artist from Zermat.
Having a "dream room" appearing in the city as the concept, everything time-slips to the heart-warming 1950s once you step inside.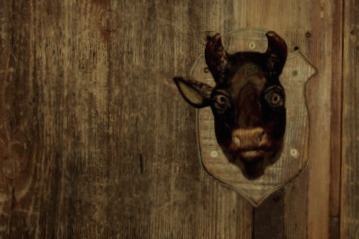 Firewood logs are piled up around the mountain lodge and covered with snow.
Once you open the door with a cow's head, you will see the rows of antique stake plates. Inside the room, logs are burning red in the big fireplace. On the wall you see a stuffed alpine ibex, a wild goat, and antlers of antelope, and old monochrome picture of Zermat.
What we ordered that night was called Motie-Motie, which was a typical Swiss fondue combining Vacherin cheese and rich Gruyeres cheese, half and half.
As tomato fondue and champagne and truffle fondue were well known in Switzerland, we tried their original named Baracca Fondue with fruits and bacon.
For the wine, we picked up Johannisberg from Valais Province where Zermat is located. While this white wine was fruity and rich, it was smooth and went very well with cheese. It had the label of Matterhorn, and sat there as a table wine.
The reason why Kirsch, which is cherry spirits, is used for fondue quite often is to help digestion. Therefore, instead of white wine, having fondue and drink Kirsch is another royal road. Although it is said to be good to your body, the alcohol content is over 40 degrees. So you'd better watch out.
Fondue is a very rustic cuisine, which is served in a pot that is used many times for a long time. Coldly simple tablewares and plastic wine coolers. The trick is when these simple factors are integrated and brought into a city, they look rather luxurious and sophisticated.
I must say that it is well designed so that you can have relaxed moments somehow by enjoying slow food, surrounding a big fire, in a mountain lodge literally like a barrack.
Poking a piece of bread in a skewer and turning it inside the pot, I was thinking this would be the last fondue of the season.
Unusually cold with heavy snow, this long winter is going away. This dream restaurant will be dismantled in a few weeks, and will disappear somewhere together with many stories that warmed up the people.
Spring is jus around the corner even in the Northern Europe.
http://www.baraccazermatt.ch