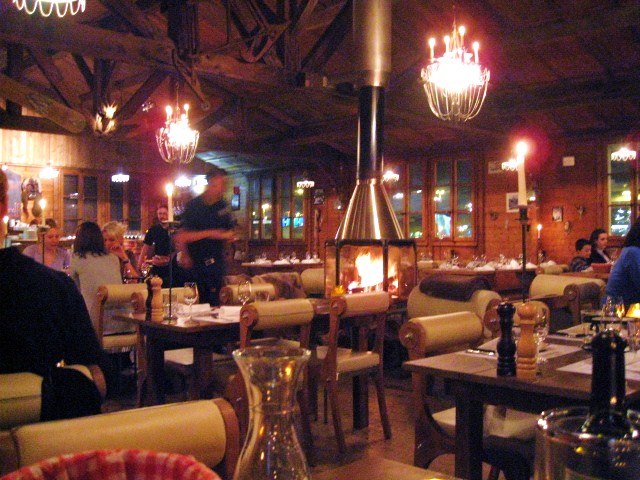 When a friend of mine from Japan visited here, I took her to one snobbish restaurant that the locals were talking about. Although I was sure it was a well-thought-out arrangement, she did not seem to be content at all unfortunately.
The reason she game me was, "Sure, it was delicious, but you can have this level of cuisine in Tokyo and Paris as well."
As a matter of fact, it has been a trend for some time in European and North American restaurants in every city to serve fusion type of food, incorporating Asian or Japanese materials or tastes. Of course we can enjoy sophisticated surprises occasionally, however, quite often, they are not well incorporated or all look and taste more or less the same unless the original cooking ability is superb.
As she was a gourmet with lots of dining experiences than usual, I asked her again what sort of food she wanted to try. She responded, "I would like to see the caws. I would love to eat something that you can only eat in Switzerland."
So the day after, we drove as far as some grassland where you could see cows, took some commemorative pictures with them, and went to the restaurant that was a remodeled cow-house to order fondue and homemade sausages. I heard that she bought a fondue set at the airport, and I was able to send her back home happily.
Fondue is a good way of entertaining when friends get together, since you do not have to spend too much time in your kitchen. In other words, it is a Swiss version of Japanese "Nabe" cuisine.
I am a bit embossed to say this since I am not a Swiss, but anybody can cook this easily. There are surprisingly many variations, and the combination of cheese or selection of liquors make your own house taste, which is quite interesting.
While homemade fondue is enjoyable, it is also fun for the season to have tasty fondue in a good restaurant.
While there are several fondue restaurants in the city, many "specialized" ones are open only during the fall and winter seasons. Of course if it is somewhat for tourists, or have general Swiss cuisine in the menu, fondue is often included, but that can be rather exceptional. The strictly "specialized" restaurants will be closed when the season is over.
Not to mention closing the restaurant, some fondue restaurants disappear without any trace. On the other hand, some appeared out of nowhere several years ago, and have become smash hits.
BARACCA ZERMAT
They have restaurants in Basel and Zurich, and the mountain lodge restaurant in the airport premises in Zurich is open from the end of November till the end of March. If you want to secure seats on weekends, you may have to make a reservation many weeks in advance.
The interior is done by Heinz Julen, artist from Zermat.
Having a "dream room" appearing in the city as the concept, everything time-slips to the heart-warming 1950s once you step inside.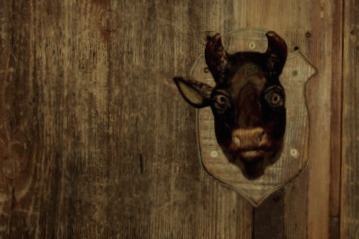 Firewood logs are piled up around the mountain lodge and covered with snow.
Once you open the door with a cow's head, you will see the rows of antique stake plates. Inside the room, logs are burning red in the big fireplace. On the wall you see a stuffed alpine ibex, a wild goat, and antlers of antelope, and old monochrome picture of Zermat.
What we ordered that night was called Motie-Motie, which was a typical Swiss fondue combining Vacherin cheese and rich Gruyeres cheese, half and half.
As tomato fondue and champagne and truffle fondue were well known in Switzerland, we tried their original named Baracca Fondue with fruits and bacon.
For the wine, we picked up Johannisberg from Valais Province where Zermat is located. While this white wine was fruity and rich, it was smooth and went very well with cheese. It had the label of Matterhorn, and sat there as a table wine.
The reason why Kirsch, which is cherry spirits, is used for fondue quite often is to help digestion. Therefore, instead of white wine, having fondue and drink Kirsch is another royal road. Although it is said to be good to your body, the alcohol content is over 40 degrees. So you'd better watch out.
Fondue is a very rustic cuisine, which is served in a pot that is used many times for a long time. Coldly simple tablewares and plastic wine coolers. The trick is when these simple factors are integrated and brought into a city, they look rather luxurious and sophisticated.
I must say that it is well designed so that you can have relaxed moments somehow by enjoying slow food, surrounding a big fire, in a mountain lodge literally like a barrack.
Poking a piece of bread in a skewer and turning it inside the pot, I was thinking this would be the last fondue of the season.
Unusually cold with heavy snow, this long winter is going away. This dream restaurant will be dismantled in a few weeks, and will disappear somewhere together with many stories that warmed up the people.
Spring is jus around the corner even in the Northern Europe.
http://www.baraccazermatt.ch