Furniture, Fashion, Communication, Interior, Design Research, Textile and Product.
Design Prize Switzerland awards prizes for outstanding performance in these seven professional fields every 2 years. The prize was established in 1991 and was awarded 22nd times.
Five international experts form the jury:
Liesbeth in't Hout, Co-Director of Sandberg Institute, Amsterdam /Ascan Mergenthaler, Senior partner of Herzog & de Meuron, Basel/Jasper Morrison, Jasper Morrison Ltd, Paris and London/Lars Mueller, Publisher, Baden Switzerland/Robb Young, Contributing Writer, International Herald Tribune, London
Entries for the competition come from Swiss designers, companies and institutions based in Switzerland or abroad, as well as designers from another countries who working in Switzerland. Products made in Switzerland are eligible as well.
As the selection criteria, the mandatory features common to all disciplines are top quality design, aesthetic consistency, social relevance, innovative vision, economic importance and sustainability.
You could see all excellent works on their home page, so here I would like to introduce to you CRESTA CHAIR which was awarded the prize in a Furniture design field.
You might have seen simple and robust handmade furniture in a Japanese anime Heidi, Girl of the Alps. Such wooden furniture has been used in an Alpine chalet, a hotel and a restaurant.
CRESTA CHAIR was designed by the blending of traditional Alpine style with modern wood-processing technology and contemporary aesthetic.
I questioned if it had been made of Swiss stone pine tree in the Alps. Jörg Boner who is the designer of CRESTA CHAIR told us that he had to select a more solid and elastic Ash tree timber. Since the elegant design form of the chair demands high strength and resilience from the seat to the back Boner used Ash wood to achieve ideal and lasting rigidity for chair. In near future Mr. Boner and his project members are planning furthermore variations by using different timber.
The seat is made up from three parts, composed by means of finger joints and represents besides comfortableness, precise lines and the warmth of being handmade.
The mountaineer country Switzerland has four official languages representing the four different cultures German, French, Italian and Raeto-Romanic uniquely assimilated in the Swiss Confederation. Mountains, forest, lakes together with middle sized cities, like Geneva, Berne, Basel or Zurich form the unique character of this extraordinary country in the heart of Western Europe.
CRESATA CHAIR was born from very sophisticated modern sense and Swiss craftsmanship with the background of beautiful Swiss nature and the unique multicultural environment.
As such a beautiful chair representing today's Swiss design.
■
The year 2014, Switzerland and Japan will celebrate the 150 years anniversary of the establishment of diplomatic relations between both countries. I wish, the global design industry would take the opportunity actively exchanging and stimulating each other.
An international travelling exhibition will start in 2014 also to open up potential on markets in the world.
The exhibition of Design Prize Switzerland was being held in Langenthal (until 26 January 2014) about 30 minutes from Bern, about 50 minutes from Zurich by train.
The art scene has started earlier than opera in Zurich in September.
With a sensational show, The Migros Museum für Gegenwartskunst re opened last autumn in the old brewery Löwenbräu- Areal in Zurich west where art, business and residential complex was developed.
Including Kunsthalle Zürich, world famous leading gallery,  Hauser & Wirth, Eva Presenhuber and Bob van Orsouw returned here together. Luma Westbau/POOL etc., JRP Ringier a contemporary art  publishing company and Freymond-Guth Fine Arts Gallery joined as well. Indeed the art block Löwenbräu White is internationally significant center of modern art in the world.
The invitation for the new season of The Migros Museum für Gegenwartskunst is 'Legal Fictions'. It is the solo show of Carey Young.
Carey Young living and working in London is a well-known visual artist, using the variety of media mix such as video, photo, performance, installation, etc.
Since approx. 2003, she has focused law-based work addressing the monolithic power of the legal system, taking the experimental form from law as a conceptual and abstract time and space.
'We the People' is a large-scale photographic work, featuring a judge's robe and a wig hanging on a garden washing line.
In the video 'Uncertain contract', an actor performs a script composed of functional legal instruments such as commercial contracts.
Authority of power is divided or varied in performance and language; she highlights ambiguity or gap of law system with a sort of her joke and humor.
'The Body Techniques' series is the video that Carey Young herself in business suit shows us her performance on the stage that is bleakly buildings sites in the United Arab Emirates. Her fiction remakes various our daily life scene under controlling of society and law system.
The show includes a number of new commissions that are contextualized by various earlier works. Her exhibitions have already achieved great success in London, Munich, and New York etc. Indeed "Legal Fictions " at The Migros Museum für Gegenwartskunst is her first big solo show in Switzerland.
Until November 10, 2013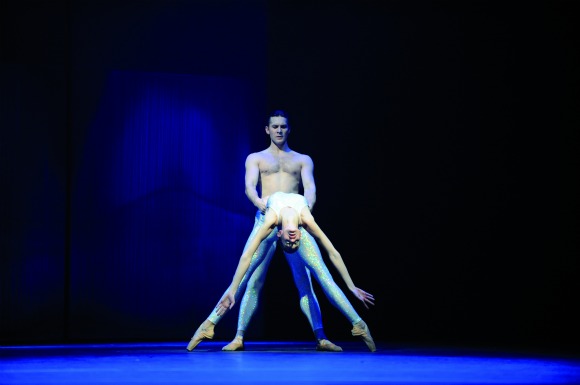 As a European tradition, the summer solstice has a mystical meaning. It's been said that the faries in the forests gain some strength in power and something mysterious may happen.
Zurich Ballet is said to be "the most beautiful company of ballet dancers in Europe." One of the very popular performances with a long run is "A Midsummer Night's Dream." In the night of the summer solstice, small forest fairies prance around.
When Mendelssohn was 17 years old, he was inspired by this story by Shakespeare, when he read it, and he finished composing a prelude of dazzling fantasy world of forests in no time. Later, he was asked to compose a music to accompany the play "A Midsummer Night's Dream" by King Wilhelm IV of Prussia, who was deeply impressed with the performance of this prelude. It was when Mendelssohn was in his mid 30s. While he composed all the rest of the pieces following the prelude, the degree of perfection of the prelude created by a teen-age geneous was so high level that it is said that it made a total differnce from the other 12 pieces created during his mature stage of life.
Flute, oboe, clarinet, horn… Seduced by the sound of the forests coming from these instruments, as if suggesting the mysteries that were about to happen, we entered into the world of dreams.
The stage design was implemented by Hans Schavernoch, continuing to be successful around the world, while the magic of the lighting was created by Jürgen Hoffman. Their sophisticated taste and depth of understanding were outstanding.
What impressed me most was the idea that a huge mirror set on the whole stage reflected all the seats of the opera house as they were.
When we were welcomed to our seats, the forest had already been there, and the moving silhouettes of the audience just looked like the beasts moving slowly inside the mirror.
Zurich Opera House has dignified baroque style seats, gold and blue painting on the ceiling and big beautiful chandeliers. It was a horseshoe style, with the angel-sculptured pillars and images of gods cruising around the 3-layer balconies. The art director, Schavernoch, created a mystic forest by making this highly decorative uneven space to be reflected in the black glass, capturing the depth as was, from precisely the opposite perspective.
The seats were totally blanketed in this trick of perspective. We were taken to the deep dense forest, or dimly-lit rock caves where fairies and beasts were sleeping.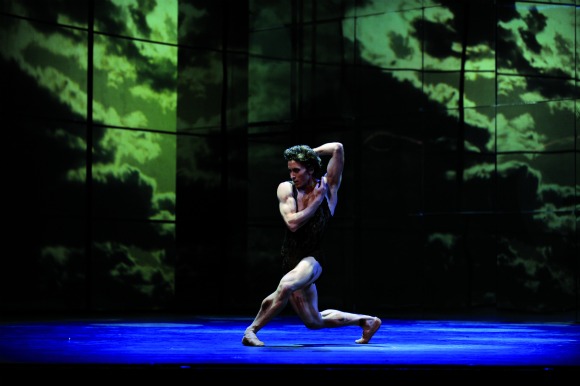 The fairy Puck, suddenly jumped on to the stage, was played by an agile soloist, Arman Grigoryan. Although his elevation on his jumps and softness and stillness of landing were almost superhuman, the fairy Grigoryan carried a sense of urgency in his movements as if he always had some wicked plot in his mind. We all were drawn to his eerie existence.Classic vs. modern and in the midst of enriched performing elements, the audience was also held captive under the of Puck.
When he made the lovers into different characters by applying aphrodisiacs, he must have sprayed that glittering countless powders into the audience, staring at us with his big eyes, as a matter of fact. Oberon, the king of fairies, was performed by
Stanislav Jermakov, while his wife, Titania, the queen of fairies, was performed by Sarah-Jane Brodbeck. Her long limbs, which must have been given solely for ballet, were specially stretched drawing a lean perpendicular line in an elegant attitude, followed by the forest fairies. Chinese Yen Han played Hermia. She is one of the most popular dancers in the Zurich Ballet and attracts many enthusiastic fans.
Although she looked rather small, he was a wonderful soloist with her dainty and delicate dance.
Vahe Martirosyan played Hermia's lover,Lysander, while Hermia's friend, Helena, was played by Galina Mihaylova. Although finally he would be married to Helena, the bride, , that Hermia's father decided, was performed by Mehrabyan.
The story of "A Midsummer Night's Dream" is very famous with happy endings for all the characters. The humors of the incidents of taking wrong partners under the magic spell cast by Puck were shown in the 2nd act.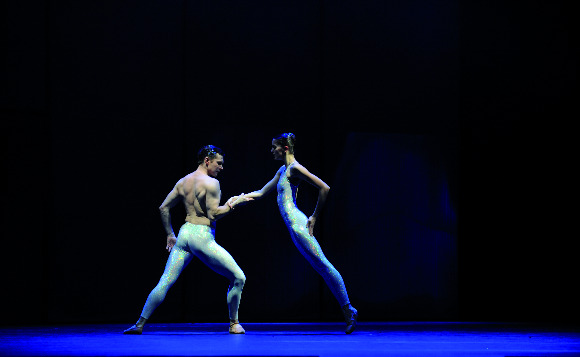 Director and choreographer, Heinz Sperli, said he was fascinated by the relationships and fates among people, and the fun aspect of exchanging lovers.
"In this piece of work, I am very interested in specific descriptions of characters, and their changes in consequence. Especially most enchanting is the structure that enabled to demonstrate various themes of love. The modernity of 'A Midsummer Night's Dream' is, from my viewpoint, the incidents happening in a very small world.The fact that lovers can be exchangeable, and the variation of such partner change is the most fun and interesting aspect."
That may also apply to the theme of encounters or departures expressed in Bach's "The Goldberg Variations." What will happen if you change your partner? said that it was an expression of love for him that Shakespere threw into the modern society.
Indiscretion, confusion, twist and illusion of love. With Sperli's magic, confrontations or contradictions among people are spread from inside the ballet to the ouside and asking us what they are.
We were in the forest close to 3 hours including the intermission. At the finale, when the first prelude was circulated and while listening to the fairies' singings, we came out of the dream after all.
Photo: Opernhaus Zürich  © Peter Schnetz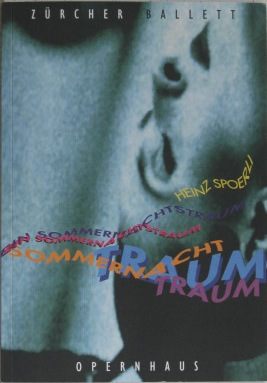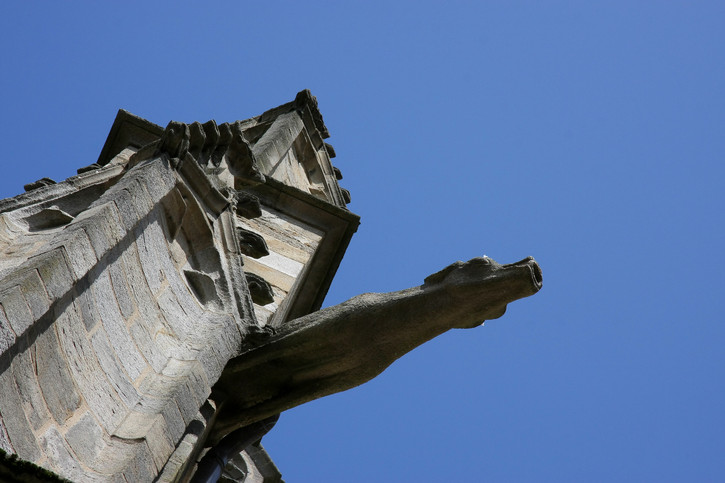 At one party, I was introduced to a gentleman from Switzerland Tourism.
I do not believe it is only myself, but when you meet some Swiss for the first time like this, we usually softly ask a question, as a hook between small talks, "So how many languages do you speak?"
"Yes, German, Swiss German, of course, French and Italian as they are necessary. Romansch? Yes, I understand fairly well. As you know, Switzerland is a multi-language country, and that makes Switzerland unique. Well, that's what is expected, I believe…," he continued. Although I understood he spoke those languages perhaps due to his job requirements, I recall he spoke 7 languages.
If you take a TGV in the morning from the Zurich central station, you will be arriving in Paris by noon. You can just go over to a winery farmhouse in Alsace, or to the German border to buy a piece of furniture. Or it's not unusual to be asked to go to Milan since it is the sale season.
In the country like Switzerland, its neighboring country, France promotes its own country. I wonder it is at the other end of the spectrum of the approach to the people living in Japan.
I had a chance to interview with one woman who is in the forefront of the industry.
She is Ms. Stéphanie Borge Mueller, Swiss Branch Deputy Director of French Tourism Development Agency.
She moved to Zurich after having stationed in New York. With respect to the biggest difference between New York and Swiss markets, she said, "Many people casually go to France on weekends by car, train or bicycle, or even on foot."
Now I wondered if it was not here, then where would be, in which direction.
Interestingly, even without specific incentives, the place that keeps high score for the Swiss is not southern France, nor Tahiti, but Bretagne region of northern France, I hear.
All I could think of are the names like Nantes and Rennes and Mont Sait-Michel, a world heritage site. However, looking at the huge photograph, displaying rocks rising up on the shoreline of the Atlantic Ocean, or mysterious humongous stones which looked like fallen from the outer space, or houses carrying Celtic melancholy, I started to understand somehow the reason why "the Swiss love" such places.
While segmented plans are positioned to target to the wealthy Swiss, with the concept that every thing they experience will be first class including hotels and restaurants, for the mass, one character will be launched from February through various media.
For the people who visit France for the first time, or for those who want to enjoy France in non conventional way, they introduce, as a guide by responding to personal questions, from charms of big cities and country side to seaside resorts or wellness spots in the mainland France, including trips to the tropical regions such as its territory, New Caledonia and places in the Caribbean Ocean.
One unique edge is a wise idea to introduce mountain walking or bicycle tours in French countryside or mountains, so that the Swiss can still enjoy their habits in France as well.
Although it may be some plan that might have been possible, the clue to the development can be easily understood once we analyze the reason why Bretagne is such a big hit for the German-speaking area in Switzerland.
Photograph by Pirmin Rösli. The article is published in the column "Life is So Precious!" featuring working women in the world's 4 major citiies, in the top page of the currently available March issue of "Precious" Magazine.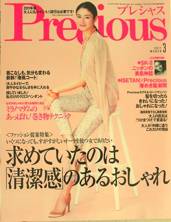 Silent One, 2010 Oil on linen 35.7 x 30.5 cm / 14 x 12 in
© Christopher Orr, Hauser & Wirth Zürich,IBID Projects,London
One old beer factory with a lion mark in Löwenbrau-Area, which is the base of Zurich's modern art, is currently going through a large-scale 2-year development.
Although many prominent galleries around the world used co-existed in this area, such as Migros Museum für Gegenwartskunst, Eva Presenhuber, Hauser & Wirth, Peter Kilchmann and Bob van Orsouw, all these galleries were moved altogether last year. For the time being, Hubertus Exhibitions in Kreis 9 area will be the location for activities.
If it were in Tokyo, it would be like going to the bay area. It was getting dark and I was heading towards the direction where you may see fewer people. As I was not farmilier with that area, I took a wrong tram, but somehow I managed to get there, with a little help from a friend over the cell phone.
It was the opening party of Migros Museum that night. Since the party had started earlier, some people were already coming out. At the entrance of the building, people who looked like art students got together, enjoying smoking in the cold air.
Up on the staircase, I saw Migros Museum für Gegenwartskunst on the right, and 2 galleries on the left.
Bob van Orsouw was introducing the latest works of Nobuyoshi Araki. As might be expected, they had a good collection. Next to that was Hauser & Wirth, which really demonstrated the luxury of the top-notch art world.
While it has been the custom that you could look at other galleries on the opening night of one gallery, with this building, the floor gave the impression of a united floor when each gallery left its door open, which I found very interesting.
I saw an enigmatic picture.
From the entrance, some peculiar light was inviting me, like saying, "Come over here."
The author was Scottish Christopher Orr. A picture which I felt like I have met somewhere long time ago. However, it was a false illusion, and once you stepped into this odd world of this contemporary artist, by tracking back the genealogy of surreal or fantasy paintings, I soon realized that the origin of his images had to go back another century.
Orr was a German scenary painter, and it has been said that he was very much affected by British Joseph Mallord William Turner or by the romantic expression by another German scenary painter, Caspar David Friedrich, who shared the same epoch.
Whether it was ruins or rainstorm, it was a scene of something crumbling. Appreciating its peculiar uneasy beauty of romanticism, and traveling back and forth between fiction and constructivism, this artist worked his way by erasing the borderline of reality and fantasy.
While it suggested as well as symbolized something, the abstractiveness of Orr was just like a trip back and forth between the energy of fetal movement like magma burning deep inside the earth and illusion, which still continued to the story of the present and the future.
The texture created by painting in so many layers and figures. Or scraping the paint off by knife in order to have a mysterious shape suddenly appear at the bottom of the canvas.
Most of these 13 new works exhibited here were rather small, F0 or F3. Those small things were inducing words here and there out of the tranquil wall, and the meanings that the pictures represented were crossing from every angle of the world.
At 9:00 pm in the venue, sceneries of fiction that were neither uneasy another world or this world, were placed side by side, and the lyricism of light and darkness was set free.
http://www.hauserwirth.com/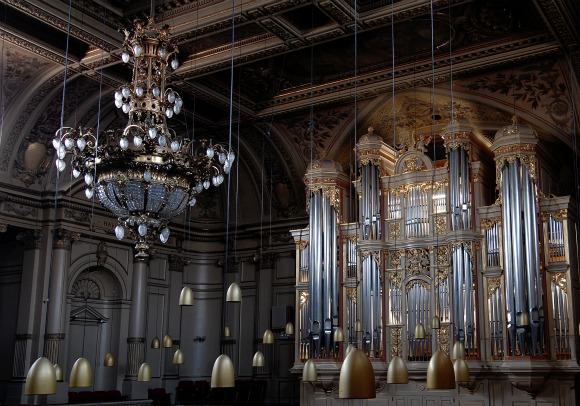 ©Josef Stuecker
One very chilly evening, we were driving along the lake. Since we were once told that the basement parking of the Park Hyatt was convenient, I have been using this parking lot whenever we come here.
Opera House stands on the right side of the Lake Zurich, and on the left side, there is another historical building that can be the hub of the Zurich culture. It is Zurich Tonhalle (a music hall.)
While the Opera House was built in the current location in 1891, this music hall was built 4 years later. The hall situated inside the Congress House has very elegant and wonderful interior decorations such as ceiling paintings and columns, while boasting its acoustics as of the world's top level. The small hall where mini concerts of solo or chamber music are held, also gives breathtaking sophisticated elegance and beauty.
The "Tonhalle-Orchester Zürich," establishing this hall as their main music hall, may be well known for classical music fans for their many CDs. Especially in the recent years, increasing number of fans are found in various countries because of their great success as the world's top orchestra. Founded in 1868, it is a distinguished European orchestra with a long history.
Orchestras that played a major role in the musical culture were non-existent, in the German-speaking part of Switzerland where vigorous religious transformations took place.
Although it was lost in fire later, the Zurich Opera House was built in 1834, at a different location from the current one. The need for an orchestra to play for the opera became obvious, and a small orchestra was formed.
It was about 160 years ago. Wilhelm Richard Wagner exiled himsealf to Switzerland, and stated to live in the mansion of Otto Wiesendonck who was a successful silk trader. The masion is now Museum of Rietberg.
Wagner, who made his name one after another by conducting major music pieces including his own, at the Opera House, held concerts very often. In response to this influence, a plan to found an orchestra gained momentum among the intellectuals in Zurich.
Before long, the Tonhalle-Orchester Zürich was born as the oldest Swiss orchestra, having the Zurich Opera House orchestra as the mother orchestra.
The first conductor was Friedrih Heger. Since Heger was an ardent admirer of Brahms, Johonnes Brahms, who stayed in Zurich often, was also a frequent guest conductor.
In 1895, following Brahms, Heger took a baton, and the Tonhalle Zürich (a music hall) was finally opened.
While the principal conductors for Tonhalle have been mainly German, from Hans Rosbaud, Rudolf Kempe, to Christoph Eschenbach who was appointed in 1982, Hiroshi Wakasugi from Japan served as the principal conductor for 4 years after that.
©Priska Ketterer
In 1995, David Zinmen, who was born in New York, was appointed as the principal conductor. Since then, the well-known "Tonhalle-Orchester Zürich" has been proactively involved in overseas concerts as a leading European orchestra, changing the history boldly at the same time. It has created many opportunities to foster young conductors as well.
Furthermore, not only the concerts in the hall, but also their energetic idea for recording have accelerated their fame as the world's Tonhalle.
They have produced CDs for Richard Strauss, Robert Schumann, and complete symphonies of Beethoven. They have realized a huge amount of CD recordings, and created a new environment to listen to the Tonhalle-Orchester Zürich. The richness of its performance surprises the critics and fans around the world.
Zinmen himself also is very active around the world as a guest conductor. 100 musicians that he leads and excellent and exciting guest conductors perform roughly more than 50 programs, making about 100 performances per year.
The New Year Concert this year was conducted by Muhai Tang from China. He is a well kown and a very popular conductor of the Tonhalle.
The first half was composed of 3 pieces; early springy joyful prelude of "Die Fledermaus" of Strauss, 2 pieces of Mozart, and one piece from "Il Barbiere di Siviglia" which was a big hit last year at the Opera House. For the latter half, following the elegant prelude of "La Scala di Srta" by Rossini, the aria from Chaikovski's opera "Eugen Onegin" was performed by a Finnish giant, Matti Salminen.
Muhai Tang who was energetic, even showing the wild streak, and Salminen displayed some relaxed easiness. Then especially the thrill of excitement by the nostalgic mezzo-soprano sung by Mariana Carnovali from Buenos Aires in South America, was so sexy that you would feel that you heart was just squeezed tight. She was as young as 23, and her bronze skin was beautiful.
The people with a bit flushed cheeks with excitement were descending the gentle spiral stairs, smiling.
I heard that Salminen was making an appearance to the table where the CDs were displayed.
If you seek for it, you will have a chance to meet such an outrageous talent in such close proximity. I am blessed to be able to listen to such music in Zurich.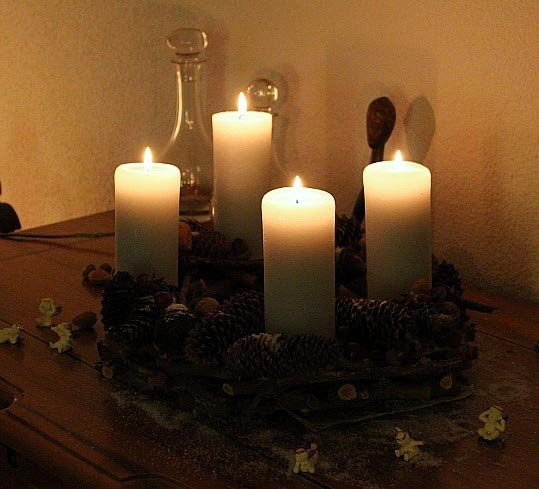 There is a building of a newspaper company called NZZ near the Opera House.
When you walk on the road along the lake from this street, you will find some interior shops like select shops.
I went there to find 6 angles one day before Christmas.
As a matter of fact, I wanted them last year but I inadvertently forgot to purchase them. After a doubtful look on her face for a second in response to my question, the sales person replied, "Oh yes. We have them," and brought them on her both hands from behind the door.
Somehow my poor pointless explanation as "They are very small angels, and each has different gesture, with the face that you may want to place them in different places," was understood, and 6 angels were revealed from chiffon cloth one by one.
Although it could be an interesting idea to display each in unexpected places, like sitting or lying down and so on, when we have guests, I decided to have them play around the wreath during the time when the candles of Advent Krantz are lit.
4 weeks before Christmas, counting from Christmas Eve. This year, the fist candle was lit on the last Sunday of November, and the fourth was lit this Sunday.
Fur trees are brought from the nearby forests, as well as from farther north in Europe.
It is our tradition to decorate them on the 24th.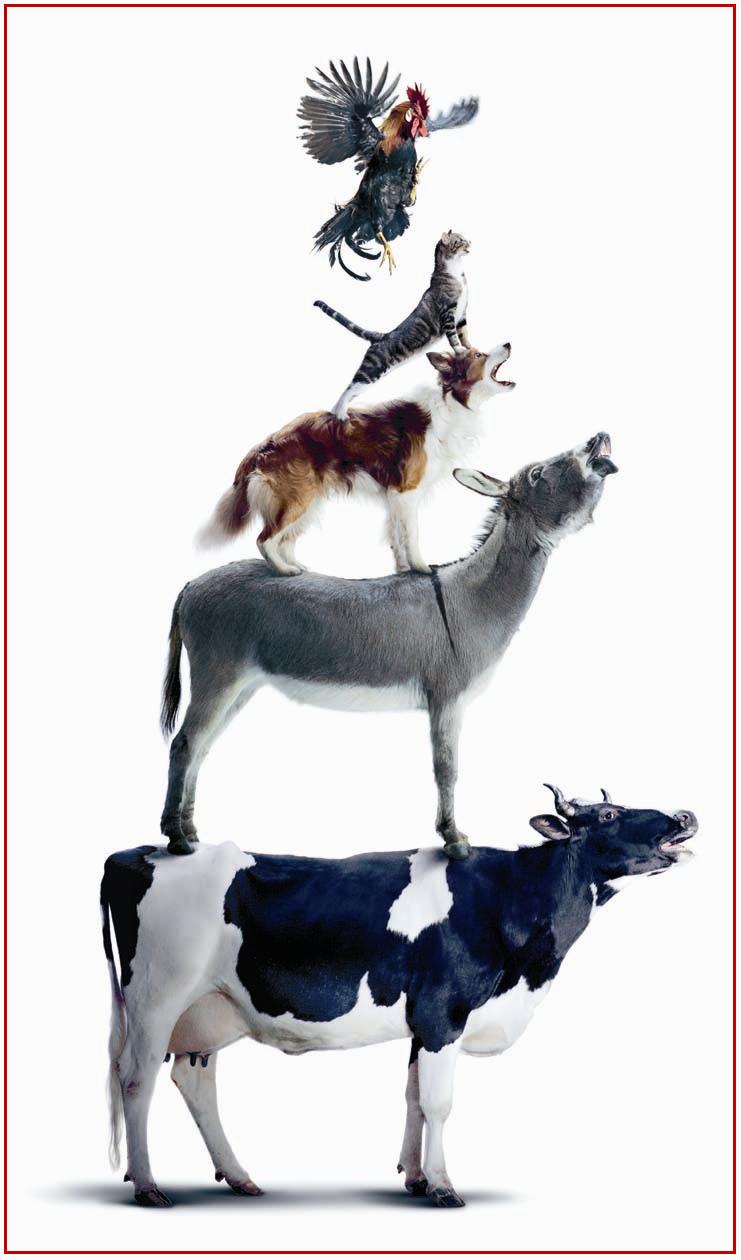 Swans are floating on the lake.
Squirrels and foxes in the forest
are looking for food by digging holes in the snow with their heads.
We, living with humans,
all got together to celebrate the new year,
and slowly started to get going again.
We wish for a happy year,
and hope to expect many fun things to come.
We wish you that this year will be a peaceful one.
We appreciate your continuous support for another year.
…………………………………………………………………………………..
Photo:© Schweizer Milchproduzenten SMP • PSL
http://www.swissmilk.ch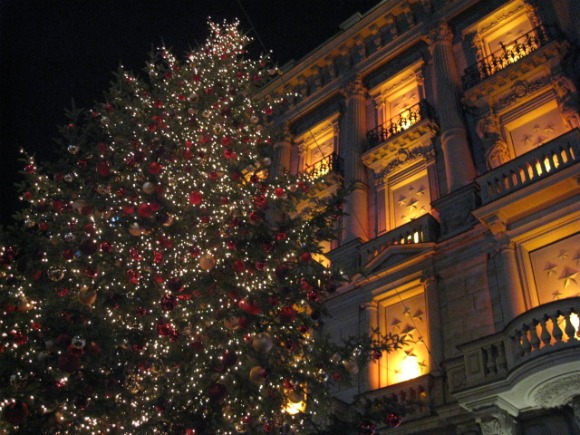 Since the big snow three weeks ago, the temperature has dropped considerably in Zurich. A snow-white world welcomes you when you get up in the morning, and you hear the elementary school children throwing snowballs on their way to school.
The big twinkling Christmas tree decorated with Swarovski crystals is stood up as usual in the Christmas market at the Central Station. As many as 160 venders are busy, selling cheese, dry sausages, raclette, wooden crafts of traditional Swiss arts and crafts or handmade natural stone accessories, as well as sweaters from Peru or silks from China.
It is the busiest time of the year. Finishing up your work, meeting people, small parties to attend and so on. Although fixed appointments will gradually disappear from your schedule once it's done, there are things that tend to be put off later.
They are decorating inside the house, confirming the menu for Christmas Eve, looking for presents, and baking cookies and so on.
Whether you are religious or not, this custom has become a familiar event for me, even though I feel some temperature difference in the enthusiasm of religious Europeans. However, besides that, if you somehow plan to celebrate the Japanese-style New Year, you have to be in high spirits and energetic just for the sake of these several weeks of the year. In order to enjoy every process, some cheering voices may be required in your mind.
Many small presents will be prepared for one person. When you think of the presents to give to the people you expect that night, the number will be several times the number of people, which is really something. You buy several types of winterly wrapping papers and ribbons, and start wrapping each one by changing the color of paper and adding some decorations in place of sign.
While I knew it was about time to browse and look for such things, I hurried through the street by avoiding the people among the vendors, telling myself that I would come to the Market some other time to take a good look. The fluffy fraglance of cinamon and anis just passed me.
Snowflakes started to flutter down on the city streets in the twilight.
The temperature is probably around -5℃. Lots of people have gathered around the hot wine vendor. Having a little flushed cheeks and displaying heir breaths like smoke, they seem to have been chatting there for quite a while.
My feet headed from the street where brand shops stood side by side, to the plaza of the financial district.
Although you may find many Sprünglie, a well-established chocolatier, in town, I somehow end up with this shop. Since they do not have this brand in Japan, it is the place where I buy my souvenirs or presents, just like going to Akasaka all the way to buy the sweet bean paste of Toraya in Japan.
Holding some boxes wrapped in gold packing paper, I chose the black truffle freshly made today for myself.
As the light was so beautiful that I decided to walk to the post office.
Medieval stone-paved lanes often branch off in narrow paths. Restaurants are lit, and numerous miniature bulbs are everywhere, just like falling from the sky, lighting up the people's faces passing by.
The next corner is where I am heading.
The church bells are ringing loud and clear in the freezing sky.
http://www.spruengli.ch/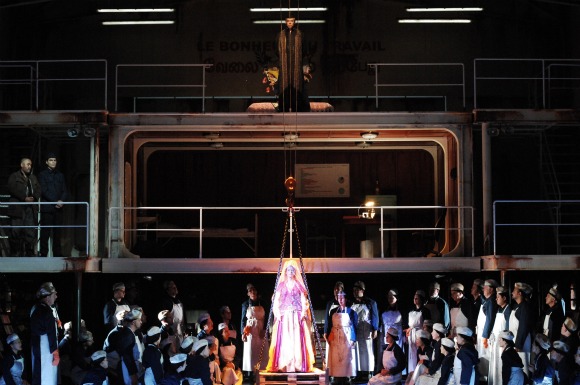 When you go to see an opera, and especially when you have booked a nice seat, you try to have a good sleep the night before, as much as possible.
In a small space with a seating capacity of 1100, such as Zurich Opera House, the distance towards the stage is not that far. Unless your seat is close to the ceiling, as the acoustics of this opera house is very good, you need proper physical strength as well to receive the impact of real elite human being performers.
However, I also enjoy the footwork of dropping in the opera house by reserving a seat online if still available, when I am feeling good and have enough time. Unless it is premiere or a premium seat, I believe wearing an outfit that is not so fancy is acceptable to your neighbors. As far as you feel comfortable, that's all matters. In such a manner, by keeping your shoulders relaxed, you can enjoy just like the time warp into the extraordinary world of opera.
A good friend of mine from Japan came here. She was well versed in plays and Kabuki. One of her goals of this trip was, of course, to see an opera. Luckily I found out that "Les pêcheurs de perles (The Peal Fishers)" by Bize would be showing when she came.
Having won the "Roma Prize" which was the gateway to success for French artists, Bize returned to Paris from Italy. This work was written when he was 25 years old. Soon after the premier of "Carmen" that was performed in about 10 years after his return, he died of illness at the young age of 36. Having established an important position in the opera world and his great talent that could have changed the history was suddenly gone. There is no doubt that if any opera piece had been created after "Carmen," how wonderful the opera world would have been.
Although he was not prolific, probably due to his low number of pieces known in opera, the size and the composition of "Pearl Fishers" is quite often compared with those of "Carmen."
It is said that "The Peal Fishers" has been transformed quite dramatically after Beze's death, and this piece is still continuously developing with changing details by many unique directions.
Although Carlo Rizzi, the conductor, defines that "Carmen" is a more sensual and exciting dynamic opera with full of life, he says;
"When Bize wrote the 'Pearl Fisher,' he was not really debuted yet in that era. He was young, and because of his youth, I believe, this piece has a sense of purity or transparency. The story is very simple and easy to understand. Anyway, the melody of each piece of music is clear and very beautiful."
It was the latter part of the 19th century France. While the popularity of Italian opera was still dominant, it was an epoch when a "French opera" was born, which gave a new trend to the world of opera.
I wonder such a historical backdrop has affected the story.
The director was Daniel Herzog, who was known for his strong dramatic impression. He captured with a little storng social nature.
Although the scenic art or the lightings of Zurich Opera House quite often incorporate some devices that surprise the audience, no complicated structures were found this time, probably due to the easy-to-understand story.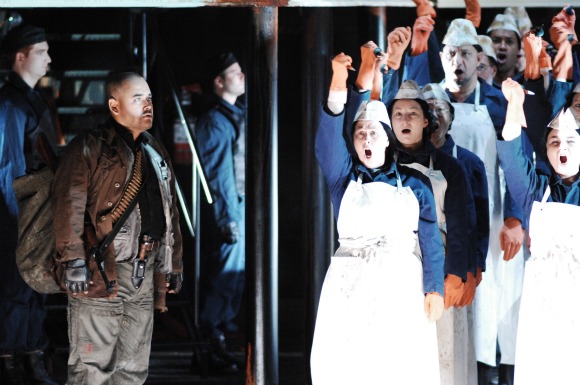 The scene was a beach in ancient Ceylon.
The stage did not move much. It was structured in 3 layers from the very beginning.
According to the previously mentioned , "First of all, look at the very bottom. Here you see the peal fishers all lined up, and this is the sympol of laborers. The middle is the middle-class, and the very top layer with a run-down monastery is the top of the system of the 'Pearl Fishers' world."
Also in order to clarify such a structure, the pearl fishers remained on the stage.
Tens of pearl fishers stayed there all the time, by moving their hands wearing orange color gloves all together, which dragged weirdness of the power of a mass.
Baritone Franco Pomponi played Zurga, the newly chosen head of the pearl fishers, while Nadir, his childhood friend, who once had loved the same womanand had conflict with him, was performed by tenor Javier Camarena.
The priestess Leila, once was a lover of Nadir but sent here to the beach to pray for the safety of the pearl fishers, was performed by soprano Malin Hartelius.
Bass Pavel Daniluk played Nourabad, the Brahman high priest who brought Leila.
The priestess Leila was asked by Zurga never to remove the veil and to remain virgin, only to pray for the safety of the pearl fishers.
However, by listening to Leila's voice, Nadir realized "That's her," and both of them recognized each other.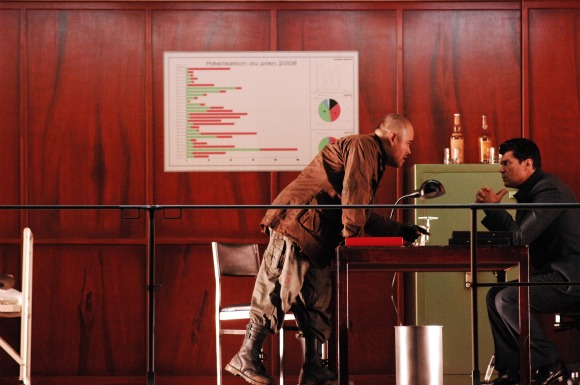 Famous pieces of music were sung one after another: arias, duets and terzettos.
Reunion with an old friend, then the duet "fond du temple saint (From the depth of the holy temple)" sung by Camarena and Franco Pomponi, praising their friendship since there would be no lover who had brought conflict between them, was truly beautiful.
The most well known piece is, of course, "Je crois entendre encore" which Nadir sang thinking of Leila. While Camarena is one of the most popular singers in Zirich Opera House, when the first phrase of this song started to give a little bit lonely tune, I felt so romantic that I was wrapped in the softness as if someone was taking me to somewhere. Although he was from Mexico, he had some oriental feeling and sang his love for Leila, expressing the liberty of a young man who had been away from the village for a long time.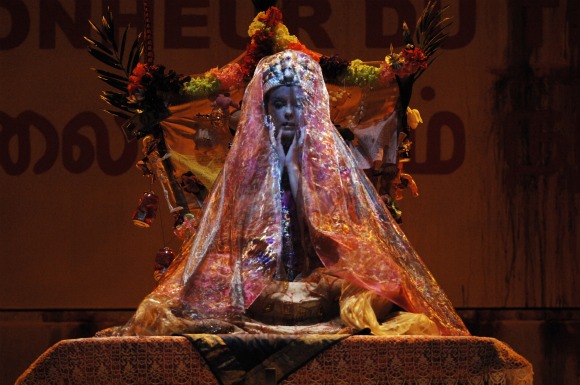 The soprano of the priestess Leila was almost divine-like. Nobleness was incorporated into the transparency of the melodies that Carlo Rizzi, the conductor, repeatedly emphasized.
Especially, the aria "Dans le ciel sansa voiles" was wonderful, following ", divin Brahma!", that resounded from the top of the stage by Leila with her veil on, at the last scene of Act I.
The fact that Leila and Nadir were in love again was revealed to Nourabad by the guards, and they were condemned to death.
Leila begged Zurga to spear Nadir. When Zurga realized that the priestess was actually Leila, Zorga told her about his love, but could not change Leila's feelings. Out of jealousy, Zurga condemned them for execution.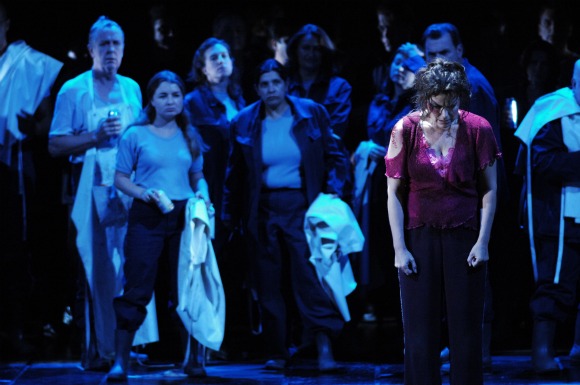 Leila said, "If I am to be killed, please take this to my mother," revealing her pearl necklace. That was the give he left with the girl who rescued him by risking her life when he was on the run.
Zurga lit the fire in the village, and he decided to let them go during the villagers were in chaos. The song sung before this scene, another famous terzetto, "O lumiere sainte" was sung by these three characters, and their voices rolledin and out like waves, filling the opera house with the dramatic mithgy ocean.
At the end, the villagers killed Zurga. Nadir and Leila disappeared into the light. The story ended that the authority was brought down by the people, and despite the hesitation in religion, love shone at the very end. As the story was easy to understand, I was able to enjoy beautiful and rich singing voices comfortably, without fiercely following the subtitles.
That night, the melodies of the arias were echoing deep in my ears throughout the night.
Photo: © Suzanne Schwiertz
003
http://www.opernhaus.ch/