Director, Terry Gilliam, appeared on the red carpet.
Zurich Film Festival has been a focus in recent years as one of the distinctive film festivals in Europe. The Zurich Film Festival has celebrted its 5th year. More than 60 films from Switzerland and other countries, including those big pieces considered to be the greatest in the movie history, are being shown here.
The competition consists of 3 sections; International Feature Films, International Documentaries, and German-language Films. Apart from these films, you can enjoy a wide range of various films such as digital films and short films.
USA, Mexico, Israel, Russia and Korea, as well as European countries have participated. Especially this year, several films from Argentine have attracted attention.
While it is aimed to find and promote unique expressions and excellent talents from all over the world, it can also be said that it is a film festival based on the originality and home-court advantage of Zurich where young ambitious filmmakers can easily get together
Related events and workshops by young producers were held in various venues. Furthermore, the speeches by Morgan Freeman, Michael Keaton, Peter Fonda and so on are also included in the program.
"Golden Eye" is an award given to excellent moviemakers.
Although the news of the arrest of Roman Polanski apparently might have made this film more visible, the "Golden Eye; A Tribute to…" was awarded to Mr. Polanski. At the same time, it was announced that the award ceremony would be held in his absence, based on the firm appreciation of his achievements. The retrospective is being held according to the schedule.
RTEmagicC_Freeman_3_jpg
The "Golden Icon" Award which can be said as a lifetime achievement award, will be given to Morgan Freeman who appeared in the films such as "Million Dollar Baby," "The Shawshank Redemption," and "Driving Miss Daisy."
Until October 4, 2009
Photo: Zurich Film Festival
Annual gay parade was held in Zurich about 2 months ago. Summer brings many festivals in various areas, and this is another unique and large-scaled festival to be noted.
Every year, on the 2nd Saturday of August, this Street Parade is held.
Originally it was the Love Parade in Berlin, however, since it started in Zurich in 1992, the parade has become bigger and bigger every year. Now it is known as the biggest European techno & dance parade.
The year 2004 recorded the number of audience as many as 1 million. This year, heavy rain continued throughout the day, and the cold weather discouraged some people or some returned home early, we hear. However, 600,000 people all over the world gathered together for this day. Just for your information, the population of Zurich is 360,000.
This year's catch phrase was STILL HAVE A DREAM !
Stefan Epli, the Communication Director, mentioned in his statement to appeal, by quoting the words from "I have a dream" by Martin Luther King, "Although this is the speech made many many years before the street parade was born, we are still fighting for the same goal 18 years later. (an omission) The Street Parade is a demonstration for love, peace, freedom and tolerance." Is it just to reflect the current age?067-b-jpg67
It started near the Opera House, and 27 showy trucks called Love Mobiles moved along the Lake Zurich. These are the moving stages, the signatures of the Street Parade.
Charismatic DJs from Switzerland, Japan, USA and European countries, rode each mobile and the artists and dancers performed hot live stages, screaming and dancing.
The audience called Ravers blended together in the Parade, linking each mibile, screaming and dancing in the same way, and moved on in the heavy sound.
Just before heading to the opposite side of the lake, as the parade was getting closer to Bürkliplatz, where the center stage of the highlight was located, the crazy excitement got crazier and the tention was skyrocketing.
Usually the young people in Zurich seem to be polite and orderly to me, but on this day, they loosened up together with the guests from overseas. Parties continued to the following morning all over Zurich
022-b-jpg22
By the way, the spectacular sight you cannot miss of the Street Parade is outrageous fashion, or costumes I should say, as more appropriate term.
While the Japanese girls' fashion is now exported to Paris or Milan these days, the Japanese may be accustomed to little surprises. However, seeing such people all over town was surely bizarre.
Gender, age, occupation, or whatever, it was borderless. The young and the old, as well as the middle-aged, joined the parade. Straight tolerance, telling forget about metabolism, was openly welcomed by smiles.
When asked for pictures, most of them gave certain pose right away. I wonder where they practice how to pose. It was fun to have pictures taken with them, but I fear once you enjoy that moment, it may become habitual.
Well, you never know. You may find me somewhere in this parade next year.
052-b-jpg521                    065-b-jpg65
Click here to see more aggressive costumes
http://www.streetparade.ch
Click here to see more aggressive costumes.
image_mjf_15283005062009-580x386Photo: Lionel Flusin – Montreux Jazz Festival Foundation
Montreux Jazz Festival took place for the first time in a town near the Lac Leman in 1967.  Although the name still remains as a jazz festival, it involves a wide range of music, from rock, soul, blues, regae, to African or South American music. It is known as the world's biggest music festival, including the participation of big names in the world of music in non-genre.
It is held in July every year, and it will be from July 3 thorough July 18 this year.
There are two main venues : Auditorium Stravinski and Miles Davis Hall.
The first 3 days were kicked off with the Fiesta Latina! with Cubanismo, Oscar D'Leon, etc, and followed by Harbie Hancock, Alice Cooper, Baaba Maal, B.B. King and George Benson and so on.
Toshinori Kondo will perform at the Miles Davis Hall on the 12th.
Now Price will perform tow shows to close the Festival on the 18th evening. First stage will be at 19:00, followed by the second stage at 00:00. www.prince.org
http://www.montreuxjazz.com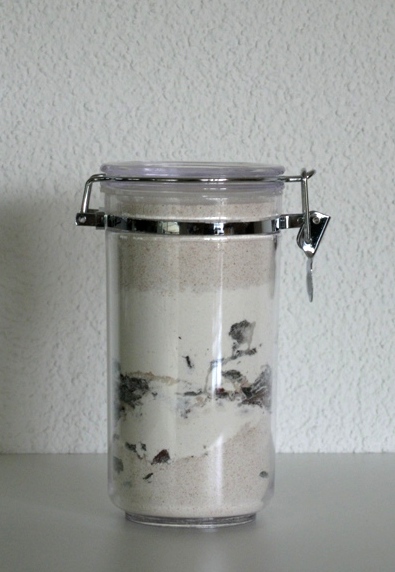 When we invited a Swiss couple to our place for dinner, we were given this present.
Bread flour with a recipe.
The lines that look like abstract are sunflower, cumin, pumpkin or poppy seeds, etc. It also includes 10 different kinds of spice as well as barley and millet.
How did someone who thought about this idea draw these lines?
It would have been nicer if it were a watercolor or pastel drawing on paper, if possible. Or is it too much to ask?
All what you need for this baking mix is water and a bit of milk. As it looked so beautiful, I have kept is as is as an ornament. However, the yeast is still alive.
I'm afraid it's about time for me to do the baking.