Furniture, Fashion, Communication, Interior, Design Research, Textile and Product.
Design Prize Switzerland awards prizes for outstanding performance in these seven professional fields every 2 years. The prize was established in 1991 and was awarded 22nd times.
Five international experts form the jury:
Liesbeth in't Hout, Co-Director of Sandberg Institute, Amsterdam /Ascan Mergenthaler, Senior partner of Herzog & de Meuron, Basel/Jasper Morrison, Jasper Morrison Ltd, Paris and London/Lars Mueller, Publisher, Baden Switzerland/Robb Young, Contributing Writer, International Herald Tribune, London
Entries for the competition come from Swiss designers, companies and institutions based in Switzerland or abroad, as well as designers from another countries who working in Switzerland. Products made in Switzerland are eligible as well.
As the selection criteria, the mandatory features common to all disciplines are top quality design, aesthetic consistency, social relevance, innovative vision, economic importance and sustainability.
You could see all excellent works on their home page, so here I would like to introduce to you CRESTA CHAIR which was awarded the prize in a Furniture design field.
You might have seen simple and robust handmade furniture in a Japanese anime Heidi, Girl of the Alps. Such wooden furniture has been used in an Alpine chalet, a hotel and a restaurant.
CRESTA CHAIR was designed by the blending of traditional Alpine style with modern wood-processing technology and contemporary aesthetic.
I questioned if it had been made of Swiss stone pine tree in the Alps. Jörg Boner who is the designer of CRESTA CHAIR told us that he had to select a more solid and elastic Ash tree timber. Since the elegant design form of the chair demands high strength and resilience from the seat to the back Boner used Ash wood to achieve ideal and lasting rigidity for chair. In near future Mr. Boner and his project members are planning furthermore variations by using different timber.
The seat is made up from three parts, composed by means of finger joints and represents besides comfortableness, precise lines and the warmth of being handmade.
The mountaineer country Switzerland has four official languages representing the four different cultures German, French, Italian and Raeto-Romanic uniquely assimilated in the Swiss Confederation. Mountains, forest, lakes together with middle sized cities, like Geneva, Berne, Basel or Zurich form the unique character of this extraordinary country in the heart of Western Europe.
CRESATA CHAIR was born from very sophisticated modern sense and Swiss craftsmanship with the background of beautiful Swiss nature and the unique multicultural environment.
As such a beautiful chair representing today's Swiss design.
■
The year 2014, Switzerland and Japan will celebrate the 150 years anniversary of the establishment of diplomatic relations between both countries. I wish, the global design industry would take the opportunity actively exchanging and stimulating each other.
An international travelling exhibition will start in 2014 also to open up potential on markets in the world.
The exhibition of Design Prize Switzerland was being held in Langenthal (until 26 January 2014) about 30 minutes from Bern, about 50 minutes from Zurich by train.
Silent One, 2010 Oil on linen 35.7 x 30.5 cm / 14 x 12 in
© Christopher Orr, Hauser & Wirth Zürich,IBID Projects,London
One old beer factory with a lion mark in Löwenbrau-Area, which is the base of Zurich's modern art, is currently going through a large-scale 2-year development.
Although many prominent galleries around the world used co-existed in this area, such as Migros Museum für Gegenwartskunst, Eva Presenhuber, Hauser & Wirth, Peter Kilchmann and Bob van Orsouw, all these galleries were moved altogether last year. For the time being, Hubertus Exhibitions in Kreis 9 area will be the location for activities.
If it were in Tokyo, it would be like going to the bay area. It was getting dark and I was heading towards the direction where you may see fewer people. As I was not farmilier with that area, I took a wrong tram, but somehow I managed to get there, with a little help from a friend over the cell phone.
It was the opening party of Migros Museum that night. Since the party had started earlier, some people were already coming out. At the entrance of the building, people who looked like art students got together, enjoying smoking in the cold air.
Up on the staircase, I saw Migros Museum für Gegenwartskunst on the right, and 2 galleries on the left.
Bob van Orsouw was introducing the latest works of Nobuyoshi Araki. As might be expected, they had a good collection. Next to that was Hauser & Wirth, which really demonstrated the luxury of the top-notch art world.
While it has been the custom that you could look at other galleries on the opening night of one gallery, with this building, the floor gave the impression of a united floor when each gallery left its door open, which I found very interesting.
I saw an enigmatic picture.
From the entrance, some peculiar light was inviting me, like saying, "Come over here."
The author was Scottish Christopher Orr. A picture which I felt like I have met somewhere long time ago. However, it was a false illusion, and once you stepped into this odd world of this contemporary artist, by tracking back the genealogy of surreal or fantasy paintings, I soon realized that the origin of his images had to go back another century.
Orr was a German scenary painter, and it has been said that he was very much affected by British Joseph Mallord William Turner or by the romantic expression by another German scenary painter, Caspar David Friedrich, who shared the same epoch.
Whether it was ruins or rainstorm, it was a scene of something crumbling. Appreciating its peculiar uneasy beauty of romanticism, and traveling back and forth between fiction and constructivism, this artist worked his way by erasing the borderline of reality and fantasy.
While it suggested as well as symbolized something, the abstractiveness of Orr was just like a trip back and forth between the energy of fetal movement like magma burning deep inside the earth and illusion, which still continued to the story of the present and the future.
The texture created by painting in so many layers and figures. Or scraping the paint off by knife in order to have a mysterious shape suddenly appear at the bottom of the canvas.
Most of these 13 new works exhibited here were rather small, F0 or F3. Those small things were inducing words here and there out of the tranquil wall, and the meanings that the pictures represented were crossing from every angle of the world.
At 9:00 pm in the venue, sceneries of fiction that were neither uneasy another world or this world, were placed side by side, and the lyricism of light and darkness was set free.
http://www.hauserwirth.com/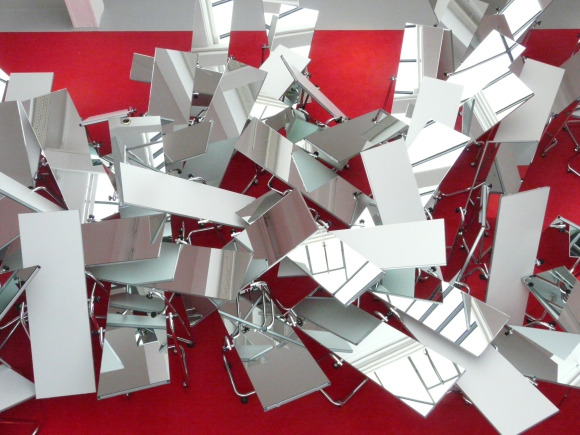 William Forsythe The Defenders Part 2 2008 Mirrors, carpet Ca. 1700 x 800 cm /Photo Julian Gabriel Richter
It was 1916 when Tristan Tzara declared Dadaism in Zurich. While this town has been influenced by major events in art history later on, it has been established as one of the important bases of the world's contemporary art.
One museum that plays the role of leader among them is Migros Museum of Contemporary Art (Migros Museum für Gegenwartskunst.)
As a matter of fact, there are surprisingly only a few museums that specialize in contemporary art in Europe, but Migros Museum of Contemporary Art is well known as an existence that always collects and exhibits unique and high-quality artworks along with Le Palais de Tokyo in Paris and Whitechapel Art Gallery in London, in the world's art scene.
The museum opened in 1996. Around this time, from the mid 1990s up to the present time, there has been a tendency that lot of artists gathered together in this town from all over the world.
Migros Museum of Contemporary Art is located inside the building that was remodeled exactly like a former old Swiss brewery with the familiar brand mark of a lion. Other world renowned galleries of contemporary art also co-exist in this space, such as Eva Presenhuber, Hauser & Wirth, Peter Kilchmann, Bob van Orsouw, as well as Kunsthalle Zürich. Migros Museum of Contemporary Art sometimes developes activities collaborating with these galleries.
There are many galleries and quite a few creators focus on their creative works in this neighborhood called Löwenbrau-Area, and it is an area in Zurich where top-notch information is sent out. Migros Museum of Contemporary Art facilitates great environments for the art students in this area so that they can continue their creative activities in Zurich after graduation. Simultaneously, the museum intends to keep on creating the art history of contemporary art by close relationship with the artists around the world through a process of interaction among people.
The museum is under the patronage of the largest Swiss retailer, Migros. It incorporates various industries under its umbrella such as supermarkets, department stores, schools and so on. Although the eventful and really challenging life of the founder, Gottlieb Duttweiler, is well known, it is worth noting genealogically that he himself collected avant-garde paintings.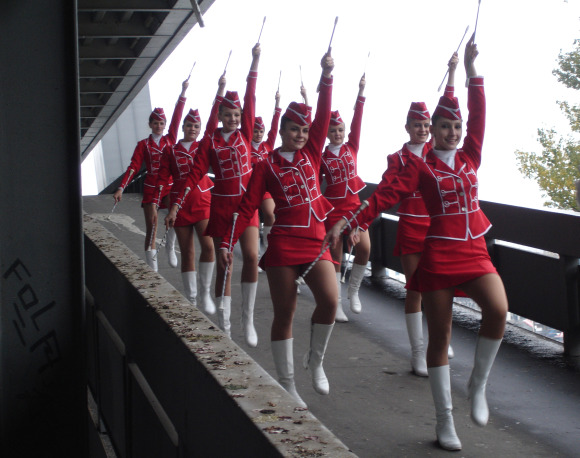 Anetta Mona Chisa and Lucia Tkácová Manifesto of Futurist Woman (Let's Conclude) 2008 Single-channel videoprojection (color, sound) 11:13 min.
At the moment, Migros Museum of Contemporary Art is holding a truly powerful exhibtion, as if the whole 20th century philosophy and ideas were restructured.
This group exhibition, "While bodies get mirrored- An Exhibition about Movement, Formalism and Space" brings 13 world's renowned contemporary artists displaying totally different developments and various movements of contents, through the threads of symbolic vocabulary, such as dance, sculpture, video and installation.
One focus of the exhibition is the influence of (post) modern dance and choreography in contemporary art. Another central theme is the re-presentation of the performative, and the notation of movement and dancerly activities through the most varied media.
Early post modern dance and its postulation that "every movement is part of a dance and every person is a dancer" can be read on the one hand as an historical bridging moment to modernism, but also, on the other, as a moment that links the exhibited positions in this exhibition. In post modern dance, the legacy of formalist expression of movement has been applied and further developed, in a reaction to contemporary visual arts. In the last few years there has been an increased interest by younger artists in resuming and rediscovering this avant-garde movement of the early 20th century – the formal-aesthetic as well as the social perspective.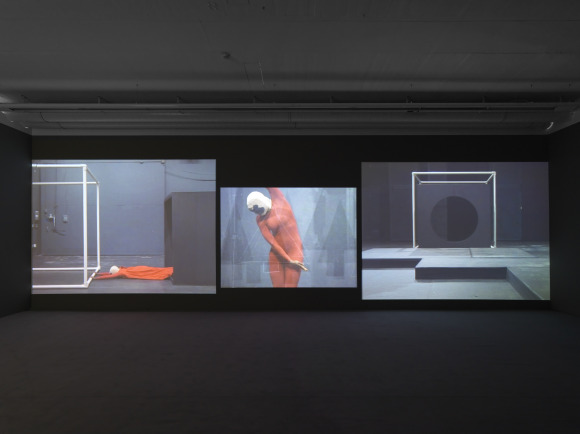 Kelly Nipper Shifting Shapes (3, 6, 9, 12) 2010 3-Kanal-Videoprojektion (Farbe, Ton) 10:1 min. , Loop/FBM Studio, Zürich © the artist
I heard the interview with the curator, Raphael Gygax.
"The title 'While bodies get mirrored' may present complexities at a glance, but first of all, this is very poetic and reflects the three moments that we wanted to pursue: formalism, movement and space. The work requires certain space that mirrors or reflects them. To reflect them in modern art quite often has a close relationship with the segmentation of human body."
Director, Heike Munder, has been successfully shown challenging events one after another since her appointment in 2001.
"We have presented performative activities over the years. They are movements and theatrical forms of expressions. We have collected all those elements into this space as a group exhibition this time."
At the very back of the site, you will see "The Defenders Part2" by William Forsythe, where over 70 mirrors were wedged into one another like piles on a bright red carpet. Although through totally different manners, the language associated with this artwork corresponds, from work to work in the whole exhibition, to the "Get Mirroed" concept.
4jpg
Martin Soto Climent The Swan Swoons in the Still of the Swirl 2010 Single-channel-videoprojection (color, sound), blinds, aluminum Dimensions variable/ Photo A.Burger,Zurich
Once you step in the venue, you will be welcomed by the work "The Swan Swoons in the Still of Swirl" by Mexican artist Mrtin Soto Climent, which has picked up the DNA of Forsythe and can be considered the implicaton of it. Steel sculpture and the author who makes it dance appear on the screen.
By following this conductor wire, you will reach the dance by May Deran, an American avant-garde pioneer who reminds us of animism.
9fcff25167
Maya Deren A Study in Choreography for Camera 1945 Single-channel video projection (16mm film transferred to DVD, b/w, no sound) 3 min. Loop
Further ahead, there is a film by Delia Gonzalez, which extracts his imtimate female image based on the passage of the work by Henry Mirror. Wearing black wings of Oberon, the King of the Fairies from Shakespere's Midsummer Nights Dream, a dancer who looks like appeared from the deep darkness, dances in a magical manner.
817edaee87-580×463
Delia Gonzalez In Remembrance… 2010 Single-channel video projection (16mm film transferred to DVD, color, sound) 12:50 min.
Let's hear more of what Heike Munder says.
"The spirituality in the modern times lives between re-formalism and fantasy. The two important movements mean that while form is against geometry, they always overlap at the same time. Utopia is lost, but many artists interact with Utopia. They retrieve it by their strong artistic power."
Alphabet Letters by Paulina Olowska
3jpg
Paulina Olowska Pioneer Alphabet Letters 2005 Box with 26 cards, colored, 4 cards, b/w je 21 x 15 cm/ Photo A.Burger,Zurich
While expanding the sculptural field, Julian Goethe tries to solidify the movement further by putting up an extensive rope.
9jpg
Julian Goethe: Kontakt, 2005, MDF wood, lightnings, Ca. 250 x 400 x 20 cm, © the artist, Photo A. Burger,Zurich
10jpg1
Julian Goethe Extended Version 2010 Rope, metal Grösse variabel/ Photo A.Burger,Zurich
Anna Molska tries socio-political approaches.
14jpg
Anna Molska: Tanagram, 2006 – 2007, Single-channel video (b/w, sound), 5:10 min, © the artist
"You will understand that the origin of their art is holding hands with the idea of Utopia."
132jpg-1
Hanna Schwarz Give 2010 Single-channel video on monitor (16mm film transferred to DVD, color, sound) 5:30 min.
"In the early 20th century, cultural anthropologists, psychologists and sociologists assumed that the imprints by body or movements were given by spiritual culture. This exhibition, I believe, is one ideal way of expressing such influence and legacy."
A couple years ago, I had a chance to interview Heike Munder. She explained their "on going art prosess" which was the strategy and also the mission of this museium, as follows:
"Art is always connected with the society. It links to the world and it is open toward outside. Therefore, it can be said that art links to politics, economics and history as well. Ask the audience and the society about art. People think, feel and get excited. Or feel happy. That reflects on the museum, and we ask again. This repetition will continue permanently."
62jpg
Mai-Thu Perret Winter of Discontent or the Ballad of a Russian Doll 2003 Wood, light bulb, corrugated steel, paint 40 x 407 x 250 cm/ Photo A.Burger,Zurich
"Imagine that the movement of the museum is laying down roots under the ground. Soon or later, it will become a tree. Then it may bloom. Or a wide forest might be born. Isn't it wonderful? That is my understanding of "on going art prosess."
"While bodies get mirrored" is glowing with its root under the ground of "on going art prosess," and it can be interpreted as the comprehensive group exhibition at present.
I felt strange happiness that I myself felt the reflection in the Utopia presented in this exhibition.
…………………………………………………………………………………………………….
Artists comprising "While bodies get mirrored"
Anetta Mona Chisa 1975, Romania; Maya Deren&nbsp 1917 – 1961 Ukraine; William Forsythe 1949 USA; JulianGoethe 1966 Germany; Delia Gonzalez 1972 USA; Babette Mangolte 1941 France Anna Molska 1983 Poland; Kelly Nipper 1971 USA style; Paulina Olowska 1976 Poland; Silke Otto-Knapp 1970 Germany; Mai-Thu Perret 1976 Switzerland; Hanna Schwarz 1975 Germany; Martin Soto Climent 1977 Mexico; Lucia Tkácová 1977 Slovakia
Until May 30, 2010
http://www.migrosmuseum.ch/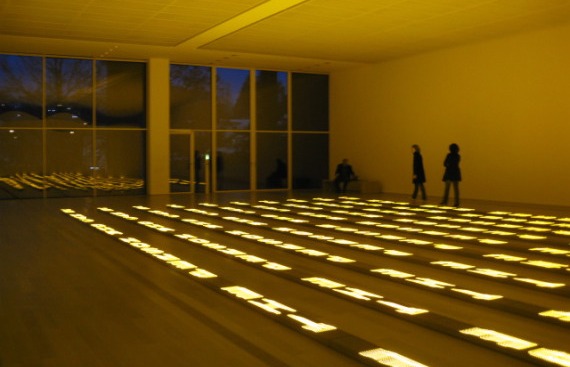 At the site of Jenny Holzer Exhibition at Fondation Beyel, somehow taking pictures is allowed, possibly a part of the intentional planning.Much talked about collaboration with the architecture by Renzo Piano. Other artists include Giacometti. Picasso, Max Ernst, and Andy Warhall who, for some period in his career, enjoyed outdoor advertising such as neon as his media for his expression. These are selected by Holzer herself, as a curator, from the collection of the Foundation. Here you may enjoy dialogues with these works of art.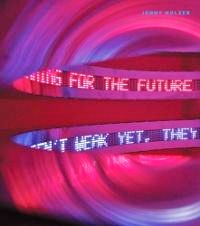 http://www.beyeler.com
y1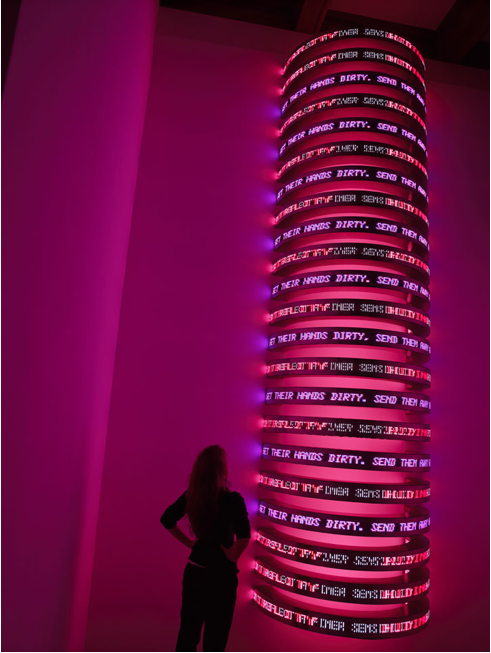 It is just less than 1-hour ride from Zurich to Basel by nonstop tain. While Basel is well known for its fairs of art or watches, it is an old city developed as the center for arts and science as well as culture, since the Medieval Ages. Sophisticated elegance is found in the Old Town or along the Rhein. The national train station of Basel is a station at the border with a neo-baroque façade. Germany, France and Switzerland all join its borders here.
We took the tram from the station to Riehn in the suburb. Although you can find many beautiful art museums in the world, at this Fondation Beyeler, situated by a big pond with abundant water, the tranquility and elegance welcome the minds of visitors who come here to appreciate art.
Work by the world's well-known architect, Renzo Piano
Not to mention that Beyeler has wonderful and carefully selected collections, it is known as a museum that hold very high-quality exhibitions in Europe. At the site of the Basel Art Fair every year, this is the art museum where you always find on your right from the entrance, as the very first booth.
Jenny Holzer Exhibition is being held over the New Year. While there is no need to refresh your memory, she is one of the most prominent contemporary artists today. She won the Golden Lion award in the Venice Biennale in 1990, and since this recognition, she has developed her creative activities which conveys, like abundant waves, her words of strong social and political but still poetic nature into a wider field.
She was born in Ohio, USA in 1950. Her recent projects have often involved cties around the world, being used as medea, such as sending phrases on electric LED bulletin boards. The exhibition this time in Zurich demonstrated her work on the wall on the hill of Lindenh that looked down the Limmat River in the Old Town. In Basel, her messages were kept running through the cathedral, inside the SBB station, City Hall, or on stone pavements and on the bronze Virgin Mary in the church.
g_FB_holzer-jpg
© 2009 Jenny Holzer, member Artists Rights Society (ARS), New York Photo: Serge Hasenböhler
The exhibition consists of the texts in the late '70s and major works in all the fields she has been involved since the late '80s. Especially, it focuses on her recent works including those that have not yet been published in Europe. It is a large-scale show for the first time in Switzerland, introducing paintings, objects as well as LED installations.
Furthermore, this is for the special and flexible courtesy of Beyeler that they have selected, from their collections, the works of A. Giacometti. P. Picasso, K. Malevich, and F. Bacon, so that the viewers can also encounter totally different types of art, in terms of interaction with the works of Holzer, while they move from one installation to another or at the same time of viewing the works of Holzer.
The exhibition will be open until January 24, 2010.
http://www.beyeler.com/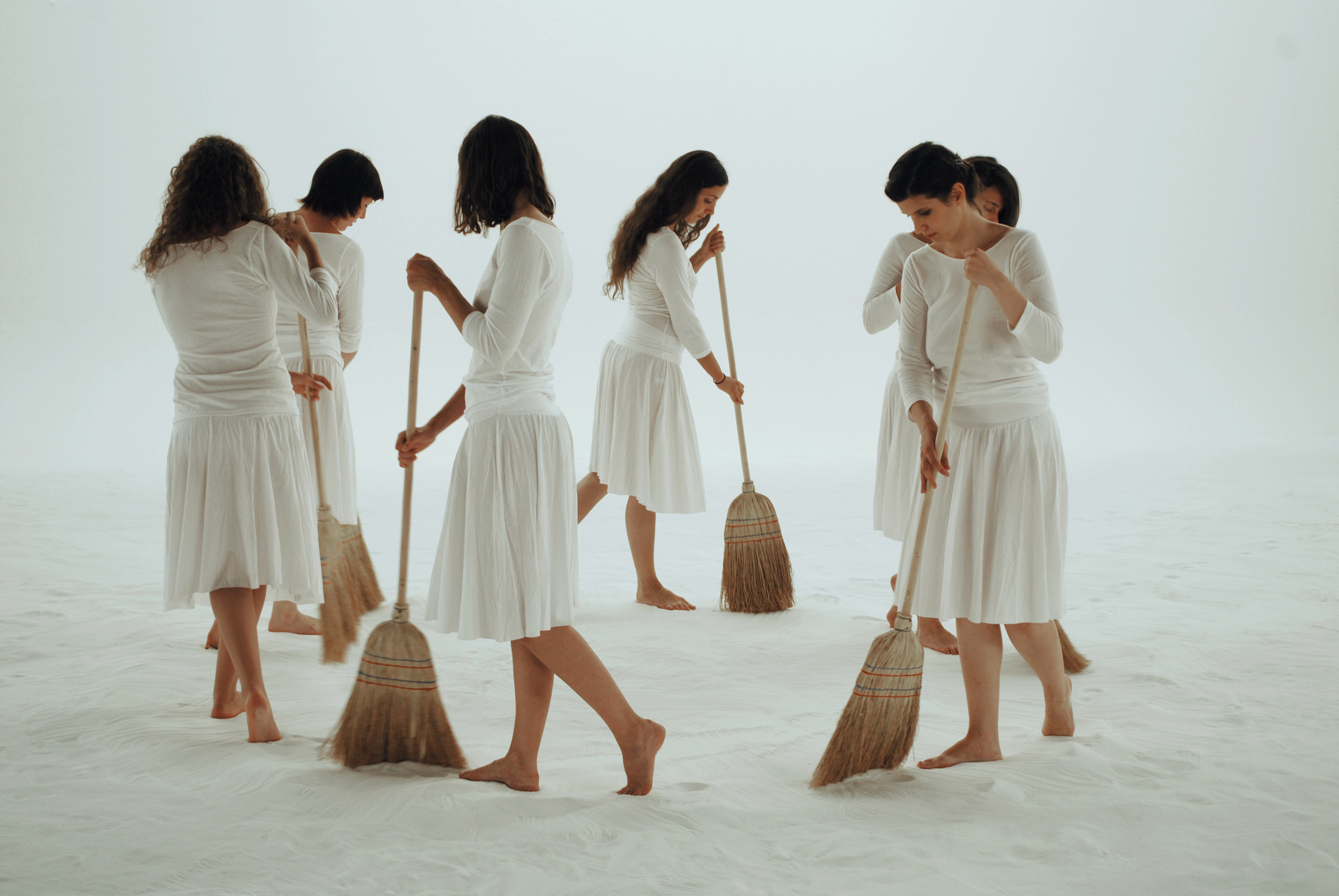 Tracking Happiness, 2009 Production still © Mircea Cantor
The image of the women walking slowing carrying brooms has been stuck one corner of my head. That motif has been appearging and disappearing. Now it seems like I am trapped in the trick of this artist.
Mircea Cantor.
Things that have crept into our daily lives before we know it, and that have become our patterns unconsciously, but make us suddenly wonder why or bring some uneasiness.
Our everyday common scenes disturb our daily lives.
Tracking Happiness is also the title of the film that Cantor created for this exhibtion.
Wearing pure-white clothes, they move slowly barefoot in the soft sand like dancing.
We are not sure what the purpose is. They walk endlessly like wandering in a dream, and the footprints are erased clean by the brooms.
Strangely blight with the grainy light exposing the empty space, the women link to the image of angels, in a dimension different from the present.
They chase things left somewhere unnoticed, or things that have been erased. Or they trace their footprints in a different way.
It reminds us of the present age that we are under the control of communications by computers or electronic devices. He tries to establish a different reality, against the world where private information is accumulated, multiplied and disseminated, which he says is also his bewilderment.
The work includes various media such as video, photographs, objects, installations, etc. Cantor also takes advantage of the media incorporated more in the society, such as newspaper ads, as one method of expression.
Born in 1977 in Rumania, he currently lives in Paris.
His solo shows at Camden Arts Centre in London and Pompidou Centre in Paris were sensational and stole the scene of Europe. Now for the first time in Switzerland, his one-man show has opened.
Until Nov. 8, 2009
Photo: Kunsthaus Zürich
http://www.kunsthaus.ch/
There is a think tank team called "Brainstorming" who sends out unique contemporary art works. While explaining its background may require some length of time, a Dutch kinetic sculptor, Teo Jansen was introduced by this group the other day.
Since the large-scale exhibition, first time in Asia, was held in Hibiya, Tokyo from January to April this year, many of you may already have seen his works.
The CM entitled "Defining innovation" onaired in South Africa in 2006, was talked about a lot around the world.
A strange "living creature" that you had never seen before, walked on a wind-whipped dark beach together with Jansen, fighting against a roaring rainstorm. This mysterious image and his economical phrase were cool and it demonstrated his excellent sense of creativity.
This time, Jansen has brought  "Animaris Umerus" and some of its buddy small "living creatures" to Zurich.
Plastic pipes which induce electricity that ordinary household use. The framework is made by using nylon strings to fasten these pipes. Electric cables or vinyl strings were also used. Despite my expectation that he would not use any organic materials, he answered in the interview that he used egg white for the eyes and skins for some reason.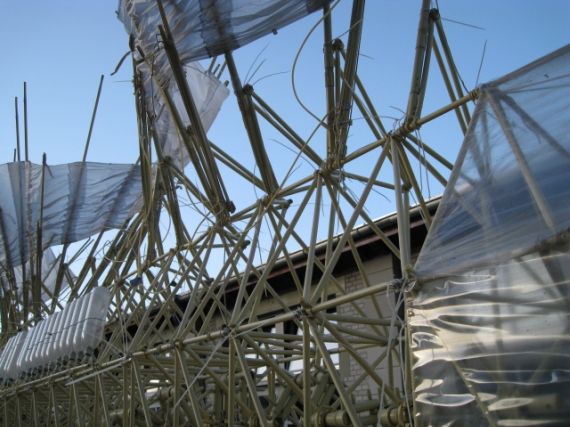 Animals on a sandy beach, or beach animals. Although such names are well known in Japan, "Strandbiester," the German word for that, emphasizes more on an animal image that has landed from the ocean, which sounds mysterious for its collective term itself. It also gives somewhat humorous nuance such as something dangerous but cute.
As if it is a living creature of Paleozoic era, having numerous legs like a monster centipede, moves and runs by wind power. Because of the grandness of each "creature" he has created and its interesting sound of Latin language, one may easily imagine a dinosaur.
Although Jansen majored in physics at the Delft University of Technology, he became a painter.
I believe it was before he became the painter, when he used to walk along the beach to put together his scripts for newspapers.  I am not sure for what he was writing the script, but one day, he was inspired to create an image of a large "living creature" walking on a sandy beach.
It had been a long time since that day.
It was September, 19 years ago. He went to purchase plastic pipes.
"Throughout that afternoon, I was playing around with those pipes. It was almost evening time. I felt certain that I would be living with these plastic pipes for the rest of my life."
Technical ideas and art were united, and a totally new "living creature" baby was born on this day.
"They don't require any food. What they need to survive is simply the wind. They do not need time to move around to find food, like other animals."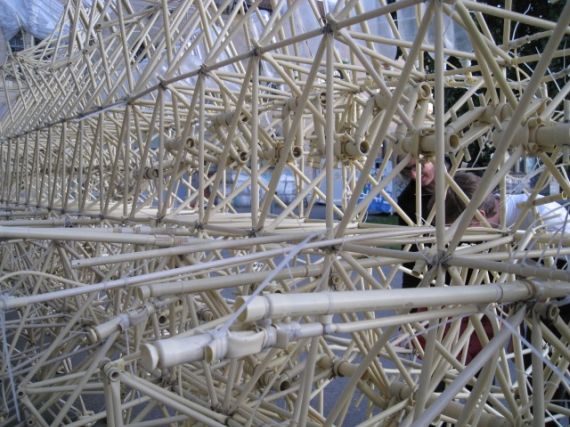 "Living creatures" of Jansen eat the wind and live on a sandy beach.
"They can play with children on the beach, or they can live together with other animals. However, since the living creatures that I create continuously evolve, soon or later they may become wiser than human beings. It is a form of new life."
"Why are you keep on creating living creatures on the beach?"
"Why? I don't know. Now let me ask you. Why we, human beings, live on this earth?"
Interview:Digital Brainstorming
http://www.digitalbrainstorming.ch/
BMW 「Defining innovation」
http://www.bmw.co.za/onlinenews/issue1/advert.html
0204-oktopuss-kunsthaus-3
Octopus 2006/2009 Katharina Fritsch
The 3-dimentional image created by Katharina, shakes human's fundamental mentality, desire and fear, in the space where a new life is alive and vivid.
Her latest work is a strange contemporary elegy.
The man wearing a diving suit was easily caught in the tentacles of the octopus like a toy.
Photo: Kunsthaus Zürich
http://www.kunsthaus.ch/