Furniture, Fashion, Communication, Interior, Design Research, Textile and Product.
Design Prize Switzerland awards prizes for outstanding performance in these seven professional fields every 2 years. The prize was established in 1991 and was awarded 22nd times.
Five international experts form the jury:
Liesbeth in't Hout, Co-Director of Sandberg Institute, Amsterdam /Ascan Mergenthaler, Senior partner of Herzog & de Meuron, Basel/Jasper Morrison, Jasper Morrison Ltd, Paris and London/Lars Mueller, Publisher, Baden Switzerland/Robb Young, Contributing Writer, International Herald Tribune, London
Entries for the competition come from Swiss designers, companies and institutions based in Switzerland or abroad, as well as designers from another countries who working in Switzerland. Products made in Switzerland are eligible as well.
As the selection criteria, the mandatory features common to all disciplines are top quality design, aesthetic consistency, social relevance, innovative vision, economic importance and sustainability.
You could see all excellent works on their home page, so here I would like to introduce to you CRESTA CHAIR which was awarded the prize in a Furniture design field.
You might have seen simple and robust handmade furniture in a Japanese anime Heidi, Girl of the Alps. Such wooden furniture has been used in an Alpine chalet, a hotel and a restaurant.
CRESTA CHAIR was designed by the blending of traditional Alpine style with modern wood-processing technology and contemporary aesthetic.
I questioned if it had been made of Swiss stone pine tree in the Alps. Jörg Boner who is the designer of CRESTA CHAIR told us that he had to select a more solid and elastic Ash tree timber. Since the elegant design form of the chair demands high strength and resilience from the seat to the back Boner used Ash wood to achieve ideal and lasting rigidity for chair. In near future Mr. Boner and his project members are planning furthermore variations by using different timber.
The seat is made up from three parts, composed by means of finger joints and represents besides comfortableness, precise lines and the warmth of being handmade.
The mountaineer country Switzerland has four official languages representing the four different cultures German, French, Italian and Raeto-Romanic uniquely assimilated in the Swiss Confederation. Mountains, forest, lakes together with middle sized cities, like Geneva, Berne, Basel or Zurich form the unique character of this extraordinary country in the heart of Western Europe.
CRESATA CHAIR was born from very sophisticated modern sense and Swiss craftsmanship with the background of beautiful Swiss nature and the unique multicultural environment.
As such a beautiful chair representing today's Swiss design.
■
The year 2014, Switzerland and Japan will celebrate the 150 years anniversary of the establishment of diplomatic relations between both countries. I wish, the global design industry would take the opportunity actively exchanging and stimulating each other.
An international travelling exhibition will start in 2014 also to open up potential on markets in the world.
The exhibition of Design Prize Switzerland was being held in Langenthal (until 26 January 2014) about 30 minutes from Bern, about 50 minutes from Zurich by train.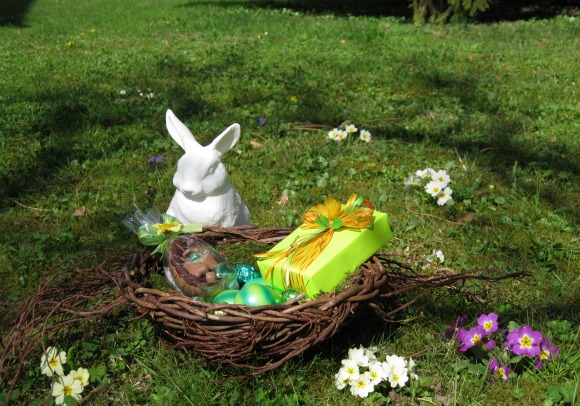 How exciting it is as a play to hide and seek small presents such as colorful eggs or chocolates in the grass of your garden after the snow has melted. How fun and joyous the dinner of spring is when families and relatives gather together. She repeatedly told me about Easter.
Pious Catholics abstain from eating meat 40 days before Easter, starting from Ash Wednesday, the first day of Lent. As Zurich is a Protestant town, I have never heard of very strict stories, however, celebratory mood is in the air as Easter gets closer, and people spend time to decorate at home.
You will find bunnies everywhere in town.
First of all, chocolate shops. Well known Sprüngli established in 1836, or Teuscher which was introduced in Japan, bring out the same old bunnies every year. Looking at some of the new ones, you may see modern artistic bunnies. Those carrying traditional eggs, or playing the accordion, or dancing. It is quite interesting to find such bunnies as if they are jumping out of picture books.
Show-windows display bunnies, bunnies and bunnies.
In the interior corners of department stores, you will find bunnies of various colors such as green, pink or gold, or bird nests decorated with such eggs, or egg ornaments with beautiful patterns or pictures which can be hung on tree branches.
The great granddaddy of them all is the real bunnies. Small rabbits of shiny pink skin with the fur ripped off, lay down in an orderly manner with their limbs stretched out on the trays in the food floor. I sometimes go down their to check if they are still there that day, but I do not have courage to purchse any.
Vitality of trees to spout and eggs as a symbol of life. Productiveness and vibrant dynamism of rabbits. Joy and hope. These elements become the symbols to celebrate the rebirth of Jesus and decorate the room.
April 2 is Good Friday or Holy Friday. Apart from my faithfulness, I usually cook a whole freshwater fish like seaperch (Suzuki) or trout, to follow the tradition here.
This year's Easter falls under the third day from this day, Sunday, April 4. Traditionally it will be lamb or goat. If you have a big family, I understand you will eat the whole lamb or goat. I wonder this custom teaches the sharing of the sacrificed. I hear rabbit come after lamb in terms of priority.
The Easter decoration brought out to the garden. This white bunny was sitting quietly inside the house until a little while ago.
Spring has come.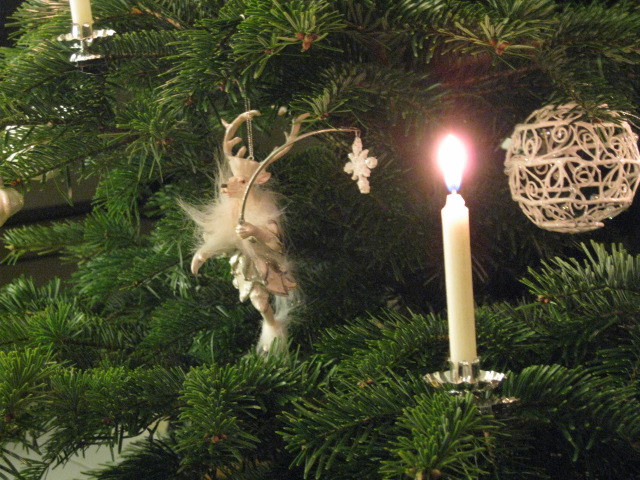 A fir tree arrived from the further north of Northern Europe.
In the German-speaking world, there is a custom to decorate the tree on the morning of the 24th.
When farmiliar faces get together, the presents under the fur tree pile up higher.
Sooner or later, someone will light the candle one by one.
Father telling a Christmas story to his children. Music scores of the hymns. Sound of an organ.
Although this scene of the night will change little by little every year,
While it is peaceful, you feel some solemnness in the air.
Merry Christmas!!
Wishing you all a wonderful night.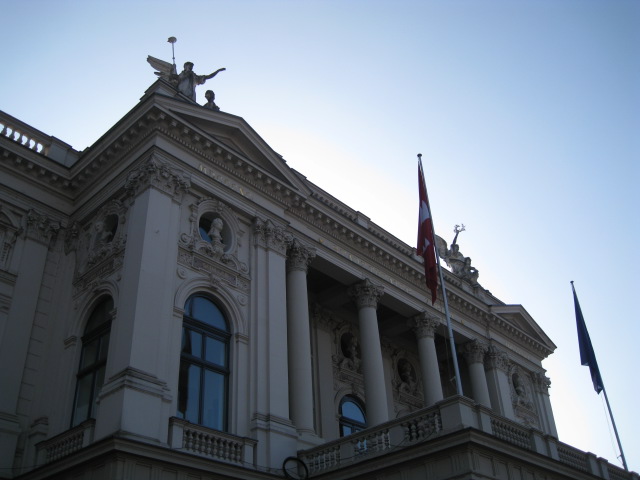 Every year, from autumn to winter season, we welcome guests from Japan who come at random. And usually they come here as treats for themselves, such as because they have just finished some project or it is the right time to have a break from work, and so on. Quite often they come as solo travelers.
Although these people may be quite demanding, they know what they want and are very independent. Therefore, it is fine to let them to be themselves during the day, as they know how to enjoy themselves. However, the problem is the evening part on how to make them satisfied.
If it is in the cold season, we would like to recommend some opera, after all. Therefore, quite often, their schedule may be slightly adjusted, after we go through the program beforehand.
Zurich Opera House is solemnly situated near the lake. At the moment, it is one of the hottest opera houses in the world. It is also known as one opera house where the performances shown from September to June are of top level and it is hard to obtain tickets.
In the fall of 2007, "La traviat" and "Der Rosenkavalier (The Knight of the Rose)" were performed in the Orchard Hall in Japan. It was a hot topic of town as excellent opera singers were lined-up lavishly on stage.
The Aktientheater build in 1834 was the predecessor. It was the venue where Richard Wagner, who went into exile in Switzerland at that time, demonstrated his talents. Even now, I understand that there still remain quite a lot of musical notes of Wagner in an antique shop near the university. This theater was burnt down in the past, and the current Zurich Opera House was build in 1891. We understand that eminent big-time masters such as Wilhelm Furtwangler, and Richard Strauss, as well as Wagner were hired to perform on the stage, and the success and its reputation overwhelmed the Europe.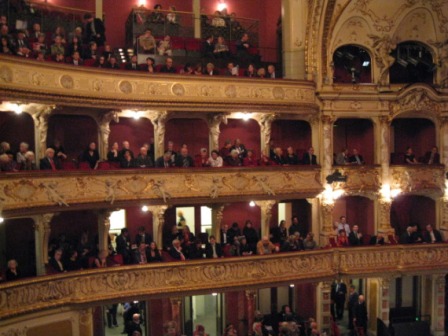 The House accommodates 1100 seats. Although the exterior and the interior are beautiful and massive, it is rather small compared to the counterparts of Paris and Vienna. It is just like a cute princess.
However, the convenience of the location and the economic power of Zurich play a great role here. Furthermore, the country has 4 languages and English is spoken normally. There are many people who speak 2 or 3 languages. Among my Swiss friends, some has an excellent skill to switch languages whenever she goes across the border within Europe. It is a great advantage not to have a language barrier. Italy, Germnay, Austlia and Easter European countires. Each program has the world's top class singers all lined-up. This town has all the required conditions to attract and focus on such vast range of talents.
The Opera House welcomed Alexander Pereira, present General Manager, in 1991. Since then, under his firm leadership, the Opera House has been gaining the momentum year after year.
The annual performance repertory holds 32 to 35 performances, 15 of which will be totally new interpretations. While it indicates that at least 1 performance will be a new one per month during the season, it is considered almost impossible frequency in the general opera world.
Franz Welser-Möst, who was appointed as the Chief Conductor in 1995 and served as the General Music Director since 2005, will become the General Music Director of the Vienna State Opera in 2010. This position was suceeded by Italian Daniele Gatti in June this year.
The curtain opens at 8 o'clock. We left our coats at the cloak, and we are at the lobby holding the pamphlet in hand. Our seat is the balcony on the 2nd floor, which is our favorite.。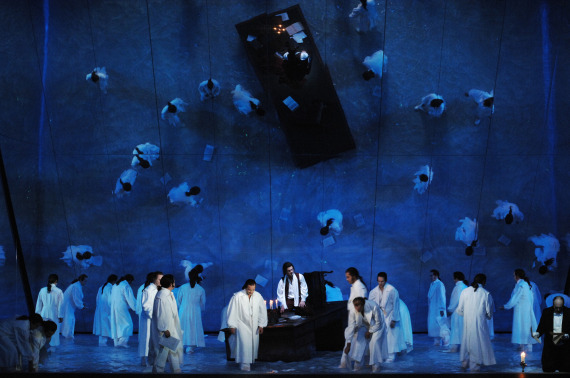 Photo: Opernhaus Zürich/ Suzanne Schwiertz
The production is Verdi's "Corsaro." Corrado, the chief corsair, is performed by Vittorio Grigolo who is now on the rise. His lover Medora is performed by Elena Mosuc, female slave Gulnara by Carmen Giannattasio, and Seid who loves her, by Juan Pons. Grigolo who stands between two sopulano is just perfect.
Last fall, by using the Zurich central station building as was, involving the people after work and the audience, "La Traviata" was performed and simultaneously broadcasted on TV. The singer who played Alfredo there was this Grigolo. While he was a wonderful singer, it was interesting to see a glimpse of his mischievous character during the interview, which made me his fan, anxious to listen to his voice in other performances.
Furthermore, in this performance, a young Japanese tenor, Mr. Shinya Kitajima, made his debut in the role of Selimo. Later on, I had a chance to talk with him.
"While I was lucky to have such wonderful co-performers, the reason why I was able to perform the premier without being too nervous owes a lot to the unique warm atmosphere of this Zurich Opera House, I believe."
I think these words of Mr. Kitajima represent the characteristics of the Opera House.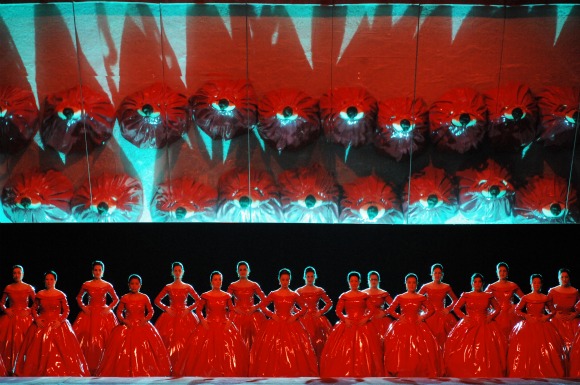 Photo: Opernhaus Zürich/ Suzanne Schwiertz
Alexander Pereira, the General Manager, often says, "As far as it is faithful to the story, I belive producers are fee for any adventures."
As for the "Corsaro" this time, when I asked the support members of the Opera House, most of them responded that they had no idea since the conductor and singers would be performing for the first time and the program was rarely performed.
However, day by day, reputation brought another reputation, which resulted in all fully booked performances.
Especially we noted the originality of the choreograph, such as the water on the whole surface of the stage to reflect on a huge mirror, sophistication of lighting and perfect tempo, all of which never bore us. Surprises and unexpectedness developed one after another.
We stepped out into the balcony holding champagne glasses at the interval. Although the glitz of the lobby was nice, the heat of the stage directly came into the air, which overwhelmed us. Cold night breeze was so refreshing.
Having the 6th curtain call, the opera house was filled with another roar of excitement. For this type of challenging and dynamic stage, the audiences gave generous applause. The high quality of such audience is also, I believe, a sign of high recognition in the world of opera house.
014jpg
http://www.opernhaus.ch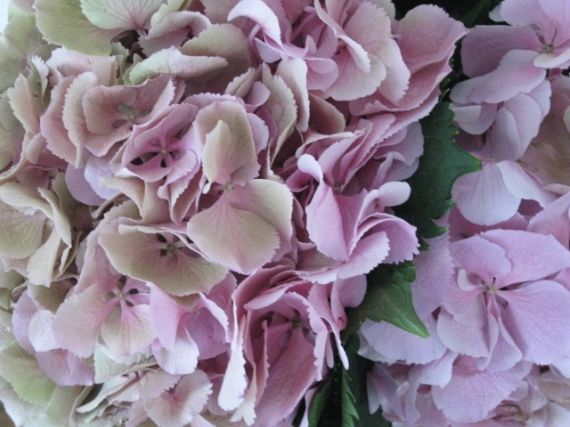 We are already counting down the remaining days of summer.
Totally unexpected scorching sunlight in May, long continuous rain and cold days in July, then suddenly cleared-up skies without clouds in August, as if what had been lost was found or the heaven was trying to make up to make sense.
The weather in the mountains is unpredictable.
Once this dazzling scenery is snatched away, surely it will be fall.
"As it is so beautiful, we just thought about having a party." We received an invitation with a very short notice. As we did not have anything planned over the weekend, we just loved that idea.
There is my favorite florist in the residential neighborhood. This is the place where I always buy flowers for presents.
Now I am a regular to this shop, but as a matter of fact, I did not recognize the store for a long time even though we passed by car in the front many times. When the season changed and the trees became leafless, I just realized the existence of this shop when I saw people coming in and out.
It blends in the town too perfectly to recognize, unless somebody introduced to you. Somewhat, I felt it has an atmosphere where strangers are not welcomed.
Up the stone steps, and you open the door.
Some Europeans who look snobs in this neighborhood with picky orders to place, are choosing large white flowers.
Inside the room where flowers and trees are abundant, a rock table is placed and dead branches of the trees, driftwoods and old pots are scattered around. The lantern hanging from the ceiling might be available if I ask for.
The interior shows some mixture of taste, but it is close to the one of southern France.
I found the color that will suit the madam that we meet tonight.。
Alt Rosa.
Western hydrangea with huge flowers that you have to hold in both hands, is called "rose color of the past." Subtle pink color, as if regressing. Since Victorian age in the 19th century, this color has enchanted many women.
Looking down from the terrace the lake where white-sailed yachts were heading to the opposite shore, glasses went around to start apero. All the church bells started to ring at the same time, telling that tomorrow would be the Sabbath.
The dinner at the end of summer went very slowly. This feeling of freedom was so comfortable.
Surrounding the main dish, the time of laughter passed by, and all of us looked up the star-lit night sky, each quietly moved.
Alt Rosa was at the back of the room.
Author : Mieko Yagi | Posted : 2009年8月24日 | No Comments | Categories : Interior, Life style
Octopus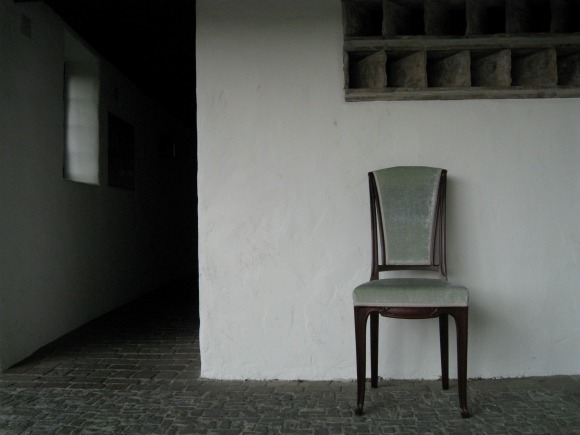 When I went to Paris for the first time, I included, without question, a schedule to go the antique fair of Clignancourt. True to its reputation, tons of intriguing treasures were all over. Baroque tables or glasses of belle époque came into my view too carelessly.
I was looking for a chair. I stared at one that I thought would make it. I imagined how it would look in my usual space if I took it to my home.
No. This is definitely not the one. The lines and its volume would be too overwhelming in a Japanese room, and it would be impossible to keep a balance.
I almost gave up the idea and just about to leave, the shop owner told me that there were more in the attic if I were looking for a chair. So I went up, and there she was. It was made during the time between Art Nouveau and the Art Deco, and delicately you could feel its stream.
Before long, it traveled to Japan then to Asia. Then to Switzerland, it accompanied me all the way.
I should clean it when I moved to Zurich. Whenever I saw properly restored antique furniture in European homes, I started to feel that way.
Early summer three years ago, the owner of an antique shop in my neighborhood loved this chair the moment he saw it. "So this chair went for such a long trip from France to Switzerland." It was made of ebony, telling it must have been carried over from somewhere in Africa.
Given the map of the shop, I hurried to the fabric shop I was introduced. As I already had a certain image of the material, I chose the one I liked best among those solid colored ones shown to me. Those fringes are called "Gimpe" in the fabric term, I heard.
I returned to the antique shop and together with the owner, we looked for the color for the legs. Although I was a bit uncomfortable to repaint into a different color, it turned out fine as a result. I waited for two months.
"The design of this chair is quite unique and unusual around here. So many people came to see it."
The 100-year old springs were removed from the disassembled chair, and replaced with new ones. I understand that four craftsmen shared all the work from reassembling, putting on new fabric, to the final painting of the back and the legs.
While different languages are spoken here, surely you find the scene where this chair blends in smoothly.