yogaa_lay_rgb_01
yogab_lay_rgb
yogac_lay_rgb
Nice to meet you. We are Swiss cows.
For this year's summer campaign ad, we ran through the city by skateboarding Although it was a hard work, we were able to manage smooth riding, and the finish is quite good, too.
But, when you think of it, we believe it was the result of our yoga training for several months last year.。Munching grasses and taking naps are not good enough. In order to have a good quality of milk, we also need fitness exercises.
If you feel like, join us.
Photo by SMP
http://www.swissmilk.ch
garten-city-3-3
Huge planters are all over the city of Zurich at the moment.
Gartencity Zürich 2009 Campaign which commenced early this summer
It is a unique plan by the Zurich Tourism Office, which theme was integration of art & design, plants & nature, and city and environment. The planters are made of glass-fiber-enforced polyester, with the height of 150 cm and diameter of 120 cm. The participating artists around the world as well as from Switzerland have created these planters.
Swiss artist, HR Giger, who is well-known for the movie "Alian," and Hans Langner from Germany are among such artists. From Accademia di Brera in Milan, collaboration of the professors and students contributed to some creations.
garten-city-88
06262
From the Zurich Airport to the center of the city, especially along the shopping street stating from the Central Station, the streets are decorated by artworks, and the area from the Baunhof strasse to Paradeplatz is one of the highlights. The artworks are arranged so that they will lead you from here to the lake, to the stone-paved old part of the city near the Lake Limmat and then to the Opera House. The number of artworks easily surpasses 300 in the whole city. 。
Oleander, palm, dogwood, Bird of Paradise, Japanese maple tree, fig tree, chestnut tree, and so on…
More than 30 different kinds of plants were planted, and every little daily changes you may notice when you pass by will never bore you out during this 4-momth long-term campaign.
The current season is the most beautiful time of the year. With full of colorful flowers in bloom, the whole city has become a mysterious garden.
garten-city-99
0077
Although the art displayed here vary every year, it goes back to the Cow Parade in 1998. The participating artists painted freely the top of the head of 400 glass-fiber cows, which were displayed all over the city. This body-painting on cows become a big topic, much more than the city had expected, and the number of cows during the campaign reached 800, we understand.
Furthermore, this trend expanded to Chicago, New York, and other parts of Europe. Even in Tokyo, cows had appeared 3 times until last year.
Later, here in the original city of Zurich, cows changed to benches, then teddy bears and then this year's huge planters.
05252
garten-city-14141
0044
One interesting thing is that around the time when this event started in 1998, Zurich started to attract attention as the base of modern art, and artists around the world started to move into this city. The time overlaps this era when creative activities grew stronger.
When they thought about marketing the city, utilizing the brand power of "cows" and the power of modern art riding the wave of attention, was probably very natural.
First of all, Zurich is the birthplace of Dada. Therefore, this city has the ability to accept avant-garde.
garten-city-2626
garten-city-20201
From children to the elderly, the messages conveyed through art and plants are gentle.
Having the distance shortened by art, and having art as the hook to talk to people and society, Garten-City Zurich 2009, advertises the city in a dynamic way.
Richness of nature, and accessibility. While this campaign is a development of brand strategies to enhance the image of Zurich as a sustainable city, focusing on attracting tourism, it is, at the same time, to launch innovative charm that this city has as well.
Zurich does not have convenience stores like in Japan. Although it is an international city, one may feel that time goes several times slower than Tokyo.
However, iphone is a big boom even here, and information is customized by the development of cell phones and Internet.
On the other hand, while communication may become more personal, people still love the warms of skin and voice, and sometimes feel like to join the circle of dance. Such simple excitement and thrill are next-door neighbors.
Working people stride on the street. A young person is enjoying sunbathing on the lawn. Old lady of your next-door neighbor is talking about her cat. You pass by a traveler.
Thinking about the fact that people of every genre share and experience the same air, having the city as the media, you may feel that there is a future for communication.
Something makes me feel happy.
It will be held until September 20, 2009.
http://www.gartencity.ch
by Mieko Yagi on July 29, 2009
photo:  Montreux Jazz Festival Foundation http://www.montreuxjazz.com
023-a31
Unfortunately, this is not my personal property.
Along the Lake Zurich, there is a place called "private beach" where only the local residents can use. Once the key of this beach is opened in early June, in the afternoon of any hot days, you will find at least someone lying under the sun. 。
When weekend comes, families enjoy sunbathing. Adults enjoy reading or simply gazing the lake. Diving, sailing and canoeing are alternatives.Birds in the lake and humans swim together.The summer in the northern Europe is beautiful and shortThere is no period that you may enjoy end-of-summer melancholy feeling, and the weather turns straight into autumn.
Because of this or not, it is not unusual to see some people who rather stay in Switzerland around this time of the year, and then travel to the southern Europe, North Africa or around Turkey for longer vacations.If you are an adult-only couple, this is another way of enjoying freedom supported by the adjective of "independent."After you send out an email and you receive an automatic reply saying the office will be closed for 2 weeks. They are off again! I always wonder how many times they take holidays a year.Zurich entered into Sommerferien yesterday. Schools are closed for summer until the middle of August.
image_mjf_15283005062009-580x386Photo: Lionel Flusin – Montreux Jazz Festival Foundation
Montreux Jazz Festival took place for the first time in a town near the Lac Leman in 1967.  Although the name still remains as a jazz festival, it involves a wide range of music, from rock, soul, blues, regae, to African or South American music. It is known as the world's biggest music festival, including the participation of big names in the world of music in non-genre.
It is held in July every year, and it will be from July 3 thorough July 18 this year.
There are two main venues : Auditorium Stravinski and Miles Davis Hall.
The first 3 days were kicked off with the Fiesta Latina! with Cubanismo, Oscar D'Leon, etc, and followed by Harbie Hancock, Alice Cooper, Baaba Maal, B.B. King and George Benson and so on.
Toshinori Kondo will perform at the Miles Davis Hall on the 12th.
Now Price will perform tow shows to close the Festival on the 18th evening. First stage will be at 19:00, followed by the second stage at 00:00. www.prince.org
http://www.montreuxjazz.com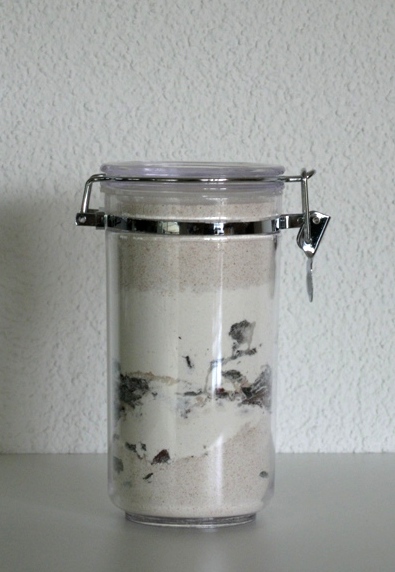 When we invited a Swiss couple to our place for dinner, we were given this present.
Bread flour with a recipe.
The lines that look like abstract are sunflower, cumin, pumpkin or poppy seeds, etc. It also includes 10 different kinds of spice as well as barley and millet.
How did someone who thought about this idea draw these lines?
It would have been nicer if it were a watercolor or pastel drawing on paper, if possible. Or is it too much to ask?
All what you need for this baking mix is water and a bit of milk. As it looked so beautiful, I have kept is as is as an ornament. However, the yeast is still alive.
I'm afraid it's about time for me to do the baking.