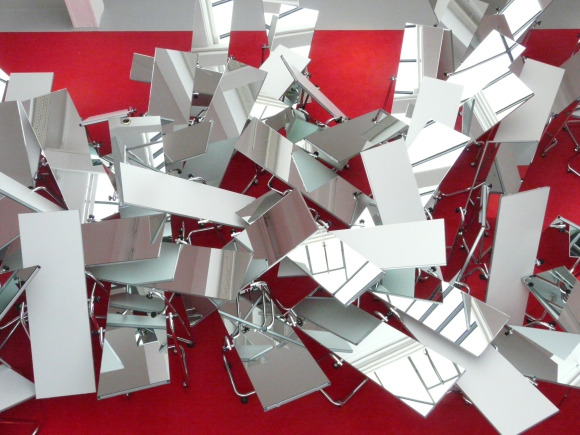 William Forsythe The Defenders Part 2 2008 Mirrors, carpet Ca. 1700 x 800 cm /Photo Julian Gabriel Richter
It was 1916 when Tristan Tzara declared Dadaism in Zurich. While this town has been influenced by major events in art history later on, it has been established as one of the important bases of the world's contemporary art.
One museum that plays the role of leader among them is Migros Museum of Contemporary Art (Migros Museum für Gegenwartskunst.)
As a matter of fact, there are surprisingly only a few museums that specialize in contemporary art in Europe, but Migros Museum of Contemporary Art is well known as an existence that always collects and exhibits unique and high-quality artworks along with Le Palais de Tokyo in Paris and Whitechapel Art Gallery in London, in the world's art scene.
The museum opened in 1996. Around this time, from the mid 1990s up to the present time, there has been a tendency that lot of artists gathered together in this town from all over the world.
Migros Museum of Contemporary Art is located inside the building that was remodeled exactly like a former old Swiss brewery with the familiar brand mark of a lion. Other world renowned galleries of contemporary art also co-exist in this space, such as Eva Presenhuber, Hauser & Wirth, Peter Kilchmann, Bob van Orsouw, as well as Kunsthalle Zürich. Migros Museum of Contemporary Art sometimes developes activities collaborating with these galleries.
There are many galleries and quite a few creators focus on their creative works in this neighborhood called Löwenbrau-Area, and it is an area in Zurich where top-notch information is sent out. Migros Museum of Contemporary Art facilitates great environments for the art students in this area so that they can continue their creative activities in Zurich after graduation. Simultaneously, the museum intends to keep on creating the art history of contemporary art by close relationship with the artists around the world through a process of interaction among people.
The museum is under the patronage of the largest Swiss retailer, Migros. It incorporates various industries under its umbrella such as supermarkets, department stores, schools and so on. Although the eventful and really challenging life of the founder, Gottlieb Duttweiler, is well known, it is worth noting genealogically that he himself collected avant-garde paintings.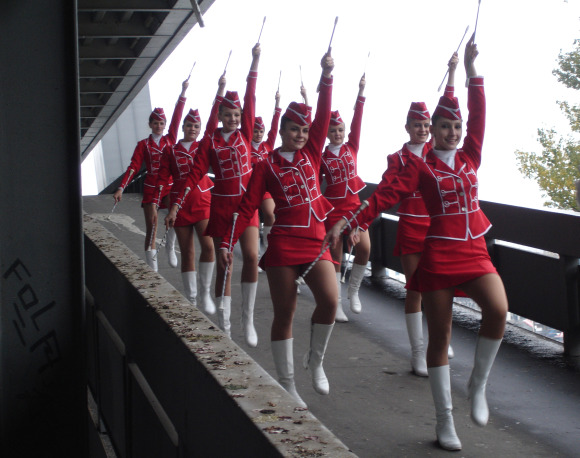 Anetta Mona Chisa and Lucia Tkácová Manifesto of Futurist Woman (Let's Conclude) 2008 Single-channel videoprojection (color, sound) 11:13 min.
At the moment, Migros Museum of Contemporary Art is holding a truly powerful exhibtion, as if the whole 20th century philosophy and ideas were restructured.
This group exhibition, "While bodies get mirrored- An Exhibition about Movement, Formalism and Space" brings 13 world's renowned contemporary artists displaying totally different developments and various movements of contents, through the threads of symbolic vocabulary, such as dance, sculpture, video and installation.
One focus of the exhibition is the influence of (post) modern dance and choreography in contemporary art. Another central theme is the re-presentation of the performative, and the notation of movement and dancerly activities through the most varied media.
Early post modern dance and its postulation that "every movement is part of a dance and every person is a dancer" can be read on the one hand as an historical bridging moment to modernism, but also, on the other, as a moment that links the exhibited positions in this exhibition. In post modern dance, the legacy of formalist expression of movement has been applied and further developed, in a reaction to contemporary visual arts. In the last few years there has been an increased interest by younger artists in resuming and rediscovering this avant-garde movement of the early 20th century – the formal-aesthetic as well as the social perspective.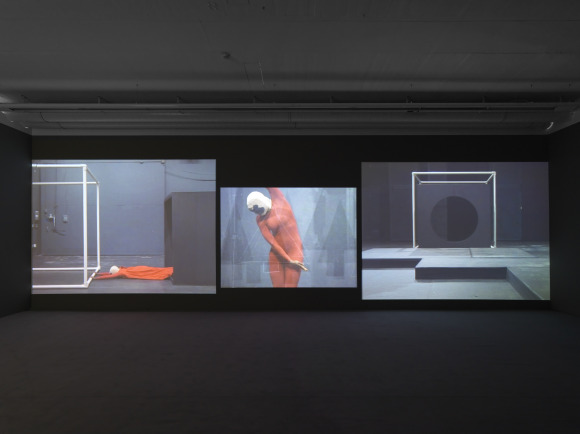 Kelly Nipper Shifting Shapes (3, 6, 9, 12) 2010 3-Kanal-Videoprojektion (Farbe, Ton) 10:1 min. , Loop/FBM Studio, Zürich © the artist
I heard the interview with the curator, Raphael Gygax.
"The title 'While bodies get mirrored' may present complexities at a glance, but first of all, this is very poetic and reflects the three moments that we wanted to pursue: formalism, movement and space. The work requires certain space that mirrors or reflects them. To reflect them in modern art quite often has a close relationship with the segmentation of human body."
Director, Heike Munder, has been successfully shown challenging events one after another since her appointment in 2001.
"We have presented performative activities over the years. They are movements and theatrical forms of expressions. We have collected all those elements into this space as a group exhibition this time."
At the very back of the site, you will see "The Defenders Part2" by William Forsythe, where over 70 mirrors were wedged into one another like piles on a bright red carpet. Although through totally different manners, the language associated with this artwork corresponds, from work to work in the whole exhibition, to the "Get Mirroed" concept.
4jpg
Martin Soto Climent The Swan Swoons in the Still of the Swirl 2010 Single-channel-videoprojection (color, sound), blinds, aluminum Dimensions variable/ Photo A.Burger,Zurich
Once you step in the venue, you will be welcomed by the work "The Swan Swoons in the Still of Swirl" by Mexican artist Mrtin Soto Climent, which has picked up the DNA of Forsythe and can be considered the implicaton of it. Steel sculpture and the author who makes it dance appear on the screen.
By following this conductor wire, you will reach the dance by May Deran, an American avant-garde pioneer who reminds us of animism.
9fcff25167
Maya Deren A Study in Choreography for Camera 1945 Single-channel video projection (16mm film transferred to DVD, b/w, no sound) 3 min. Loop
Further ahead, there is a film by Delia Gonzalez, which extracts his imtimate female image based on the passage of the work by Henry Mirror. Wearing black wings of Oberon, the King of the Fairies from Shakespere's Midsummer Nights Dream, a dancer who looks like appeared from the deep darkness, dances in a magical manner.
817edaee87-580×463
Delia Gonzalez In Remembrance… 2010 Single-channel video projection (16mm film transferred to DVD, color, sound) 12:50 min.
Let's hear more of what Heike Munder says.
"The spirituality in the modern times lives between re-formalism and fantasy. The two important movements mean that while form is against geometry, they always overlap at the same time. Utopia is lost, but many artists interact with Utopia. They retrieve it by their strong artistic power."
Alphabet Letters by Paulina Olowska
3jpg
Paulina Olowska Pioneer Alphabet Letters 2005 Box with 26 cards, colored, 4 cards, b/w je 21 x 15 cm/ Photo A.Burger,Zurich
While expanding the sculptural field, Julian Goethe tries to solidify the movement further by putting up an extensive rope.
9jpg
Julian Goethe: Kontakt, 2005, MDF wood, lightnings, Ca. 250 x 400 x 20 cm, © the artist, Photo A. Burger,Zurich
10jpg1
Julian Goethe Extended Version 2010 Rope, metal Grösse variabel/ Photo A.Burger,Zurich
Anna Molska tries socio-political approaches.
14jpg
Anna Molska: Tanagram, 2006 – 2007, Single-channel video (b/w, sound), 5:10 min, © the artist
"You will understand that the origin of their art is holding hands with the idea of Utopia."
132jpg-1
Hanna Schwarz Give 2010 Single-channel video on monitor (16mm film transferred to DVD, color, sound) 5:30 min.
"In the early 20th century, cultural anthropologists, psychologists and sociologists assumed that the imprints by body or movements were given by spiritual culture. This exhibition, I believe, is one ideal way of expressing such influence and legacy."
A couple years ago, I had a chance to interview Heike Munder. She explained their "on going art prosess" which was the strategy and also the mission of this museium, as follows:
"Art is always connected with the society. It links to the world and it is open toward outside. Therefore, it can be said that art links to politics, economics and history as well. Ask the audience and the society about art. People think, feel and get excited. Or feel happy. That reflects on the museum, and we ask again. This repetition will continue permanently."
62jpg
Mai-Thu Perret Winter of Discontent or the Ballad of a Russian Doll 2003 Wood, light bulb, corrugated steel, paint 40 x 407 x 250 cm/ Photo A.Burger,Zurich
"Imagine that the movement of the museum is laying down roots under the ground. Soon or later, it will become a tree. Then it may bloom. Or a wide forest might be born. Isn't it wonderful? That is my understanding of "on going art prosess."
"While bodies get mirrored" is glowing with its root under the ground of "on going art prosess," and it can be interpreted as the comprehensive group exhibition at present.
I felt strange happiness that I myself felt the reflection in the Utopia presented in this exhibition.
…………………………………………………………………………………………………….
Artists comprising "While bodies get mirrored"
Anetta Mona Chisa 1975, Romania; Maya Deren&nbsp 1917 – 1961 Ukraine; William Forsythe 1949 USA; JulianGoethe 1966 Germany; Delia Gonzalez 1972 USA; Babette Mangolte 1941 France Anna Molska 1983 Poland; Kelly Nipper 1971 USA style; Paulina Olowska 1976 Poland; Silke Otto-Knapp 1970 Germany; Mai-Thu Perret 1976 Switzerland; Hanna Schwarz 1975 Germany; Martin Soto Climent 1977 Mexico; Lucia Tkácová 1977 Slovakia
Until May 30, 2010
http://www.migrosmuseum.ch/