There is a think tank team called "Brainstorming" who sends out unique contemporary art works. While explaining its background may require some length of time, a Dutch kinetic sculptor, Teo Jansen was introduced by this group the other day.
Since the large-scale exhibition, first time in Asia, was held in Hibiya, Tokyo from January to April this year, many of you may already have seen his works.
The CM entitled "Defining innovation" onaired in South Africa in 2006, was talked about a lot around the world.
A strange "living creature" that you had never seen before, walked on a wind-whipped dark beach together with Jansen, fighting against a roaring rainstorm. This mysterious image and his economical phrase were cool and it demonstrated his excellent sense of creativity.
This time, Jansen has brought  "Animaris Umerus" and some of its buddy small "living creatures" to Zurich.
Plastic pipes which induce electricity that ordinary household use. The framework is made by using nylon strings to fasten these pipes. Electric cables or vinyl strings were also used. Despite my expectation that he would not use any organic materials, he answered in the interview that he used egg white for the eyes and skins for some reason.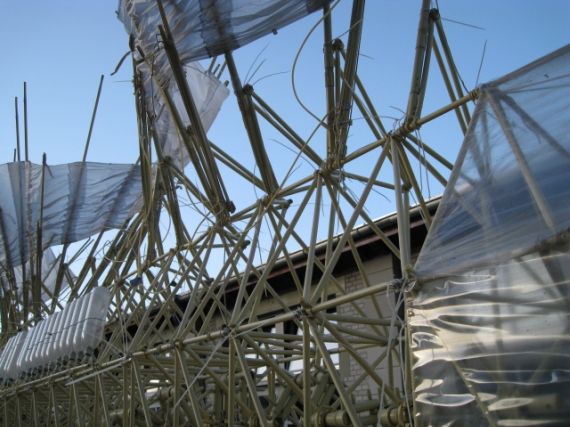 Animals on a sandy beach, or beach animals. Although such names are well known in Japan, "Strandbiester," the German word for that, emphasizes more on an animal image that has landed from the ocean, which sounds mysterious for its collective term itself. It also gives somewhat humorous nuance such as something dangerous but cute.
As if it is a living creature of Paleozoic era, having numerous legs like a monster centipede, moves and runs by wind power. Because of the grandness of each "creature" he has created and its interesting sound of Latin language, one may easily imagine a dinosaur.
Although Jansen majored in physics at the Delft University of Technology, he became a painter.
I believe it was before he became the painter, when he used to walk along the beach to put together his scripts for newspapers.  I am not sure for what he was writing the script, but one day, he was inspired to create an image of a large "living creature" walking on a sandy beach.
It had been a long time since that day.
It was September, 19 years ago. He went to purchase plastic pipes.
"Throughout that afternoon, I was playing around with those pipes. It was almost evening time. I felt certain that I would be living with these plastic pipes for the rest of my life."
Technical ideas and art were united, and a totally new "living creature" baby was born on this day.
"They don't require any food. What they need to survive is simply the wind. They do not need time to move around to find food, like other animals."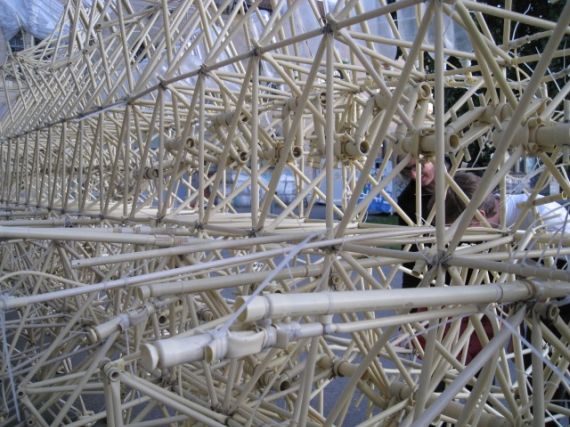 "Living creatures" of Jansen eat the wind and live on a sandy beach.
"They can play with children on the beach, or they can live together with other animals. However, since the living creatures that I create continuously evolve, soon or later they may become wiser than human beings. It is a form of new life."
"Why are you keep on creating living creatures on the beach?"
"Why? I don't know. Now let me ask you. Why we, human beings, live on this earth?"
Interview:Digital Brainstorming
http://www.digitalbrainstorming.ch/
BMW 「Defining innovation」
http://www.bmw.co.za/onlinenews/issue1/advert.html
Die lange Nacht der Zürcher Museen 2006 Museum Bärengasse Photo:Peter Koehl
Die lange Nacht der Zürcher Museen 2006 Museum Bärengasse Photo:Peter Koehl
You never see any children walking on the street at night.
However, one Saturday is exceptional.
The Long Night Museum (Die lange Nacht der Mussen) will be celebrating its 10th anniversary this year.
Almost all the galleries in the city, mainly the exhibitions currently being held, including related hands-on workshops, guided tours or independent vents, will be open to public literally all night, rather than for a long night.
The botanical garden of the Zurich University or Swiss Federal Institute of Technology Zurich (ETH), as well as lectures at the zoo and performances or concerts in small theaters will also be open to public.
It is programmed so that children and adults can enjoy hopping from art to art with single tickets.
Trains and trams run according to the exceptional schedules.