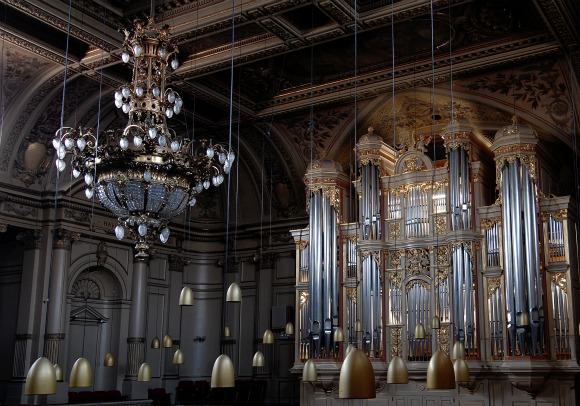 ©Josef Stuecker
One very chilly evening, we were driving along the lake. Since we were once told that the basement parking of the Park Hyatt was convenient, I have been using this parking lot whenever we come here.
Opera House stands on the right side of the Lake Zurich, and on the left side, there is another historical building that can be the hub of the Zurich culture. It is Zurich Tonhalle (a music hall.)
While the Opera House was built in the current location in 1891, this music hall was built 4 years later. The hall situated inside the Congress House has very elegant and wonderful interior decorations such as ceiling paintings and columns, while boasting its acoustics as of the world's top level. The small hall where mini concerts of solo or chamber music are held, also gives breathtaking sophisticated elegance and beauty.
The "Tonhalle-Orchester Zürich," establishing this hall as their main music hall, may be well known for classical music fans for their many CDs. Especially in the recent years, increasing number of fans are found in various countries because of their great success as the world's top orchestra. Founded in 1868, it is a distinguished European orchestra with a long history.
Orchestras that played a major role in the musical culture were non-existent, in the German-speaking part of Switzerland where vigorous religious transformations took place.
Although it was lost in fire later, the Zurich Opera House was built in 1834, at a different location from the current one. The need for an orchestra to play for the opera became obvious, and a small orchestra was formed.
It was about 160 years ago. Wilhelm Richard Wagner exiled himsealf to Switzerland, and stated to live in the mansion of Otto Wiesendonck who was a successful silk trader. The masion is now Museum of Rietberg.
Wagner, who made his name one after another by conducting major music pieces including his own, at the Opera House, held concerts very often. In response to this influence, a plan to found an orchestra gained momentum among the intellectuals in Zurich.
Before long, the Tonhalle-Orchester Zürich was born as the oldest Swiss orchestra, having the Zurich Opera House orchestra as the mother orchestra.
The first conductor was Friedrih Heger. Since Heger was an ardent admirer of Brahms, Johonnes Brahms, who stayed in Zurich often, was also a frequent guest conductor.
In 1895, following Brahms, Heger took a baton, and the Tonhalle Zürich (a music hall) was finally opened.
While the principal conductors for Tonhalle have been mainly German, from Hans Rosbaud, Rudolf Kempe, to Christoph Eschenbach who was appointed in 1982, Hiroshi Wakasugi from Japan served as the principal conductor for 4 years after that.
©Priska Ketterer
In 1995, David Zinmen, who was born in New York, was appointed as the principal conductor. Since then, the well-known "Tonhalle-Orchester Zürich" has been proactively involved in overseas concerts as a leading European orchestra, changing the history boldly at the same time. It has created many opportunities to foster young conductors as well.
Furthermore, not only the concerts in the hall, but also their energetic idea for recording have accelerated their fame as the world's Tonhalle.
They have produced CDs for Richard Strauss, Robert Schumann, and complete symphonies of Beethoven. They have realized a huge amount of CD recordings, and created a new environment to listen to the Tonhalle-Orchester Zürich. The richness of its performance surprises the critics and fans around the world.
Zinmen himself also is very active around the world as a guest conductor. 100 musicians that he leads and excellent and exciting guest conductors perform roughly more than 50 programs, making about 100 performances per year.
The New Year Concert this year was conducted by Muhai Tang from China. He is a well kown and a very popular conductor of the Tonhalle.
The first half was composed of 3 pieces; early springy joyful prelude of "Die Fledermaus" of Strauss, 2 pieces of Mozart, and one piece from "Il Barbiere di Siviglia" which was a big hit last year at the Opera House. For the latter half, following the elegant prelude of "La Scala di Srta" by Rossini, the aria from Chaikovski's opera "Eugen Onegin" was performed by a Finnish giant, Matti Salminen.
Muhai Tang who was energetic, even showing the wild streak, and Salminen displayed some relaxed easiness. Then especially the thrill of excitement by the nostalgic mezzo-soprano sung by Mariana Carnovali from Buenos Aires in South America, was so sexy that you would feel that you heart was just squeezed tight. She was as young as 23, and her bronze skin was beautiful.
The people with a bit flushed cheeks with excitement were descending the gentle spiral stairs, smiling.
I heard that Salminen was making an appearance to the table where the CDs were displayed.
If you seek for it, you will have a chance to meet such an outrageous talent in such close proximity. I am blessed to be able to listen to such music in Zurich.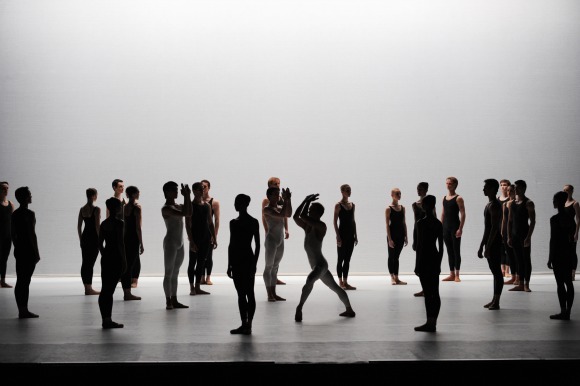 While opera is, of course, famous when you talk about Zurich Opera House, the stage performances by the Zurich Ballet, which belongs to the House, is said to be "the most beautiful ballet in Europe" as a matter of fact.
As wonderful opera singers gather together in this small town, so do the ballet dancers. Selected elitests of the elite dancers in the world come together to this town, and perform like twinkling stars on the stage.
Heinz Spoerli, who is well known as a choreographer, used to be a dancer himself. He was appointed as the Artistic Director of Zurich Ballet in 1996, and since then he has been continuously creating innovative and unique productions.
Dancing the "Goldberg-Variationen" of Bach in all.
While this piece is best known for the performance by Glenn Gould, when 2 arias and 30 variations including the repeats are played, the performance will easily exceed 1 hour. The dances and short intervals of movements between dances make the performance of about 90 minutes. The pianist who continued to play throughout the performance without intermission was Alexy Botvinov. He was born in Odessa in Ukraine, and since he won the Rachmaninow-Competiton in Moscow when he ws 19, he has established his world reputation by winning the International Bach-Competitions and Schumann-Competition
If it is a solo concert like this time, all the more, and even if it is a ballet performance, lot of people come, being anxious to listen to his performance. Since playing Schumann for the ballet performance of "Szenen" in the mid-90's, Odessa has been a good partner of Spoerli, creating excellent harmonies.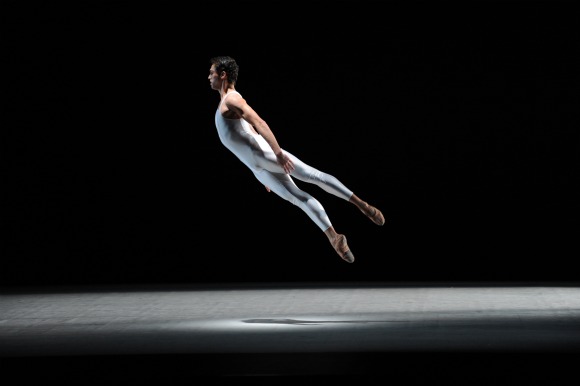 All the dancers of Zurich Ballet boast the level of elite performance and all capable of performing as soloists.
The expression of feelings by Yen Han, who receives overwhelming fan support, is delicate, deep and beautiful. His brathtaking perfect proportion brings such an enchanting elegance. Aliya Tanykpayeva is transferred from the Imperial Russian Ballet, while Sarah-Jane Brodbeck demonstrates cheerful, free and cute atmosphere.
Male dancers include Artur Babajanyan, Bryan Chan, Arman Grigoryan and so on. Each is the best and the brightest with the capabilities of super elevation, breathtaking motionlessness as well as talented agility.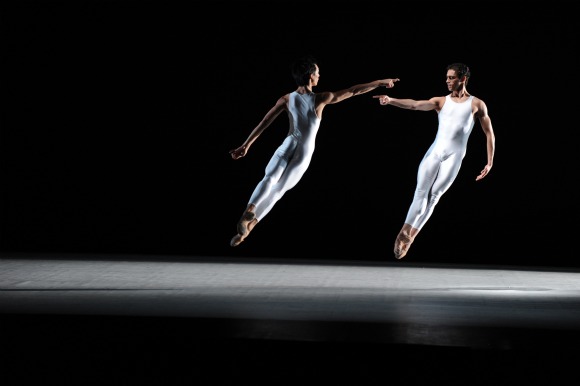 When the first aria started, many shadows started to move slowly. On the very dimly lit stage, each dancer seemed like to have become each sound, transmitting its own musical note.
No stage props. Simply Alexy Botvinov and one piano in the orchestra pit. Lighting, movements of the dancers, and the leotards that changed colors one after another. Instead of addition, deduction was the key here. Shaved off as much as possible, this piece of work seemed to bring about the inner face of each who was involved in this stage. Lights and shadows crossed each other.
Spoerli says, "For me, Goldberg-Variationen is my passing life itself." Men and women meet, become enchanted each other and unite, and sometimes separation occurs. As you age, you become mature and change. As such, men and women get together then part from each other, as the time goes by.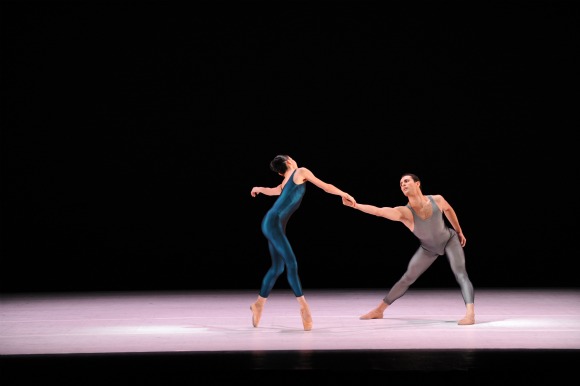 The dancers, who danced through 30 variations of life, were sometimes elegant, lonely and sophisticated, and other times, they demonstrated such unpredictable surprising "dance" as if we were watching acrobatic gymnastics. Meticulously calculated varieties of exciting scenes appeared and disappeared in front of our eyes. Although there were soloests in the halfway, "pas de deux" was performed in the latter 3 pieces. They were so sophisticaated and flexible, just like dances in a dream.
The Goldberg-Variationen is "prelude" of the 16th variation, with comparison in the first half and the latter half. Spoerli choriographed it "as if forming into an arch." In the scene when the first aria was repeated and it ended slowly, tranquility was brought back on the stage.
It was a long piece of music that even had an anecdote that it was performed due to insomnia. I was worried that I might fall a sleep, but was alert all throughout the performance by lots of surprises. Contrary to its highly evaluated production for many years, I heard "It's just a performance with lots of changing colors of leotards and lights and lots of dancers come and go to dance. That's all" by the regulars of Opera House. It was interesting to hear.
Omission that showed such enormous piece in a simple way just like that. It was assurance and sublimation of the basics of the classic. It reminded me that something like a cosmic view created by this ballet company has made Zurich Ballet very unusual.
Photo: Opernhaus Zürich / Peter Schnetz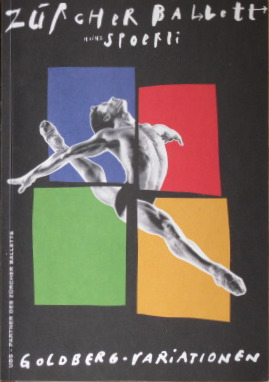 http://www.opernhaus.ch
0204-oktopuss-kunsthaus-3
Octopus 2006/2009 Katharina Fritsch
The 3-dimentional image created by Katharina, shakes human's fundamental mentality, desire and fear, in the space where a new life is alive and vivid.
Her latest work is a strange contemporary elegy.
The man wearing a diving suit was easily caught in the tentacles of the octopus like a toy.
Photo: Kunsthaus Zürich
http://www.kunsthaus.ch/
Annual gay parade was held in Zurich about 2 months ago. Summer brings many festivals in various areas, and this is another unique and large-scaled festival to be noted.
Every year, on the 2nd Saturday of August, this Street Parade is held.
Originally it was the Love Parade in Berlin, however, since it started in Zurich in 1992, the parade has become bigger and bigger every year. Now it is known as the biggest European techno & dance parade.
The year 2004 recorded the number of audience as many as 1 million. This year, heavy rain continued throughout the day, and the cold weather discouraged some people or some returned home early, we hear. However, 600,000 people all over the world gathered together for this day. Just for your information, the population of Zurich is 360,000.
This year's catch phrase was STILL HAVE A DREAM !
Stefan Epli, the Communication Director, mentioned in his statement to appeal, by quoting the words from "I have a dream" by Martin Luther King, "Although this is the speech made many many years before the street parade was born, we are still fighting for the same goal 18 years later. (an omission) The Street Parade is a demonstration for love, peace, freedom and tolerance." Is it just to reflect the current age?067-b-jpg67
It started near the Opera House, and 27 showy trucks called Love Mobiles moved along the Lake Zurich. These are the moving stages, the signatures of the Street Parade.
Charismatic DJs from Switzerland, Japan, USA and European countries, rode each mobile and the artists and dancers performed hot live stages, screaming and dancing.
The audience called Ravers blended together in the Parade, linking each mibile, screaming and dancing in the same way, and moved on in the heavy sound.
Just before heading to the opposite side of the lake, as the parade was getting closer to Bürkliplatz, where the center stage of the highlight was located, the crazy excitement got crazier and the tention was skyrocketing.
Usually the young people in Zurich seem to be polite and orderly to me, but on this day, they loosened up together with the guests from overseas. Parties continued to the following morning all over Zurich
022-b-jpg22
By the way, the spectacular sight you cannot miss of the Street Parade is outrageous fashion, or costumes I should say, as more appropriate term.
While the Japanese girls' fashion is now exported to Paris or Milan these days, the Japanese may be accustomed to little surprises. However, seeing such people all over town was surely bizarre.
Gender, age, occupation, or whatever, it was borderless. The young and the old, as well as the middle-aged, joined the parade. Straight tolerance, telling forget about metabolism, was openly welcomed by smiles.
When asked for pictures, most of them gave certain pose right away. I wonder where they practice how to pose. It was fun to have pictures taken with them, but I fear once you enjoy that moment, it may become habitual.
Well, you never know. You may find me somewhere in this parade next year.
052-b-jpg521                    065-b-jpg65
Click here to see more aggressive costumes
http://www.streetparade.ch
Click here to see more aggressive costumes.
by Mieko Yagi on July 29, 2009
photo:  Montreux Jazz Festival Foundation http://www.montreuxjazz.com
image_mjf_15283005062009-580x386Photo: Lionel Flusin – Montreux Jazz Festival Foundation
Montreux Jazz Festival took place for the first time in a town near the Lac Leman in 1967.  Although the name still remains as a jazz festival, it involves a wide range of music, from rock, soul, blues, regae, to African or South American music. It is known as the world's biggest music festival, including the participation of big names in the world of music in non-genre.
It is held in July every year, and it will be from July 3 thorough July 18 this year.
There are two main venues : Auditorium Stravinski and Miles Davis Hall.
The first 3 days were kicked off with the Fiesta Latina! with Cubanismo, Oscar D'Leon, etc, and followed by Harbie Hancock, Alice Cooper, Baaba Maal, B.B. King and George Benson and so on.
Toshinori Kondo will perform at the Miles Davis Hall on the 12th.
Now Price will perform tow shows to close the Festival on the 18th evening. First stage will be at 19:00, followed by the second stage at 00:00. www.prince.org
http://www.montreuxjazz.com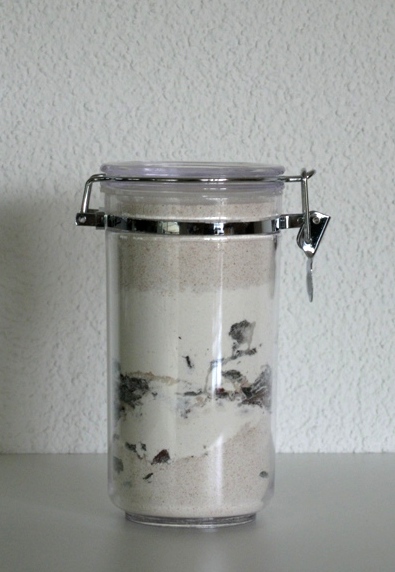 When we invited a Swiss couple to our place for dinner, we were given this present.
Bread flour with a recipe.
The lines that look like abstract are sunflower, cumin, pumpkin or poppy seeds, etc. It also includes 10 different kinds of spice as well as barley and millet.
How did someone who thought about this idea draw these lines?
It would have been nicer if it were a watercolor or pastel drawing on paper, if possible. Or is it too much to ask?
All what you need for this baking mix is water and a bit of milk. As it looked so beautiful, I have kept is as is as an ornament. However, the yeast is still alive.
I'm afraid it's about time for me to do the baking.