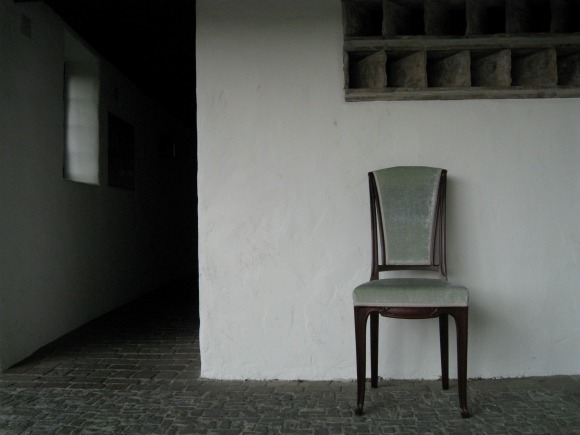 When I went to Paris for the first time, I included, without question, a schedule to go the antique fair of Clignancourt. True to its reputation, tons of intriguing treasures were all over. Baroque tables or glasses of belle époque came into my view too carelessly.
I was looking for a chair. I stared at one that I thought would make it. I imagined how it would look in my usual space if I took it to my home.
No. This is definitely not the one. The lines and its volume would be too overwhelming in a Japanese room, and it would be impossible to keep a balance.
I almost gave up the idea and just about to leave, the shop owner told me that there were more in the attic if I were looking for a chair. So I went up, and there she was. It was made during the time between Art Nouveau and the Art Deco, and delicately you could feel its stream.
Before long, it traveled to Japan then to Asia. Then to Switzerland, it accompanied me all the way.
I should clean it when I moved to Zurich. Whenever I saw properly restored antique furniture in European homes, I started to feel that way.
Early summer three years ago, the owner of an antique shop in my neighborhood loved this chair the moment he saw it. "So this chair went for such a long trip from France to Switzerland." It was made of ebony, telling it must have been carried over from somewhere in Africa.
Given the map of the shop, I hurried to the fabric shop I was introduced. As I already had a certain image of the material, I chose the one I liked best among those solid colored ones shown to me. Those fringes are called "Gimpe" in the fabric term, I heard.
I returned to the antique shop and together with the owner, we looked for the color for the legs. Although I was a bit uncomfortable to repaint into a different color, it turned out fine as a result. I waited for two months.
"The design of this chair is quite unique and unusual around here. So many people came to see it."
The 100-year old springs were removed from the disassembled chair, and replaced with new ones. I understand that four craftsmen shared all the work from reassembling, putting on new fabric, to the final painting of the back and the legs.
While different languages are spoken here, surely you find the scene where this chair blends in smoothly.