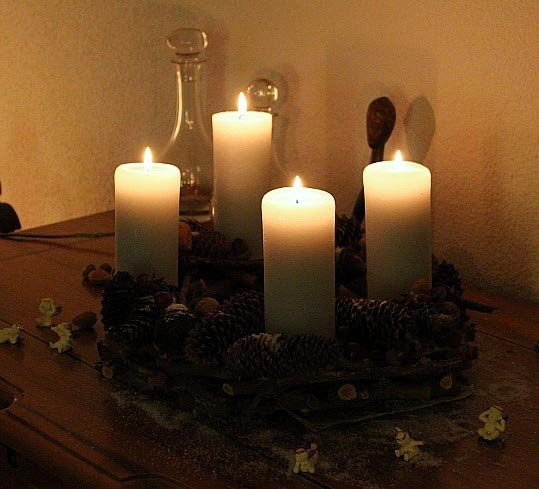 There is a building of a newspaper company called NZZ near the Opera House.
When you walk on the road along the lake from this street, you will find some interior shops like select shops.
I went there to find 6 angles one day before Christmas.
As a matter of fact, I wanted them last year but I inadvertently forgot to purchase them. After a doubtful look on her face for a second in response to my question, the sales person replied, "Oh yes. We have them," and brought them on her both hands from behind the door.
Somehow my poor pointless explanation as "They are very small angels, and each has different gesture, with the face that you may want to place them in different places," was understood, and 6 angels were revealed from chiffon cloth one by one.
Although it could be an interesting idea to display each in unexpected places, like sitting or lying down and so on, when we have guests, I decided to have them play around the wreath during the time when the candles of Advent Krantz are lit.
4 weeks before Christmas, counting from Christmas Eve. This year, the fist candle was lit on the last Sunday of November, and the fourth was lit this Sunday.
Fur trees are brought from the nearby forests, as well as from farther north in Europe.
It is our tradition to decorate them on the 24th.