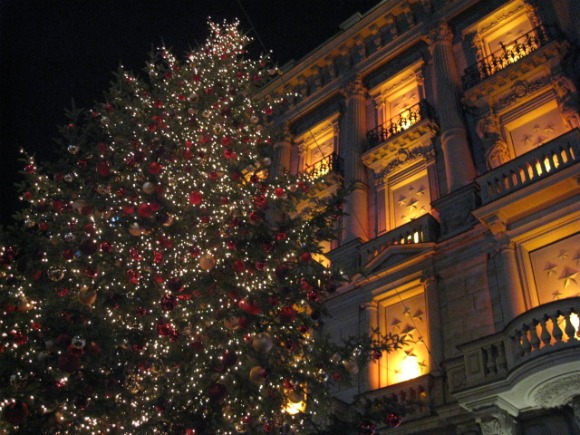 Since the big snow three weeks ago, the temperature has dropped considerably in Zurich. A snow-white world welcomes you when you get up in the morning, and you hear the elementary school children throwing snowballs on their way to school.
The big twinkling Christmas tree decorated with Swarovski crystals is stood up as usual in the Christmas market at the Central Station. As many as 160 venders are busy, selling cheese, dry sausages, raclette, wooden crafts of traditional Swiss arts and crafts or handmade natural stone accessories, as well as sweaters from Peru or silks from China.
It is the busiest time of the year. Finishing up your work, meeting people, small parties to attend and so on. Although fixed appointments will gradually disappear from your schedule once it's done, there are things that tend to be put off later.
They are decorating inside the house, confirming the menu for Christmas Eve, looking for presents, and baking cookies and so on.
Whether you are religious or not, this custom has become a familiar event for me, even though I feel some temperature difference in the enthusiasm of religious Europeans. However, besides that, if you somehow plan to celebrate the Japanese-style New Year, you have to be in high spirits and energetic just for the sake of these several weeks of the year. In order to enjoy every process, some cheering voices may be required in your mind.
Many small presents will be prepared for one person. When you think of the presents to give to the people you expect that night, the number will be several times the number of people, which is really something. You buy several types of winterly wrapping papers and ribbons, and start wrapping each one by changing the color of paper and adding some decorations in place of sign.
While I knew it was about time to browse and look for such things, I hurried through the street by avoiding the people among the vendors, telling myself that I would come to the Market some other time to take a good look. The fluffy fraglance of cinamon and anis just passed me.
Snowflakes started to flutter down on the city streets in the twilight.
The temperature is probably around -5℃. Lots of people have gathered around the hot wine vendor. Having a little flushed cheeks and displaying heir breaths like smoke, they seem to have been chatting there for quite a while.
My feet headed from the street where brand shops stood side by side, to the plaza of the financial district.
Although you may find many Sprünglie, a well-established chocolatier, in town, I somehow end up with this shop. Since they do not have this brand in Japan, it is the place where I buy my souvenirs or presents, just like going to Akasaka all the way to buy the sweet bean paste of Toraya in Japan.
Holding some boxes wrapped in gold packing paper, I chose the black truffle freshly made today for myself.
As the light was so beautiful that I decided to walk to the post office.
Medieval stone-paved lanes often branch off in narrow paths. Restaurants are lit, and numerous miniature bulbs are everywhere, just like falling from the sky, lighting up the people's faces passing by.
The next corner is where I am heading.
The church bells are ringing loud and clear in the freezing sky.
http://www.spruengli.ch/