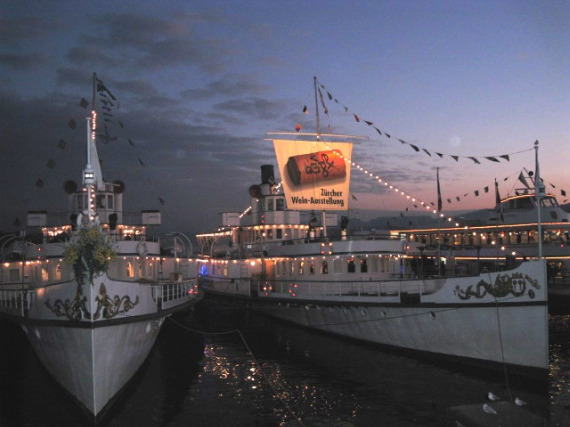 Connoisseurs of fine wines may know this. There are many great wines in Switzerland. Furthermore, as the types and characters of grapes vary depending on the area where the language is spoken, a vast variety of wine was born.
When I went to the jazz festival in Montreux, I had a chance to taste the white of Laveaux, which was just wonderful. Well-known places for white wine using Chasselas grapes are Vaud near the Lake Leman, as well as Valais in its south and along the Lake Neuchâtel near the French border.
When you talk about the red, white and rose of Merlot, it will be Ticino in the area where Italian is spoken. Where you can find wines that share similar tastes of Pinot Noir or Pinot Gris from French Alsace, or that from Baden in Germany, will be around the Lake Zurich and the western Switzerland. Just for your information, we also have what we call, Zurich wine.
I hear that some grapes that were planted in the Roman Era are still grown. It is really amazing to know that tens of different kinds of grapes are grown in the wine regions in this country which is about the same size as Kyushu.
Why there aren't many Swiss wines in Japan where gourmet foods collected from around the world?
That is because the Swiss love wine very much. It does not mean that we do not export any, but since the people here drink wine 3 times the quantity of the domestic production, as a matter of fact, and the shortage has brought more and more imported wines. I thought that they did not want to share something delicious with other countries, but now I understand what the reason was. First of all, the grapes grown on the land where machines are hardly used because of its steep slopes, are only picked up by human hands, and also because it requires lot of traditional manual methods to make wine, they are overwhelmingly in short supply.
It seems like these conditions are the background. For the 2 weeks up to the mid November, just to be in time for Christmas, Zurich holds a large-scale wine exhibition every year.
From Bürkliplatz where Old Town and the financial district meet, not only sightseeing boats but also commuter boats run to various places. The annual EXPOVINA, commonly known as Weinshiff, is held here, by having 12 boats lined-up and anchored at this old pier near the Lake Zurich. It is open to public and it is the world's largest wine expo. It stared in 1953 and this year celebrated the 56th anniversary.
More than 120 booths of wine producers and importers, were set up in the 12 boats. When it comes to the number of different types of wine, it will be easily 4000 at the least.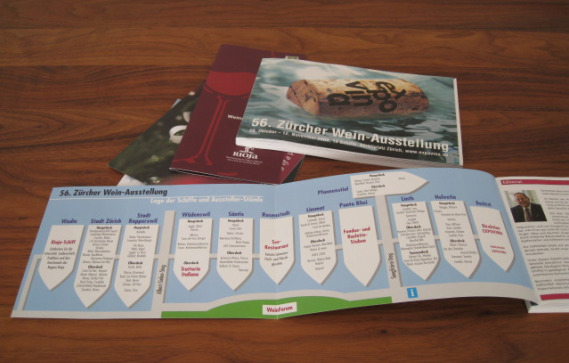 Carrying the catalogue given at the entrance, you go around the booths you wanted to try, and after tasting, you check those names corresponding to the booth numbers that you liked, to put down the points.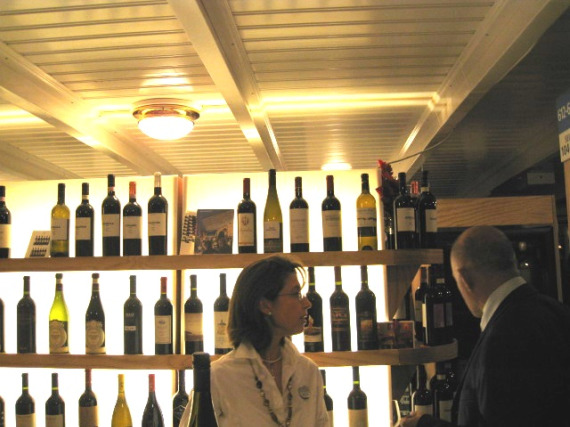 Having visited several times in the past years, I thought I was starting to get the hand of it. However, since the number of displayed wines is tremendous, it is too audacious to think about completing the tour of the whole 12 boats including the one that turned to a Swiss restaurant, in a single day. Your tongue, nose and inside your mouth will become blunt for judgment, or in other words, in my case, you cannot trust your taste buds any longer.
This year, there was somewhat unusual Spanish Rioja in the very left boat, but since the boat was swinging due to its small size, we moved on quickly to the next boat. Although other boats were anchored steadily and no worries of sea sickness, once you started from fruity white, by listening to the explanations by the dealers, and moved on by thinking "Well, next I should try a little heavier red" and so on, you would feel too great and your spirits would be high after you have tried the 10th one.
First, I went with my friend who was a wine-tasting professional to go around. However, I did not decide on certain label that day, and went back again on a different day for more focused direction, to try some interesting ones that I usually do not drink.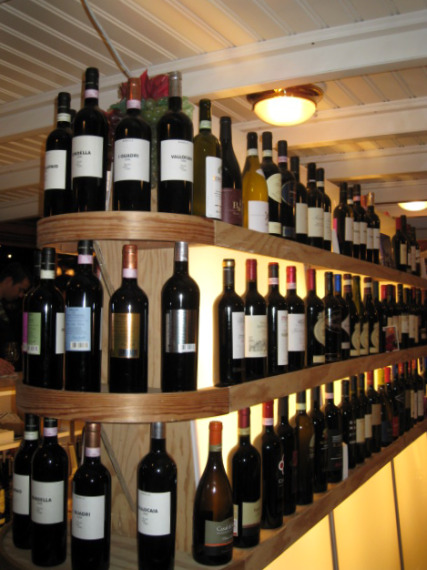 What we wanted to go after was German white. Baden, Pfalz, Saar, Rheinhessen, Rheingau, and Mosel, we tasted along the Rhein. While I always thought that German wines were sweet, tasting those wines made me realize that my knowledge was too premature. There were many bottles that demonstrated refreshing, deep, and elegant tastes.
Finally what we decided was Sheurebe of Mosel and Riesling, as well as a sweet one of Sheurebe which gave us the impression to be the one to taste after the Christmas dinner.
Although 6 bottles were the minimum to order in general, some booth started to be more flexible so that we could mix 6 different bottles for one order.
It was Friday night. In addition to some relaxed couples, people after work started to join us.
Very attractive 2 women, assumed still in their 20s, were asking the dealer many detailed questions one after another. Over there, one young man with backpack was taking notes, while a senior couple was relaxed and enjoying the conversation at the counter, checking the list.
We moved around the Swiss wine section, but the surroundings of popular wines turned into a place for social interaction. It was so jammed that we changed our direction to Italy.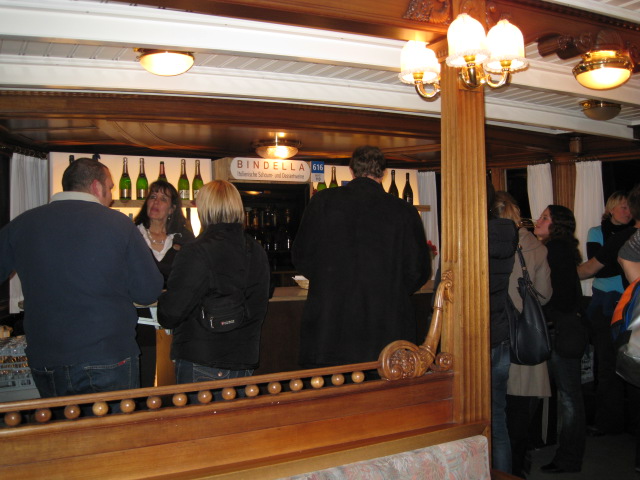 Although the order was totally reverse, we were able to take a break with chilled Prosecco, an Italian sparkling wine, which we casually order as aperitif in restaurants in Zurich.
We sorted out our cellar in the basement to welcome those wines we ordered, but still waiting for their arrival.