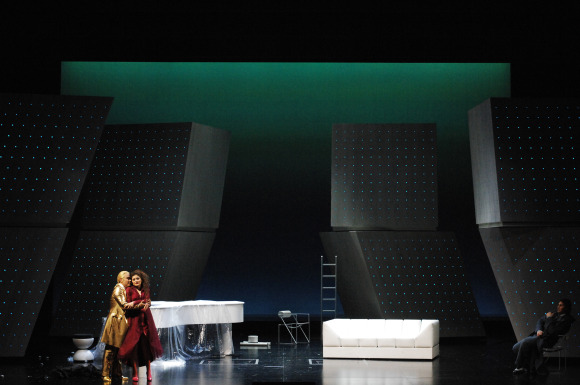 It was 5 years ago when I saw the opera at the Opernhause Zurich for the first time. The ticket was given to me by one of the Opernhause support members. Quite often, members of such group or Opernhouse fans give away their tickets/seats to some acquaintances, for example, when they cannot make the performances due to travels, etc.
"Do you know Nello Santi? Even if this opera may bore you, I believe it still well worth seeing just Santi as the conductor."
Right behind the orchestra pit. Center in the first row.
He had sort of supernatural appearance with dignity that I had never seen before. The big body slowly walked to the conductor's podium from the wing of the stage. When he stood up there and turned around, a big roar of "Maestro!!" was heard and the sound of clapping hands echoed in the whole opera house. Santi's face was right in front of me.
Born in 1931 in Italy, 78 years old. No adjectives such as old and mature will fit at all to describe him. He is one of the best contemporary conductors in the world, capable of creating strong, sensitive and lyrical music.
While he performed in Opernhause Zurich as a conductor in 1958 for the first time, even with the change of music directions as the time went by, Santi has been and still is the proud existence of this opera house. He regularly performs with NHK Symphony Orchestra in Japan.
The music Santi created and the ultimate aura he brought about became a magic to me, and I was unspeakably shocked that night.
This maestro Santi conducted "Il barbiere di Siviglia" by Gioachino Rossini, which was one of the most outstanding and talked-about operas this year at the Opernhause Zurich.
With the bold idea by Mr. Pereira, General Manager, for the "Il barbiere di Siviglia" this time, Italian star architest, Mario Botta from Ticino of Italian-speaking part of Switzerland, was in charge of the scenic art. The producer was shrewd Cesare Lievi. While it was a unique collaboration, it was a great production of performers with big name veteran singers as well as young able ones.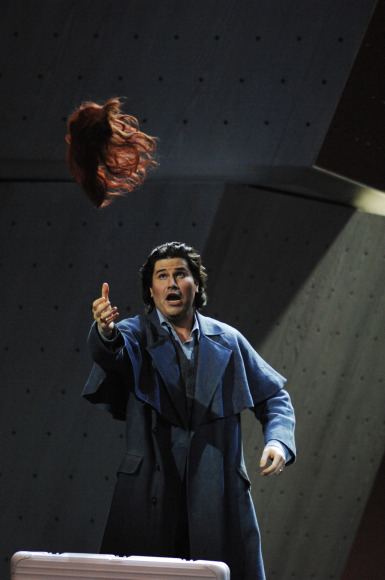 It was early 19th century in Siviglia, Spain.
The neighborhood factotum, barber Figaro succeeds in making the love bear fruit between the young beauty, confined in the house of the guardian doctor, and the count. Figaro somehow manages to come through by various witty ideas against conspiracies or sadistic and persistent interferences by the guardian, and the couple ends up being happily married finally. This is an opera buffa and well known as an ironic comedy.
Massimo Cavalletti, as Figaro showed a thorough bright star quality.
Doctor Bartolo who plotted a marriage after the money of Rosina who was a bird in a cage, was played by Carlos Chausson. Basilio, a music teach who courted him, was performed by Ruggero Raimondi who played a villain with real fierce expression. The singing and performances by these two great veterans sparked like oxidized silver and brought about certain dignity to this high-quality comedy by Rossini.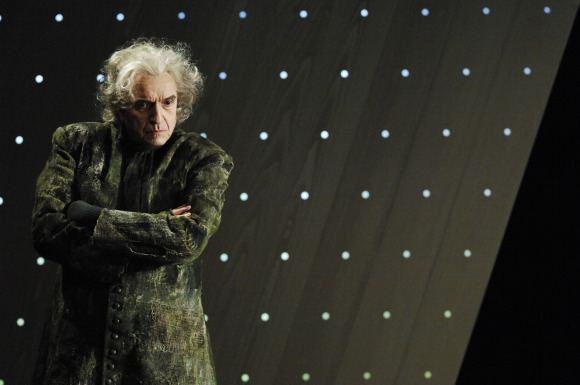 Lievi, the producer, says, "I have tried to express how this story is irrational. Life is irrational. The theme is love, and very special love."
Count Almaviva, who tried to confirm the love of Rosina by lying about his identity, was played by Mario Zeffiri. He appeared in front of Rosina in ever-changing disguise, sometimes as a soliver, or a music teacher in other times and so on.
Lady Rosina was played by Serena Malfi of mezzo-soprano, who made her debut in this stage for the Opernhause Zurich. She was cute and smart contemporary young woman. She even went a head of the wisdom of Figaro trying to lead their love into fruition by fighting against the spite of the guardian. A bit whimsical but honest. She loved the Count Almaviva who was in disguise as a poor student.
Lievi continues, "Almaviva is in love. He enjoys fiction and loves amorous adventures. He loves possessing a woman. However, whether he really loves her or not, I don't know."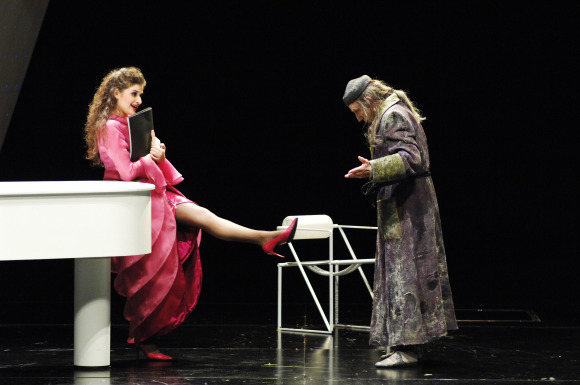 I heard that he consulted with the designer so that the costumes would be largely separated into 2 parts; for very old people and for the young.
Although this comedy was based on the conflict between generations and concepts of values, as well as those between aristocrats and commoners, it also tried to express the conflict by way of costumes.
Although it is assumed that the barber Figaro could have had lots of chances to achieve a successful career in that age judging from his sharp mind, his character showed that he was indifferent to such a matter. While he domonstrated light and easy performance and made us enjoy his singing with his active role, he had the coolest vision among all the characters. Favorable impressions of popular familiarity and artfulness owed a lot to the character of Cavalletti.
Also Rebeca Olvera, who played the role of the servant Berta who was always sneezing, enchanted us with her beautiful soprano aria. Even though she belonged to the "old people" with her old servant role, her skillful acting of easygoing stupid personality played a role of sophisticated spice in the whole story.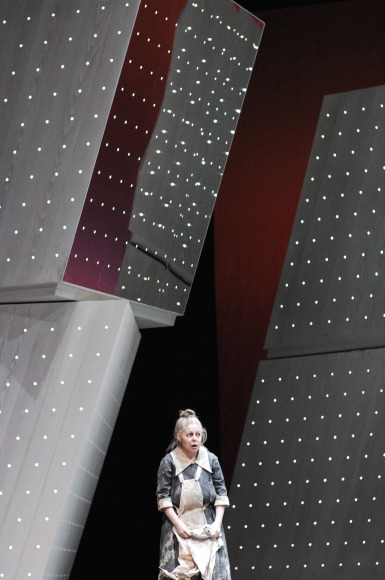 Well, the stage design by Mario Botta brought pros and cons for the audience as well as the media. I thought it was an audacious challenge and interesting, typically this opera house, however, the newspaper criticized quite harshly.
Botta says that the city of Zurich itself is an interesting target.
"Zurich is a very modern city with strong influence of contemporary art. While graphic art and modern art have brought various aesthetic consciousness to this town, we have brought ""Il barbiere di Siviglia" in the art world in the second part of the 20th century."
Although he has designed the ballet stage of this opera house twice, it was his first time for an opera.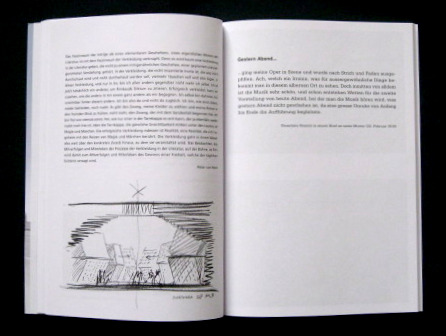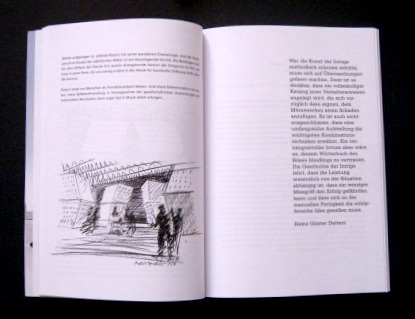 Four metal-grey double cubic moved around the stage as the story went on, by changing lights or showing movies or mirrors on the screen.
Also the trunk that the factotum barber Figaro carried was his shop itself that opened up anywhere. Scissors, wigs, the limb, or even a giraffe with somehow ever-extending neck appeared as well. The number 15 was written large, and it was assumed that the address wherever he opened up his shop was 15.
Somehow, I recalled the Japanese movie "Futen-no Tora."
Let's go back to the story of Botta.
"There is a huge difference between architecture and stage. Always unique spaces or places are created in architecture. Stages are totally different, and designing rooms is not the task. However, I must have the audience dream a dream. Performing the imagination of the audience is the major role."
Curtain calls continued and Nello Santi also came up to the stage. I heard that he could play any musical instruments of the orchestra, and he played whispering cembalo this time.
"Rossini Crescendo" that Santi expressed turned out to be a poetic and elegant work where music expressed laughter, humor and irony, just like Rossini tailored this comedy of high quality.
The maestro bowed his head deeper than anybody else, and then slowly looked around the audience with a gentle smile.
Stage Photo: Opernhaus Zürich/ Suzanne Schwiertz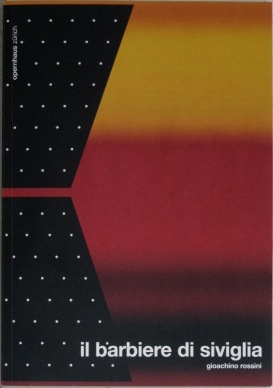 http://www.opernhaus.ch