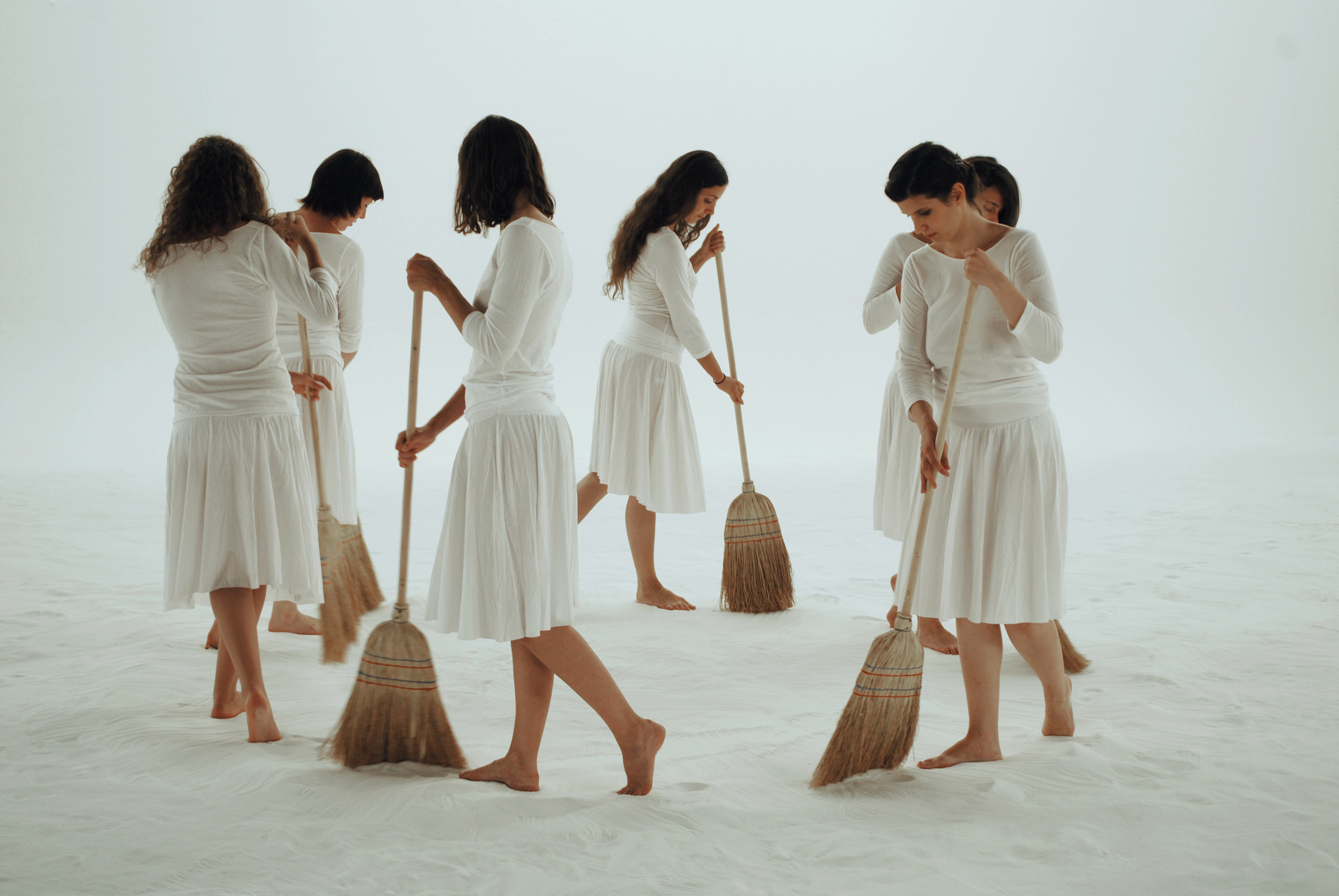 Tracking Happiness, 2009 Production still © Mircea Cantor
The image of the women walking slowing carrying brooms has been stuck one corner of my head. That motif has been appearging and disappearing. Now it seems like I am trapped in the trick of this artist.
Mircea Cantor.
Things that have crept into our daily lives before we know it, and that have become our patterns unconsciously, but make us suddenly wonder why or bring some uneasiness.
Our everyday common scenes disturb our daily lives.
Tracking Happiness is also the title of the film that Cantor created for this exhibtion.
Wearing pure-white clothes, they move slowly barefoot in the soft sand like dancing.
We are not sure what the purpose is. They walk endlessly like wandering in a dream, and the footprints are erased clean by the brooms.
Strangely blight with the grainy light exposing the empty space, the women link to the image of angels, in a dimension different from the present.
They chase things left somewhere unnoticed, or things that have been erased. Or they trace their footprints in a different way.
It reminds us of the present age that we are under the control of communications by computers or electronic devices. He tries to establish a different reality, against the world where private information is accumulated, multiplied and disseminated, which he says is also his bewilderment.
The work includes various media such as video, photographs, objects, installations, etc. Cantor also takes advantage of the media incorporated more in the society, such as newspaper ads, as one method of expression.
Born in 1977 in Rumania, he currently lives in Paris.
His solo shows at Camden Arts Centre in London and Pompidou Centre in Paris were sensational and stole the scene of Europe. Now for the first time in Switzerland, his one-man show has opened.
Until Nov. 8, 2009
Photo: Kunsthaus Zürich
http://www.kunsthaus.ch/